You're done for the day, the couch is calling your name and you just can't be bothered to prepare dinner. You're craving something, but don't know what. Pad Thai… maybe a juicy burger, or one of those tasty kebabs you had the other day?
You turn on the TV, slump on the sofa and start scrolling through Menulog. What will you choose?
I'm totally biased and the first thing I do is narrow down my options by picking the "collect stamps" filter. I've never used this feature and as a loyalty consultant, I want to see how this stamp card works.
There are seventeen open restaurants in my area offering stamps. No Thai, no burgers, lots of pizzas and a few Indian places, but I settle for Vietnamese.
On top of collecting a stamp, I also get ten per cent off the order, delivery is only $1.99 with no minimum order and a delicious Pho will arrive to my doorstep in thirty minutes. Not bad.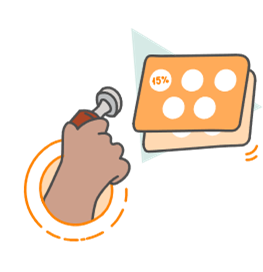 How does Menulog's StampCards loyalty program work?
Very simple. Just like any other punch card loyalty program. You collect punches for purchase and after earning enough to complete the card, a reward is unlocked.
In this case, you collect stamps every time you order from a restaurant participating in Menulog's StampCards loyalty program.
There are five stamps to collect. Each stamp is worth fifteen per cent of your order's value, which is saved on its own restaurant stamp card.
Once you complete a restaurant's stamp card you unlock the discount on your sixth order. The cumulative of each order's fifteen per cent will be your discount.

I love the simplicity of stamp cards. They are super easy to follow, and the reward is a win for customers.
For businesses using stamp cards such as cafes and restaurants, there is generally high margin on the reward and they're extremely easy to implement, making stamp card programs cost-effective.
Menulog has made it even simpler, not only by removing the hassle of having a physical card but by automating all the mechanics for the restaurant and the consumer.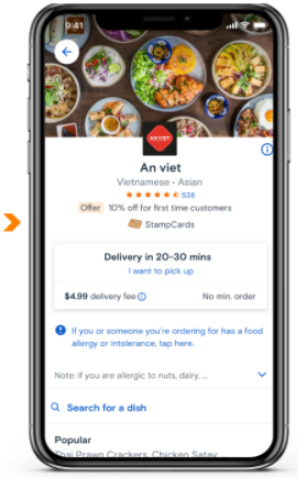 Partner restaurants select 'StampCards' via the Menulog partner portal, review all program details, agree to it and all is managed for them.
Menulog also emails customers their stamp progress, gives recommendations, and sends reminders.
Customers are enticed to advance collecting stamps and can access all restaurant stamp cards they have active. Once they complete the five stamps on a restaurant's card the discount is applied automatically on their sixth order.
Nice work! It's all seamless, rewarding, and easy to follow.
How loyalty stamp cards work
Two other things I like about stamp cards are the psychology behind them and the smarts of how it financially works.
Stamp cards tap into the goal gradient effect whereby people provided with artificial advancement toward a goal (the stamp card) show greater persistence toward reaching that goal (wanting to get the sixth stamp in case of Menulog's StampCard).
In other words, when people get closer to the finish line, they speed up to get there faster. So, stamp cards, dials, or progress bars are a neat application to help people reach a reward.
To explain the financial model of stamp cards, think of the ten coffees punch card from your local café. They offer a ten per cent discount to everybody, loyal and non-loyal customers.
The stamp card represents a cumulative delayed discount. Ten coffees (each including the ten per cent not given yet) equal (roughly) to the free coffee you get only after you spent ten times.
One-off and irregular customers pay full price and won't get the discount, which protects the café from giving unnecessary discounting. Conversely rewarding and driving business from those committed regular customers.
Who could imagine that the humble stamp card had so much in it?
I certainly admire its clever simplicity.
I'm going to order Pho again tonight.
Note: Whilst writing this blog article I learnt that Menulog engaged Loyalty & Reward Co to work on the program design. This makes me like Menulog's StampCard program even more. Well done team!