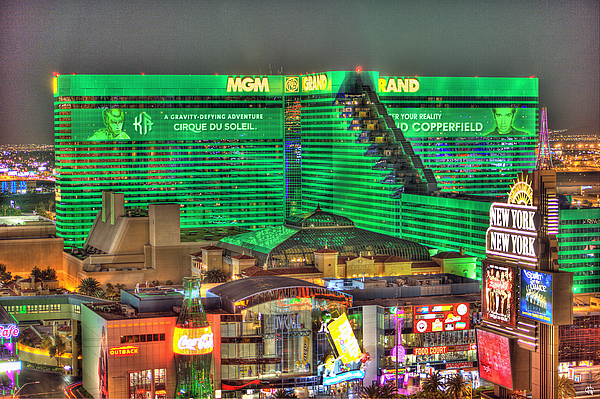 The MGM Grand – the famous fluorescent green building in Las Vegas that has been host to countless major entertainment events over the years. Think shows from The Rolling Stones, Elton John, Madonna, Bieber and Ariana Grande, boxing bouts with Mike Tyson, Floyd Mayweather, Manny Pacquiao, and other sports such as ice hockey, basketball, UFC, and bull riding.
The MGM Grand Las Vegas is just one of the impressive 31 hotels and casinos across the US and Macau in the MGM Resorts International portfolio. The prominent S&P 500 company also boasts an intriguing loyalty program to complement its world class entertainment business.
M life Rewards gives members the ability to earn rewards on casino gaming as well as hotel, dining, entertainment and spa experiences at US MGM resort destinations.
No cost to join!
Enrolment for the program can be completed on the MGM website, via the MGM mobile app, on the BetMGM platform or at an M life Rewards desk location (hotels, sportsbook location, etc).
Physical cards are distributed and presented at the point of sale to earn tier credits. If ordered online, members receive their member number, and a card will be printed when they visit a venue.
How to earn?
Tier Credits determine tier status and are earnt on most MGM related spending. This includes dining, entertainment, hotel, spa, and gaming.

Members can earn tier credits annually from January 1 to December 31 (Earning Year) before they are reset to zero. These Tier Credits determine a member's tier status for the following year, between February 1 and January 31 (Benefit Year). Once a member reaches a Tier Credit threshold (see above), movement up tiers is instant.
Gaming specific earn
Express Comps are earnt for casino related activity, and this can be redeemed for accommodation, dining, entertainment, etc. The opaque calculation for earning Express Comps is based on bet size, time on machine and game type.
M life Reward points are also rewarded for casino related activity and for spending on a M life Mastercard. Points can be redeemed for free slot machine games or converted to Express Comps.
Reward overload
The program advertises the following benefits:
Up to 20% off booking – save on every trip
Free rooms – complimentary hotel accommodation, dining, entertainment, and more
Earn points playing slots – then convert them to play for free
Personalised offers
Digging in a little deeper members will find a plethora of benefits across several categories (access, gaming & betting, hotel, shopping, dining, entertainment and transportation). Although dependent on the location, the program also features the following benefits for all members:
Priority hotel check-in
Discounts on shopping
Pre-sale ticket access to events, concerts and fights.
Rewards from partners – land, air, sea
The higher tiers (Platinum and Noir) receive even more:
VIP line access to some nightclubs
Priority access to pool, spa and cabana reservations at the resorts
Invitations to sports and entertainment events
An annual complimentary cruise with Royal Caribbean or Celebrity Cruises
M life rewards and World of Hyatt have a status matching relationship which can come in handy for regular travellers.
This is just a taste of the benefits on offer. The range is vast and more luxurious benefits motivate members to move up tiers. For example, transportation benefits in Las Vegas increase with each tier.

Big program, big rewards
The program is a great example of what loyalty possibilities there are for a large company. There are many facets to M life Rewards, and it can be overwhelming at first glance. However, it hits many of the essential principles of a great loyalty program.
A simple process with multiple options to join the program. Great value benefits for members. The rewards on offer are stimulating and complementary to the brand – hotel stays, entertainment, gaming. The scale and breadth of the program differentiates it from other casino or hotel loyalty programs. New partners and benefits are constantly added to evolve the program.
The loyalty program structure encourages greater member spend with MGM, directly linking the program to business objectives. Big spenders are rewarded lavishly and members who have great experiences are more likely to become advocates for the brand. There is some psychology woven into the gaming element too, in that, if you lose money gambling – you still "win" something through M life Rewards.
It's a compelling loyalty program with some great value. Who doesn't like a little bit of luxury?