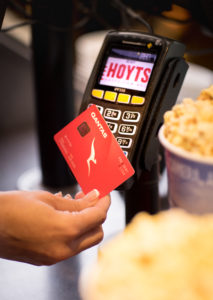 HOYTS have today launched a major partnership with Qantas which allows Qantas Frequent Flyer members to redeem Points for movie tickets, popcorn, drinks, and the ultimate cinema experience, HOYTS LUX. They can also earn Qantas Points for making cash purchases at HOYTS.
This is the first time Qantas has ventured outside its own eco-system in allowing Points redemptions.
HOYTS is now the exclusive movies partner for Qantas Frequent Flyer.
To Earn Qantas Points
Qantas Frequent Flyer members must join the HOYTS Rewards program to earn Points, with two membership options:
Bronze Membership: Free to join and 1 Qantas Point earned for every $2 spent
Silver Membership: $13 per annum (or 2,600 Qantas Points) and 2 Qantas Points earned for every $1 spent, plus a free movie ticket and other benefits
Best of all, Silver HOYTS Rewards members also earn HOYTS Dollars, with one HOYTS Dollar (worth A$1) earned for every $10 spent. This is one of the most generous loyalty programs In Australia, and the addition of Qantas Points makes it even more compelling.
To Redeem Qantas Points
Qantas Frequent Flyer members don't need to join HOYTS Rewards to redeem Points. They can simply swipe their membership card at the EFTPOS terminal when transacting to choose $20 off the total amount owing. This will cost them 4,000 Points.
Qantas Frequent Flyer members can also redeem Points when transacting online.
Loyalty & Reward Co was commissioned to redesign the HOYTS Reward program in 2016 by CEO Damian Keogh. The project included Loyalty & Reward Co negotiating the Qantas agreement on behalf of HOYTS. Negotiations were supported be ex-GM HOYTS Corporate Solutions Dymphna James and the project execution was led by HOYTS Loyalty & CRM Manager Max Savransky.
The Qantas tie-up is an ideal partnership and one which will certainly lead to increased patronage at HOYTS Cinemas, who are already enjoying above average market-share growth with the ongoing roll-out of their Recliner Chairs across general admission cinemas.
Qantas market research indicated going to the movies was one of their member's most preferred entertainment activities. Qantas experimented with Qantas Movies in 2016, allowing members to access discount tickets online, but felt the HOYTS partnership provided much greater potential for members to access value.
Qantas Loyalty CEO Lesley Grant said the new partnership is an exciting and easy way for members to use their points for entertainment.  "Going to the movies is a popular activity among our members so partnering with HOYTS to let them simply scan their card at the counter and redeem their points for movie tickets or treats will make their cinema experience not only fun but great value."
Now for the (pop) corny bit. The tagline for the launch campaign is Flights, Camera, Action. Well, we guess comedy is a valid movie category.
Philip Shelper is a specialist loyalty consultant based in Sydney, Australia who obsesses about everything to do with loyalty and rewards. His company Loyalty & Reward Co are a leading loyalty consulting firm.
Let's connect! https://au.linkedin.com/in/philipshelper