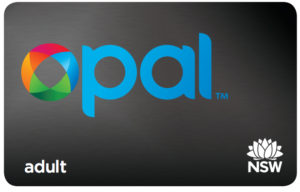 . . . or at least it should. Can Transport For NSW not see the potential gold-mine they're sitting on?
For those who don't know, Opal Card is a payment card for public transport in NSW, and works across trains, buses, ferries and light rail. Anyone travelling on public transport in NSW has to have an Opal Card, and most users register it so they can top-up online, either manually or automatically via a registered credit or debit card. It is likely to be NSW biggest and most utilised membership scheme.
Any company trying to launch a mainstream loyalty program can only dream of what Transport For NSW has achieved. Millions of members with registered cards (and often registered credit cards), swiping their cards twice a day, every day.
Opal Card members do get a reward, but it's lacking in innovation and emotion; once you complete eight paid journeys between Monday and Sunday with an Opal card, your fares for the rest of the week are half-price.
Imagine what this could be. Let's consider some options:
Opal Card members can swipe at participating retailers to earn credits which can be applied against their travel costs, with Transport For NSW clipping the ticket.
Opal Card members who travel more than eight paid journeys receive a bundle of discount offers from retailers, with the retailers paying Transport For NSW for the privilege.
Opal Card member scan use their Opal Card to pay for items just like a credit card, with a % cashback when they do. Transport For NSW clip the ticket.
Opal Card members are offered access to accommodation and event discounts, which they can only unlock if they use public transport to get to the location, generating millions in additional fare revenue on the weekends, a traditional dead period for Transport For NSW.
The possibilities are unlimited. The profit potential is real. The only thing missing is someone within Transport For NSW with the vision and the gumption.
Philip Shelper is a specialist loyalty consultant based in Sydney, Australia who obsesses about everything to do with loyalty and rewards. His company Loyalty & Reward Co are a leading loyalty consulting firm.
Let's connect! https://au.linkedin.com/in/philipshelper