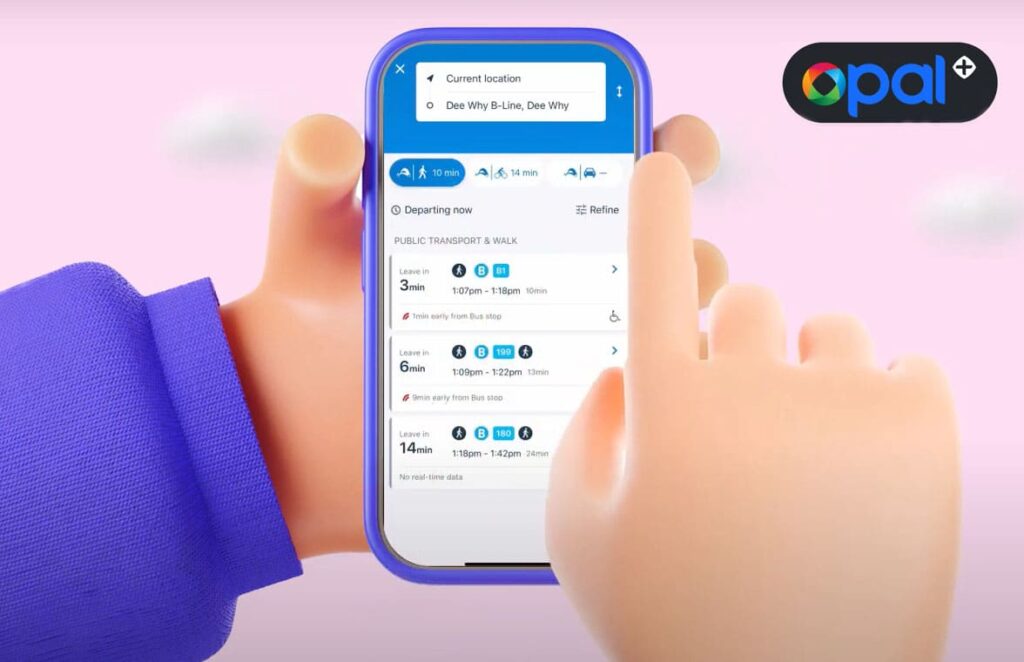 NSW Government has announced their commitment to invest $568 million to upgrade the Opal card system, which they say will make using transport right across the state more convenient, seamless, and connected.
Part of the upgrade to the current system is the trial which recently began for Opal+. The 12-month trial will give 10,000 trial participants an opportunity to test a new, streamlined way of planning, booking, and paying for weekly travel. This will include paying for public transport through subscriptions and having the option to include private transport.
Furthermore, trial participants will have exclusive access to a variety of perks, including discounts and special offers on things like coffee, entertainment, accommodation, and more.
Joining the trial
I have personally joined the trial and can speak from my experience with Opal+.
To be involved in the trial, members need to live and travel within Greater Sydney, the Blue Mountains, the Illawarra, the Central Coast, or the Hunter Region. To register interest to join the trial, members need to provide their full name, email, travel patterns, transport services used, and mobile device used.
The member will receive an email to setup the Opal+ app on their phone and create their account. Members will need to provide their full name, email, and mobile number to register.
Member will need to use a digital Opal+ card in their digital wallet, on their smart device to tap on and off public transport. During trial there will not be a physical Opal card available.
Online experience
The Opal+ app has many similarities to the current Opal app. Existing features remain in the Opal+ app; trip planning and viewing activity. Members will be able to choose their subscription via the app. Also, they can edit their subscription at any time if their travel plans change.
Opal+ add-ons
Add-ons are additional purchases members can add to their weekly subscription bundle. This allows them to plan, book and pay for travel on private transport options like taxis, rideshare trips and e-bikes, and even parking, to help complete their journey.
Members can use add-ons however it suits them – purchase an add-on as a one-off if they don't plan to use add-ons each week. Or if they are a frequent user of private transport options like taxis and rideshares, they can select to auto-renew their preferred add-on weekly.
Below are the four add-ons available for members: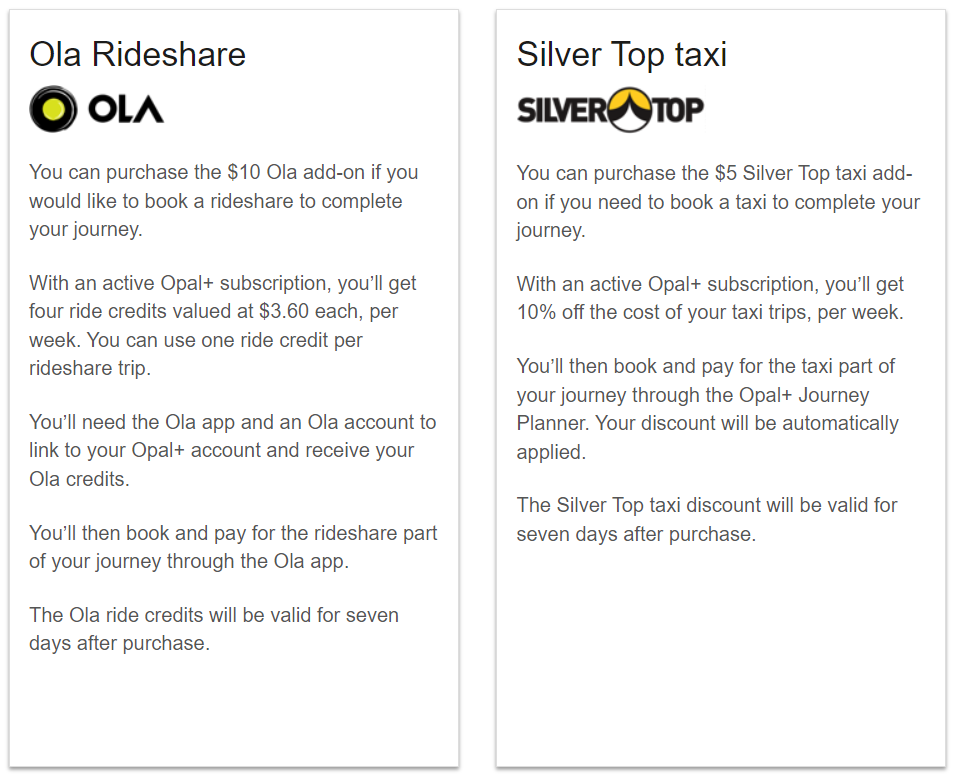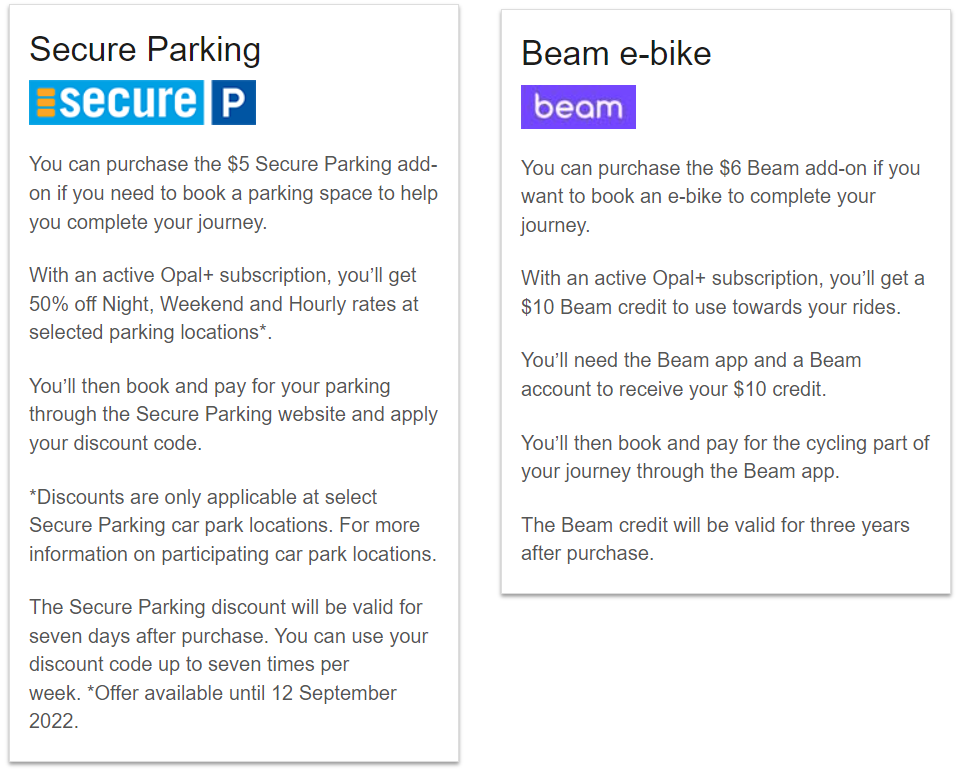 More add-on services will become available over time.
Opal+ perks
Members will not pay to access these discounts and offers; they will receive perks by email when they have an active Opal+ subscription.
There is conflicting information on Transport NSW website, where it does state that below is the Opal+ perks currently available.

There is not any information on the website or via the member account which advises a member how to claim this discount. So, it seems the perks are not available to members yet. Incorrect information showing benefits that are not available will discourage member engagement. Furthermore, if members do not require to include add-ons to their subscription bundle this could lead to members cancelling their Opal+ membership and revert to their standard Opal card.
Last thoughts
There are three big issues with the Opal+ trial:
The complexity required to work out how much a trip is going to cost a member
There are no member discounts (Opal+ perks) available yet
No value for members with add-ons
The current Opal card system works well because it is simple. There is not daily, or weekly "admin" work required by members. There is no need to calculate how much their upcoming work week travel will cost. They do not need to ensure they pick the best subscription for the week – and that does not factor in whether there are changes during that week (i.e., sick and cannot travel to the office).
Secondly, from a loyalty perspective, I was really looking forward to testing the Opal+ perks. However, that will need to wait since the member discounts are not available. If Transport for NSW want members to be engaged in the Opal+ trial they should be looking at providing great member discounts, because compared with the current Opal system not many people are going to be saving money.
Thirdly, the four add-ons are complicated to understand and will not be utilised by most people. If we look at the Ola add-on as an example; it would require a member to travel at least 4 times a week to see a small savings of $4.40. The minimum Ola fare is $9 ($36 per week), so the maximum savings a member can have for the Ola add-on per week is 12% off if they don't spend a cent over $36. In other words, the more you spend on Ola fares the less you will be saving as a percentage.
Overall, I'm hoping this isn't a way to extract revenue or price gouge and I hope it is genuinely going to provide great benefits and discounts in the future. At this stage, it seems way too complex to save a dollar or two and I will be sticking with my current Opal card to save the headache.