Visiting Rebel Sport was my favourite shopping experience as a kid. I loved running around the store, bouncing a ball and browsing the latest footy boots. Back then, Rebel Sport membership was free and provided a flat 5% discount off all items.
A few things have changed since then, including a rebranding to "Rebel" and the introduction of a new member benefits program, "Rebel Active".
The Join Process
To join, filling in an online form is required. Rebel ask for an email, password, first and last name, mobile (in case Rebel need to get in contact regarding the status of an order) and an address. The request for member data surely builds out a robust database but may deter some customers from signing up. Once complete, an activation email is sent with a prompt to login to the Rebel website.
Using the program
To access member benefits online, a member simply logs in to their account.
To access member benefits in store, a member verbally provides membership details at the counter. Alternatively, a physical card may be requested.
Main benefits
Members offers – Exclusive offers each month with reduced pricing
Competitions – Exclusive giveaways, prizes, game tickets & money can't buy experiences
VIP Experiences – Access to exclusive events, celebrity appearances, sporting events & VIP shopping experiences.
Rewards – Exclusive treats & special rewards
Other components
Receipts are automatically saved to the member account
Access to the "rebel insider blog", which keeps members up to date with the latest trends, tips & advice for fitness, sports, fashion & exercise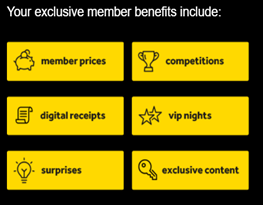 There is a peculiarity, which is not explicitly mentioned in the benefits summary, FAQs or T&Cs. In my profile I see, "My Loyalty Credit" (see below). Is credit part of the program? If so, it is communicated very poorly.

Speaking of communications, a good chunk of Australia has been subject to lockdown recently, but since signing up for this program over 4 months ago and opting into all the communications about offers, competitions and VIP experiences, I have not received anything.
Summary
This program has a lot of potential. However, it is reliant on Rebel's ability to source great rewards, including tickets, money can't buy experiences, access to special events. Without this, the program won't induce any member advocacy and will struggle to change member behaviour.
Since joining the program I have not been exposed to the great benefits publicised. I'm hoping that as we come out of lockdown Rebel has big plans to propel the program and really make it valuable for members. Watch this space!