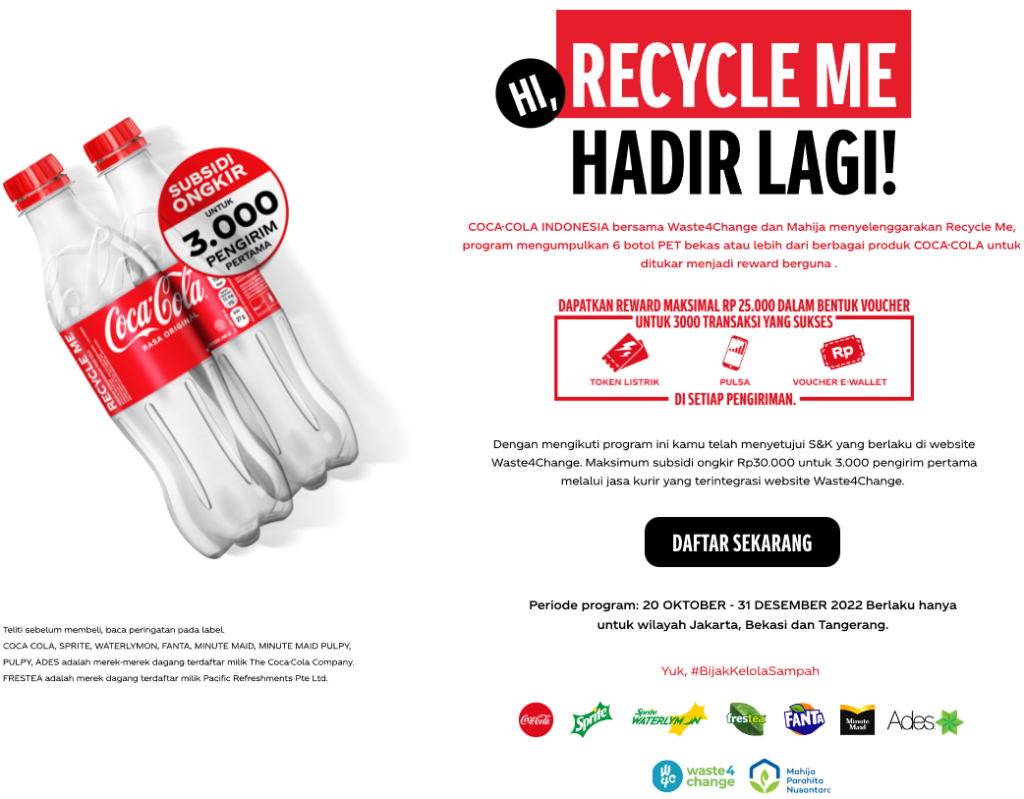 Several years ago, Coca-Cola made a bold commitment to collect and recycle every bottle or can sold by 2030 and ensure all packaging is fully recyclable by 2025.
As a global brand operating in over 200 countries, achieving these goals across every subsidiary, partnership, and enterprise is challenging. Thus, each Coca-Cola company around the world is developing its own unique approach to meeting these targets.
Great Britain is one example of where Coca-Cola has already achieved significant progress. All Coca-Cola bottles in Great Britain are already 100% recyclable, and the company is moving quickly towards its target of one-sold-to-one-collected by 2025.
In addition to establishing recycling stations, Coca-Cola has partnered with different environmental organisations and government agencies across the world to launch campaigns that engage teams of volunteers to collect PET bottles, cans, and other recyclables. These campaigns also educate the public on effective waste management practices.
Turning Plastic Waste into Cash Rewards
Coca-Cola has also installed reverse vending machines that incentivise recycling in some countries by offering consumers cash rewards in exchange for their PET bottles and cans. In Indonesia, the company has taken a particularly innovative approach to promoting recycling by launching a loyalty program that rewards consumers for recycling regularly.
In collaboration with Mahija Parahita Nusantara and Waste4Change [1] as waste collection partners, Coca-Cola launched the 'Recycle Me' Rewards loyalty program in Indonesia in 2020. The program, now in its second year, aims to inspire and encourage change in the collection and recycling of plastic waste. To make it easier for participants, the program has expanded to include the option of sending PET bottles to collection centres in addition to dropping them off in person.
Coca-Cola's Recycle Me Rewards loyalty program in Indonesia: How It Works
The slogan "Hadir Lagi," which means "reappearance" or "being present again" in Indonesian, was chosen to promote the Coca-Cola Recycle Me Rewards program. This is a fitting choice to encourage consumers to bring or send their PET plastic bottles or beverage cans to one of the eight collection centres located throughout the country or one of the sixteen waste banks in Jakarta.
To participate in the program, consumers have the option to either continue collecting and dropping off their beverage packaging waste at collection centres, or, as of October 2022:
Visit the Recycle Me Coca-Cola website
Register for the Waste4Change application
Provide name, email and phone number
Click 'join Recycle Me'
Choose the nearest partner drop point
Choose the shipping method
Note the unique code provided
Collect used bottles and pack them neatly
Send them writing the unique code in the parcel
In exchange, receive Recycle Me reward points
The only condition is that consumers send at least six PET bottles that are Coca-Cola products for each exchange. In return, they receive reward points that can be used for utility tokens that can pay for phone credit or electricity, and e-wallet credit for up to Rp 25,000 (approximately AU$2.45) on each return that is redeemable at various merchants.[2]
Some of the PET plastic bottles collected were recycled and turned into T-shirts, tote shopping bags, and other useful products which program members could redeem.
To promote the program, Coca-Cola provided a postage subsidy of Rp30,000 (approx. AU$2.95) to the first 3,000 participants who joined the program, in case they lived far from a recycling centre.
Can Coca-Cola's Recycle Me Rewards loyalty program make a lasting impact?
The Recycle Me Rewards program provides tangible and useful benefits to Indonesian consumers who recycle. The ability to redeem rewards for utilities or everyday expenses is particularly valuable to certain sectors of the population, as it represents an additional source of income or savings.
Moreover, since the informal sector plays a significant role in waste management in Indonesia, these rewards can incentivise individuals and communities to get involved.
Regrettably, the Coca-Cola Recycle Me rewards program seems to only run for a few months each year. According to the program's website, last year it ran from 20 October to 31 December 2022.
Hopefully this is not a short lived campaign. The loyalty program has an effective loyalty framework that can continuously engage consumers in desired recycling behaviours, which is a key characteristic of successful loyalty programs. Coca-Cola Recycle Me achieves this by providing value and relevant rewards to members.
If the program were to continue or expand, it could create a lasting impact on recycling behaviours not only in Indonesia, but also in the rest of the world.
---
1 Mahija Parahita Nusantara is a nonprofit organisation for effective waste management and responsible collection. Waste4Change is a waste management platform for businesses, people, and the government.
2 For reference, Coca-Cola products vary depending on location and type of store. A single 330ml can of Coca-Cola may cost Rp 4,000 (AU$0.35) and a 1.5 litre bottle may cost Rp 25,000 (AU$2.45). If the program gives Rp 70 for every bottle they would be giving members a refund of less than half a percent of the average cost of a product. Ten thousand bottles equate to about AU$65. According to numbeo 1hr of mobile prepaid time costs approximately AU$7 and the average monthly cost of electricity in Bali could cost AU$75.