---
Referral strategies you should know about
Referral programs should form part of your overall loyalty strategy, to ensure you're making the most of your most engaged customers and staff.
Referral programs generally rely on motivated, satisfied and delighted customers and staff as the referral base, so focusing on recognising and rewarding them to ensure they're ripe for referrals is the first step.
Once you've found success here, you'll be pleased to know that more often than not your high value customers will likely invite other like-minded customers with high lifetime value to join.
Referral strategies:
Objective
Harness member/staff advocacy to grow the program
Drive brand and program awareness
Types of referral strategies
Member Get Member programs: incentivising and harnessing the member base to recruit new members.
Staff Get Member programs: creating a staff incentive program which tracks and rewards staff when member's they've signed up make a transaction
Reviews/recommendations: invite satisfied and delighted members to write reviews and recommend you publicly to build credibility
Content creation: reward members for creating and sharing brand content via their channels
Community participation: reward participation and contribution to community groups, forums or events relating to the brand/program
Social sharing: follow/like/comment/share on social media and earn a bonus reward
Best practice examples of each of these strategies have been provided in the section below.
What are the best referral programs?
After acting as loyalty consultants for many brands and studying hundreds of loyalty and referral programs globally, these are my top picks per category.
Member get member – Dropbox
The Dropbox referral program resulted in exponential success with 3,900 per cent growth in a 15-month period.[1]
Since the Dropbox product offers storage space in the cloud, the referral program provides more storage space for referees. This perfectly structured reward means that referees are getting further benefits from the product enhancing their positive attitudes towards it.
Plus, they can track their referral rewards progress on a visual progress tracker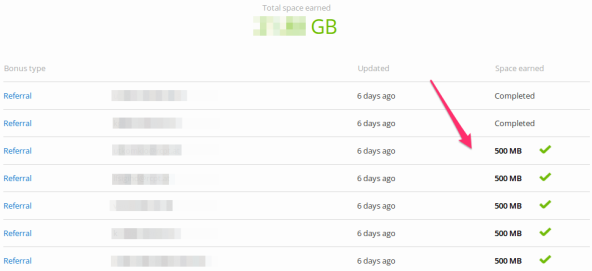 Driver get member – DiDi
DiDi have a member get member program and a driver get member program. The driver program provides cashback rewards to drivers which increase in value with the more riders the driver refers. The reward of cashback is well suited to motivate drivers because this is the reason they're driving in the first place. Since drivers usually switch between driving for different rideshare companies, they are perfectly positioned to be able to switch their Uber or Ola riders over to DiDi, with the time to educate customers during their trip and provide them with a $20 join voucher.
They can also track their progress towards unlocking ever increasing cash rewards.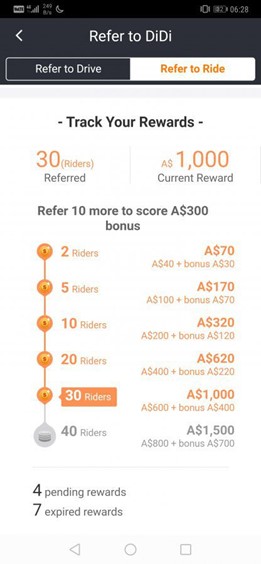 Studies have shown that nearly 95 per cent of shoppers read online reviews before making a purchase[1] and 97 per cent of shoppers say reviews influence buying decisions[2].
Reebok Unlocked reward members with a healthy amount of bonus points for rating and reviewing a product after their purchase. Attaching bonus points in exchange for ratings/reviews on social media or a website can tap into the norm of reciprocity where consumers who receive something free (points) feel compelled to provide something in return (a positive review).

Google Local Guides invites members to share photos, reviews and information on Google Maps.
Points can be accumulated to unlock ten levels and seven badges, which provide different benefits such as exclusive contests, early access to new Google products and features, Google Drive storage upgrades, the option to be featured in Local Guides online channels and special perks from partners.
An interesting element of the program is Google Communities. Local Guides allows reviewers to host meet ups, where they can invite other local reviewers to get together and explore the neighbourhood, then post their experience onto Google Maps. Examples include San Francisco (the group mapped an interesting walking path through the city and photographed the whole thing), London (the group mapped out a route of the cafes with the best coffee) and New York (the group mapped out the city's finest ramen joints).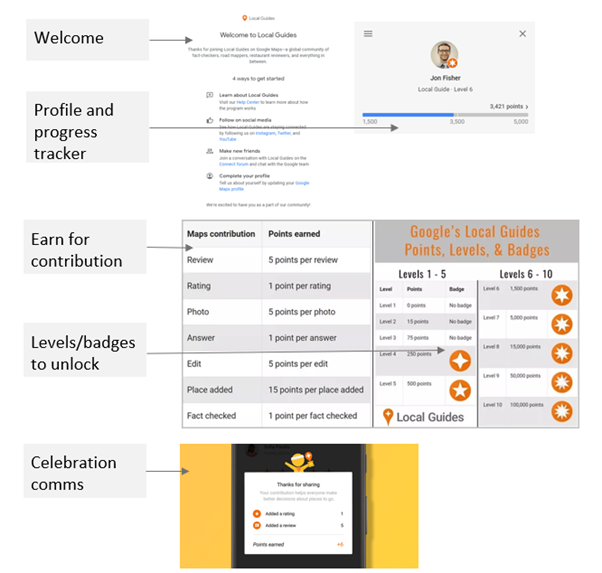 Cosmetics brand NYX ran a six-day campaign between March 12 and March 17, 2020, that placed its new lip gloss at the heart of a TikTok challenge called #ButterGlossPop.
They invited followers to "pop your gloss," prompting viewers to try out multiple shades of lip gloss while singing or dancing. Additionally, one winner, selected at random received $1,200 worth of NYX products. The paid campaign saw over 2 million user-generated videos which created over 10 billion views. They also experienced a 42% increase in brand awareness.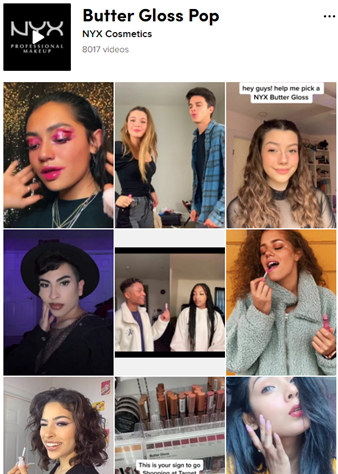 Zaxby's Rewards ran a successful 'check in for chicken' promotional campaign where members earned points for linking their social media accounts (Facebook, Twitter, Instagram, YouTube), checking into a Zaxby's location, sharing Zaxby's content with friends and uploading photos on social media. Members could view their points on a leader board and redeem points for products and entries to win fun and exclusive prizes. This gamified advocacy campaign was reported to have 'grown their fan base exponentially'.[1]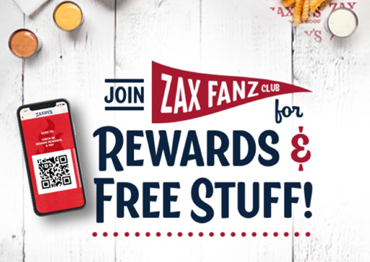 How to design a best-practice referral program?
Make it super simple, flexible and rewarding for a customer/staff member to refer your brand/program/product to someone they know
Ensure you can adequately track referral activity, so the referee/referrer can be rewarded for their actions in real time. Having a progress tracker to track referral activity can make it extra motivating
Build out communications to the referrer and referee to ensure consistency and efficiency
Test and refine different referral reward values to determine the optimal reward
Evolve your referral program over time to suit the business needs
What next?
Get your referral program going!
It's clear that different types of referral programs deliver specific advantages over mainstream advertising; they can be more cost-effective, they harness the power of word-of-mouth from trusted advocates, access to customers who may not be reachable via traditional media and an increased ability to reward existing members if referrals are successful. There are some very creative campaigns out there which have managed to achieve the ultimate viral networking effect.
Do yourself a favour, and think about implementing one yesterday!
---
[1] QSR, Zaxby's Rewards Fans For Checking In For Chicken, September 19th 2013, <https://www.qsrmagazine.com/news/zaxby-s-rewards-fans-checking-chicken>, accessed January 14th 2020
---
[2] Spiegal Research Centre, 2017, 'How Online Reviews Influence Sales', https://spiegel.medill.northwestern.edu/how-online-reviews-influence-sales/, accessed 12 May 2020.
[3] Fan and Fuel, 2016, 'No online customer reviews means BIG problems in 2017', https://fanandfuel.com/no-online-customer-reviews-means-big-problems-2017/, accessed 12 May 2020.
---
[4] Mengoulis, A., 2019, 'Dropbox grew 3900% with a simple referral program. Here's how!', Inside Viral Loops, https://viral-loops.com/blog/dropbox-grew-3900-simple-referral-program/, accessed 22 May 2020.
---