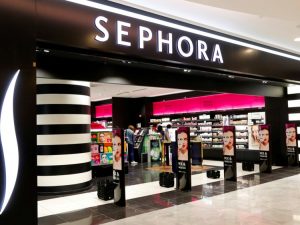 Sephora is suffering a backlash from their premium tier members after recently announcing changes to the Sephora Beauty Insider loyalty program.
The first change announced is that members of all three tiers—Insider, VIB and Rouge—may now choose a free gift during their birthday month.
Sephora also announced VIB and Rouge members can now choose from a third product option that's available exclusively on the new Birthday Boutique, with reward options changing periodically. Members can also choose to add 250 bonus points to their accounts instead of claiming the free birthday gift.
The third announcement related to personalised program bonuses for VIB and Rouge members, who can choose one of three benefits: added points, shareable makeovers or free shipping. For those that choose points, Rouge clients receive 750 points while VIB receive 500.
A saccharine-sweet article posted on New Beauty which raved extensively about the program, including statements such as, 'It appears that 2019 is going to be our most beautiful yet,' received some harsh comments from Sephora Beauty Insider members.
'This is most definitely a downgrade, and not an upgrade, especially for Rouge members,' posted one member. 'For how much Rouge members spend per year, it's almost disgraceful that we now have to "choose" from benefits we always were privy too in the past. Makes me rethink where I should be spending my money on beauty purchases.'
'Actually it's worth pointing out the new program is a downgrade in some ways,' posted another member. 'The free shipping VIB rouge can choose? It used to be free to all rouges plus you received a welcome perk for reaching the rouge spending tier. Now you can choose it as your perk and not get anything else, or choose something else and pay for the shipping. Also instead of 3 free samples they now only allow 2 free samples. Why isn't that covered?'
Another member claimed one of the changes isn't even new, stating 'All three tiers of beauty insiders were always able to claim a birthday gift.'
Making changes to popular loyalty program can always be tricky, with members very sensitive to any changes which reduce their benefits. In this case it seems Sephora has some a bit of work to do to 'make-up' with their premium members.
Philip Shelper is a loyalty management consultant based in Sydney, Australia who obsesses about everything to do with loyalty and rewards. His company Loyalty & Reward Co are a leading loyalty consulting firm.
Phil is the author of Blockchain Loyalty: Disrupting loyalty and reinventing marketing using cryptocurrencies. Buy the book.
www.blockchainloyalty.io is a global resource centre for everything blockchain loyalty.
Let's connect!
LinkedIn: https://au.linkedin.com/in/philipshelper
Twitter: @phil_shelper