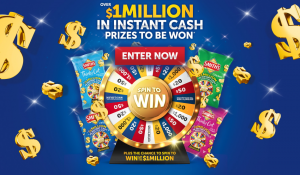 Smith's latest promotional campaign is set to deliver them a sizeable marketing database thanks to a clever gamification design which invites customers to spin a digital wheel for the chance to win instant cash prizes.
Consumers can simply buy any pack of Smith's, head online and spin the wheel for their chance to win. Winners are notified instantly of the amount they've won, while non-winners are automatically entered into the Major Prize Draw for a chance to 'Spin to Win up to $1 Million'.
According to Hive Marketing Group, who created the campaign in conjunctions with 31ST, the competition has already seen over 1,200 winners and over 1,000,000 entries.
'This campaign not only excels in ease-of-entry and brand relevancy but also has deep engagement levels using multiple touchpoints to connect with Shoppers at all stages of the path-to-purchase,' said Richard Woods, CEO and Founder of Hive. 'Shoppers were reached with a mass awareness ATL campaign to encourage them to Spin to Win online. We also encouraged them to come and spin the Smith's wheel in supermarkets across Australia with localised geo-targeted communications & TTL support.'
Customers who play the game are first required to enter personal details into a form including name, email, state mobile phone number and date of birth. They are also invited to agree to receive marketing communications from Smith's.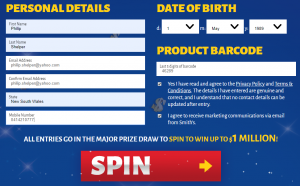 Wholesalers often struggle to build marketing databases, with the consumer relationship generally owned by the loyalty program of retailers, such as supermarket loyalty programs. Building their own database using this clever gamification campaign will provide Smith's with a low-cost channel of consumer who have purchased at least one of their products, which they can use for a myriad of future promotions. Gamification is used extensively in loyalty programs, but can also be an effective device for companies without a loyalty program who need deeper engagement with their customers.
As every entry is entered into the Major Prize draw to be selected to spin to win $1 million dollars, Smiths has set the foundation for engaging ongoing communications to establish engagement with their new marketing channel.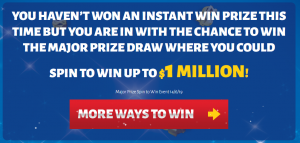 This certainly is some pretty crisp marketing execution.
Philip Shelper is a loyalty management consultant based in Sydney, Australia who obsesses about everything to do with loyalty and rewards. His company Loyalty & Reward Co are a leading loyalty consulting firm.
Phil is the author of Blockchain Loyalty: Disrupting loyalty and reinventing marketing using cryptocurrencies. Buy the book.
www.blockchainloyalty.io is a global resource centre for everything blockchain loyalty.
Let's connect!
LinkedIn: https://au.linkedin.com/in/philipshelper
Twitter: @phil_shelper