Spotify is one of the largest music streaming service providers in the world. Born in Stockholm, Sweden, Spotify changed the music streaming game through a subscription-based model to rival Apple iTunes.
In 2018, Spotify introduced the #SpotifyFansFirst proposition. An opportunity to thank the most loyal Spotify fans of a particular artist. A win-win for artists and fans alike.

My Fans First Experience
I hadn't heard about #SpotifyFansFirst until I received an email myself. Curious, I opened the email to find the following message.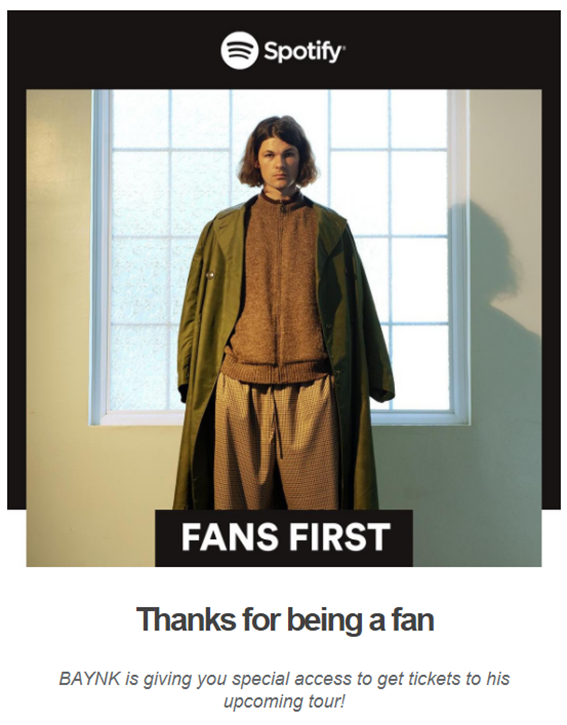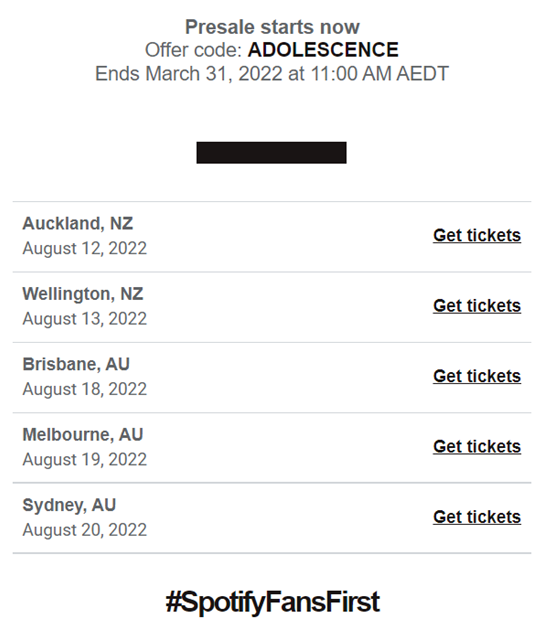 I was being acknowledged, thanked, and rewarded for listening to the artist, BAYNK. My exclusive offer was access to a ticket presale for an upcoming concert.
What did I do to receive this? Nothing. Well, not nothing.
I found out that emails are sent to listeners who Spotify deem are the artist's top fans and/or anyone who follows the artist on Spotify.
What else is there?
Some #SpotifyFansFirst campaigns offer exclusive merch which are only available for a limited time and cannot be bought anywhere else. Fun fact, Spotify uncovered that 'Metal' fans are the most loyal of all genres.
Spotify don't handle any of the purchasing for presale tickets or merch. The responsibility is outsourced to specific ticketing and merch companies. The link to these websites and the accompanying offer codes can be found within the email.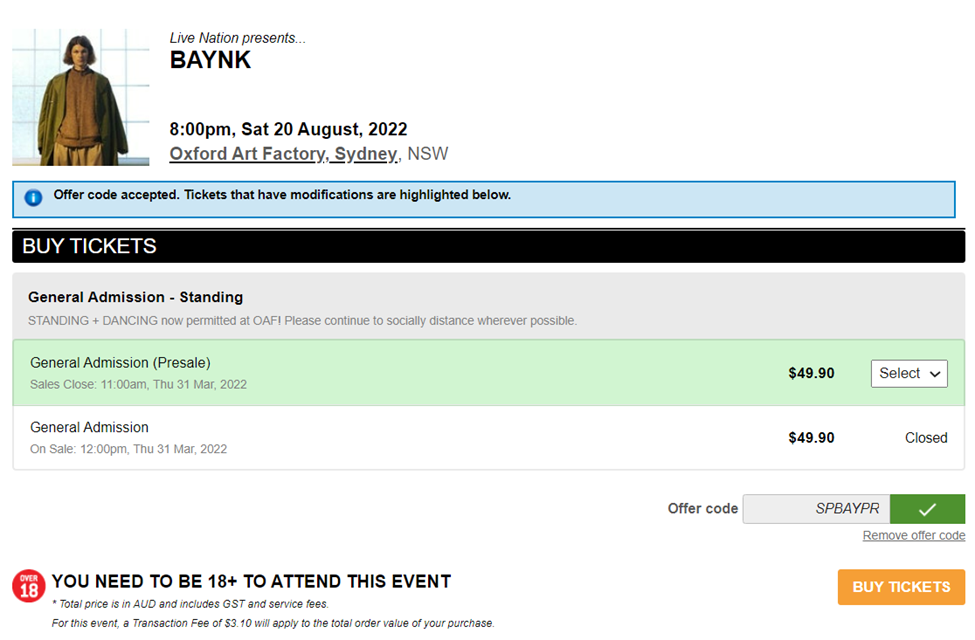 To ensure you can receive these emails, go to your Spotify account notification settings and make sure you get Spotify News and Offers. Also, ensure your email address is correct. The offers are open to both premium and free version users of Spotify (although after this article I don't think there are too many free users out there).
Win-Win
It's a nice touch and a clever engagement strategy. The initiative provides true fans more opportunities to engage with their favourite artists – discovering a concert nearby or acquiring exclusive merch. The artist is also provided an opportunity to 'give back' to their loyal fans.
For artists and fans, it most likely makes for a better atmosphere at the concert, attributed to the assumption that there will be a greater proportion of concertgoers who really know the music. The campaigns also make it more difficult for ticket scalpers to access concert tickets in the hope of reselling for a profit.
Spotify Fans First is simple, valuable, exclusive, emotional, and complementary to the brand. Therefore, it has many of the attributes we observe in a successful loyalty program.
I'm eagerly awaiting my next 'Fans First' email!
Want to keep your members engaged and coming back for more? Let us help you design a loyalty program that will keep them singing your praises. We offer a range of loyalty consultant services. Contact us to discuss your loyalty consulting needs.