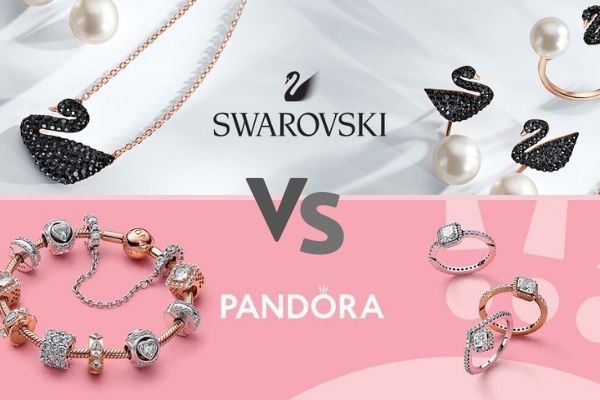 When we think about luxury jewellery that doesn't break the bank, Swarovski and Pandora are definitely the first to come to mind.
Both offer quality products and designs alongside a Club loyalty program that incites customers to join with proclamations of member exclusivity and various bonuses. However, in this battle, one undoubtedly outshines the other.

Swarovski is an Austrian jewellery company which originated in 1895, and has since offered gorgeous, signature crystal jewellery across the world. Swarovski re-designed its original Be Swarovski program and has since launched the Swarovski Club Membership Program in January 2020.
The Swarovski Club program implements a status tier structure, allowing members to gradually climb tiers that are proportionate to their spend, offering additional benefits and value with each tier they move up. The registration process is simple and can be completed instore or online with basic information such as email, name, and contact.
The Benefits:
Bronze (1st purchase): Exclusive pre-sale access + news on new styles + 15% birthday voucher
Silver ($350 spend): All bronze rewards + free standard shipping + VIP event invitations + access to exclusive ranges and a 20% voucher.
Gold ($900) spend: A free "Gold Gift" in addition to all silver rewards.
Platinum ($1800) spend: A free "Platinum Gift" in addition to all silver rewards.
Members automatically access bronze status benefits with their first purchase regardless of spend, a nice introduction to the program. Members will then be able to track their progress visually via their account through a bar that fills in proportion to each purchase, effectively utilising loyalty psychology techniques such as The Goal Gradient Effect to nudge members to make that next impulsive purchase and move up to the following tier.
Additionally, the gap between minimum spends at each level is realistically attainable, with standard rings & earrings generally positioned around the $100-$200 range. Each tier also effectively showcases more value than the last, recognising and rewarding member loyalty accordingly at every stage.
The Catch
However, these twinkling benefits are not forever. Without maintaining your tier with ongoing purchases within a 12-month time frame, the program will lower your tier. This lightly gamified approach to the program is highly engaging as members are likely to fear the loss of progress (aka loss aversion bias), and actively attempt to maintain their tier.
Bling me up!
Overall, the Swarovski Club program is designed thoughtfully, as Swarovski is showering its most avid crystal lovers with the best rewards. However, where the Swarovski program really shines is in its excellent work of recognising not all customers are going to need that platinum tier bling. Your tier does not take away from the program value or experience, ensuring members at all levels feel both included in the Swarovski community and rewarded. It could even be debated that the best value for the rest of us crystal dabblers lays in the Silver to Gold tier, as not only are the benefits still great but the maintenance of these tiers is not a super challenging task.

Pandora is an equally globally successful brand offering unique jewellery that can be mixed, matched, and personalised to the buyer's taste. This level of personalisation offers significant meaningful value to the customer, allowing them to immerse themselves in the brand experience. Due to this element alone, Pandora has gained huge popularity and a large following. It is possible that because this level of personalisation is so distinctive to the brand, that their loyalty program in comparison feels a little dull.
Unlike Swarovski, there are no tiers. Pandora instead have a member benefits program that applies to all customers who join the program via an easy email registration instore or online.
Pandora's "exclusive" benefits are as follows:
First to be notified about new products & promotions
Exclusive early access to new styles & sales.
Receive 15% off on your birthday month
Pandora Club Member Anniversary Celebration: 15% off voucher
Create your wish list
VIP events: exclusive access to instore events
Save your sizes (ring sizes etc.)
I am sure we can all agree that the above presents the commonly minimal reward structure we often get imposed throughout the retail industry. A static program with an unchanging list of small benefits are introduced and we are somehow expected to be excited about it. It is disappointing that accessing all member benefits require additional purchases to unlock (i.e., to redeem your 15% off birthday or anniversary voucher, you need to make a purchase to get 15% off).
The main issue, however, lies with the program's lack of recognition when it comes to member loyalty. In other words, regardless of your dedication to Pandora, you are placed in the same pool of members, with the elements of personalisation found within their product range, absent from their program. It feels as though the primary aim of the loyalty program is to build a marketing database for Pandora, rather than recognise true customer loyalty.
Member Exclusive? Not so much.
I dug a little deeper into some of the more vague benefits like 'exclusive access to new styles and sales' and found that there is a general lack of exclusivity in the Pandora Club program. This year (and last) they released a limited edition, engraved, Pandora Club 2021 Angel Wings and Heart Dangle Charm, giving the impression that it was only exclusively available to Pandora Club members. However, turns out the charm is accessible to anyone regardless of membership status. To top it off, members receive no special price or benefit for purchasing it. Anyone can access all the same benefits as the most devoted Pandora supporter.
What about the instore experience?
The in-store experience is like a reflection of the outlined issues. During my purchases at Swarovski, I am constantly reminded of the program. Even when I decline, staff do not fail to reiterate the benefits of joining whilst they process my purchase.
In my experience, Pandora also cited their program, but there was little to no willingness to explain or promote it any further. It is almost as if the staff themselves were aware that the program was deficient in any standout elements to convince me to sign up.
At this current point in time, the Pandora Club program appears to exist mainly for the sake of having a program. Its current design structure is bland, facilitating neither short-term nor long-term loyalty from its members and fails to adequately recognise or reward its most loyal customer base.
Both brands offer great quality, stunning styles, and wonderful service. But it is obvious who's going to make me feel that extra bit special, motivating me to build a lasting relationship with them and rewarding me along the way for doing so.
Swarovski is the gem for me.