Target is one of Australia's most recognised department stores and offers affordably priced products across multiple categories including clothing, beauty, homeware, electronics and more. Target is managed by Kmart Group, and currently offer Flybuy's members the opportunity to earn points for transacting with them. However, Target has also released a separate loyalty program known as Target Shop+ which enables members to earn additional rewards for engaging with the app.
One. Two. Earn
The Target Shop+ program showcases an interesting and new approach to the simple stamp card. Though members can sign in using their online Target account details (should they have one), shoppers can only join the program by downloading the app. Members who are logged in and purchase via the app or website can earn stamps for each transaction. On every second or alternating transaction, members will unlock a mystery reward in the form of a digital voucher or coupon.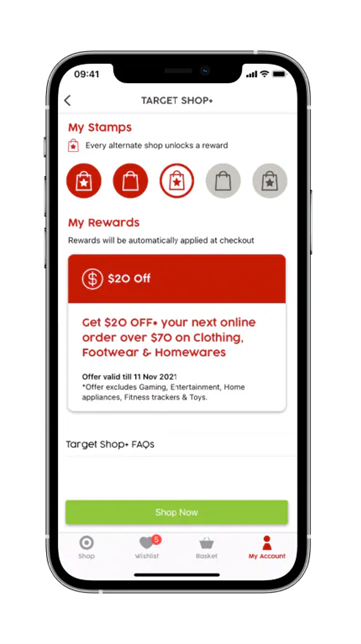 Types of rewards or offers accessible via stamps include:
Buy one and earn a free gift
Get $X off upon spending a minimum of $Y
Buy one and get a discount on the other
The reward is allocated to the member account and will be automatically applied on the next transaction. Unfortunately, members who collect multiple rewards will not be able to pick and choose between offers, and the offer closest to expiry will be allocated to every proceeding transaction. Another disadvantage is that members cannot currently earn stamps for in-store purchases. Transactions must be made online or via the app to qualify for a stamp.
A thought-out rewards structure
There is a novelty in not knowing what reward the next stamp will unlock. In a way, this subtly motivates members to continue to spend with Target and engage with the program to satisfy a natural urge to see what can be unlocked next. The visual illustration of stamp progression within the app also helps to elicit this continued motivation, otherwise known as the endowed progress and goal gradient effect.
The rewards mix also allows Target to provide a relatively valuable and appealing combination of monetary rewards at different times, which may be a clever tactic used to monitor costs associated with the program whilst still providing members with ongoing value.
The Target Shop + program ticks several boxes associated with a strong loyalty program, however, falters in one detrimental area.
The deadly impact of faulty technology
Though the overall program may appear simple and easy to engage with, my own purchase experience on the app proved to be far more difficult than initially anticipated.
The app was unable to successfully process my gift card during the transaction, however, the funds were withdrawn meaning I was unable to make a second attempt. After consulting with customer service, I was notified that it would take up to 48 hours for funds to return to my card at which point I would need to re-attempt my purchase.
Naturally, this delay would cause frustration in many customers. However, the situation was made worse when I noticed the funds had not returned to my gift card after seven days. Upon contacting customer service again, they offered to return the full amount via Eftpos, meaning that I would need to provide my personal bank details via email to be reimbursed the full amount.
The situation was far from ideal, and through the customer service team were nice enough, the overall hassle and inconvenience left me never wanting to utilise Target's online services ever again. It also appears according to app reviews; my experience was not a one-off.
Prioritising the digital experience
The digital member experience today matters the same if not more than the in-store experience. In a climate where members are already inundated with several loyalty programs that require app downloads, it is critical now more than ever to deliver a seamless user experience throughout the member journey. Not having a frictionless payment process not only generates customer dissonance but also prevents the member from engaging successfully with the loyalty program as they are unable to earn or redeem for the faulty transaction.
An under-developed app
Another issue lies in that without the loyalty feature, the app does not function more than an alternative product browsing platform to the Target website. The Target website promotes that the app offers a product scanning feature, which enables members to scan a product barcode to find stock, store, and size availability. However, this information is relatively standard and can be uncovered via a quick product search on the website, bypassing the need to download an app.
Room for improvement
The Target Shop+ program is simple, provides easy access to rewards and overall appears to be a promising start. However, more investment will be required in the app, not only to maintain a seamless customer experience but to demonstrate to users that the app will provide a level of convenience and novelty that surpasses other apps available in the industry.
Customers today have been exposed to high standards of service by brands such as Netflix, Amazon and Apple who continue to deliver seamless engagement experiences. As a result, customers now demand an increasingly higher standard for convenience, meaning that program execution is critical to the success of any loyalty program. It is important for businesses to keep in mind that no matter how sophisticated the program design may be, members who face any form of friction or inconvenience are bound to disengage and consider better alternatives elsewhere.