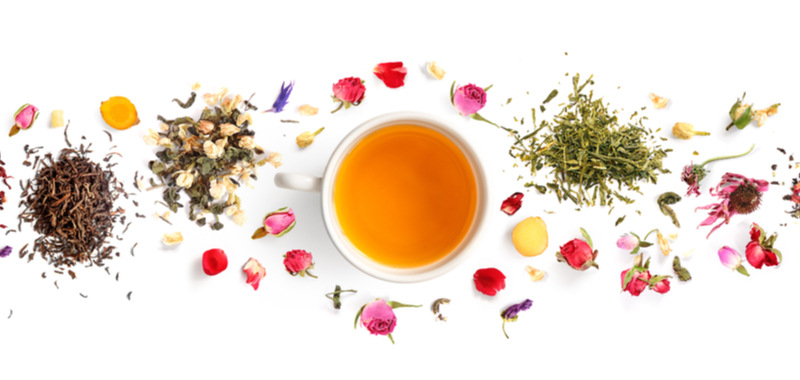 According to legend, tea was first discovered in 2737 BC when the second emperor of China, Shen Nong, a renowned herbalist, found that a leaf from a nearby bush had drifted into a cup of boiling water. The resulting infusion was the steamy beverage we now know as tea. By the nineteenth century, tea had captured the taste buds of a global market and was even used as currency for a time by the nomads of Siberia and Mongolia.
The mystique of this wonderful elixir continues today, contributing billions of dollars annually to consumer markets around the world as the most consumed beverage on the planet after water.
In fact, 53 per cent of Australians on average drink tea every day with 34 per cent drinking multiple cups a day (research released by Canstar Blue in April 2021 based on a study involving 1,526 Australian adults).
Of the most iconic tea brands in Australia however, few have memorable loyalty programs.
In such a highly competitive space, well-designed loyalty programs have been proven to increase customer engagement, retention, advocacy and spend.
T2 Tea
My relationship with T2 began as a curious, adventurous university student who would spend hours at the T2 Tea House at Macquarie Centre, NSW which was positioned directly opposite the store.
The sales staff were friendly, knowledgeable and a little bit quirky, a testament to the T2 brand. I began to exclusively drink T2 teas and an authentic, old-fashioned style loyalty was born. Craving full immersion, I began working for T2 and spent eight months developing a discerning palette for the delicate flavour variations of over a hundred teas.
A bittersweet farewell followed as I embarked on a career in loyalty marketing with promises to always be true to T2.
Customer loyalty can only carry a brand so far
T2 introduced their loyalty stamp card not long after I left the company in 2011. The loyalty card served as a constant in-wallet reminder to pop into the store to continue to add to my already impressive supply. After some months of loyal shopping, my stamp card was one stamp away from completion. As I stepped into the store, thrilled to claim my loyalty redemption, I learned that the stamp cards had been discontinued.
Pipped at the post.
No migration of stamps onto a virtual stamp card or anything.
There had been no warning that the card would soon be discontinued on social media, email or in-store despite using the stamp card just weeks prior. The Tea House I so loved also closed down with no plans to reopen in another location.
My relationship with the brand I loved so much had been damaged and from that day I started to consider other brands in search of some rebound brews such as The Tea Centre, Tea Forte, Tea Drop and the beautiful organic teas from Byron Bay Tea Company.
T2 Tea Society
In 2012, T2 launched the T2 Tea Society, an online loyalty program that served to fill the gap my beloved loyalty card had left. I decided to give T2 another chance, however the stamp card trauma followed by a lack of meaningful T2 loyalty incentives and impersonalised communications moved me firmly into the "disengaged" segment.
The new program itself was underwhelming (and I dare say, after a recent review, it still is). The website has always been a brand-misaligned browsing experience when compared to the stores despite the 2021 revamp and relaunch. While it appears the brand may have missed the mark again with their website CX, there is hope that next in line for refresh is the T2 Tea Society.
Today, I remain a customer of T2, purchasing a box or two each year, however this is markedly a reduction to my pre-stamp card spend.
So, what are the benefits associated with becoming a T2 Tea Society member?
10 per cent off your first purchase
Members only events – First peek and shop opportunities for new product ranges
Secret deals, offers and promos
Complimentary gift wrapping (previously a free service for all customers)

That's it. No always-on discount. No quarterly sampler boxes for high-value customers. No free box of tea for your birthday. The program has so much potential but there is virtually no incentive to spend more.
What's the point of the program other than collecting marketing data and (as the T2 website claims) creating a network of "like-minded sippers"- a sense of belonging which arguably is quite absent from the member account view of the website? Where is this commune? Instagram? Facebook?
*crickets*
It also seems quite naïve to describe T2 Tea Society members as 'like-minded" just because we enjoy a cup of tea. Perhaps, herein lies the issue with the lack of personalisation evident across all customer touch points.
You may ask, "How much can someone really spend on tea?"
Well, with teas ranging from $12 a box right up to $47 for rarer more prized teas, gift packs worth $100 and an even wider price range for tea-wares, an enthusiast could rack up a serious amount of spend (or a sizeable points balance… see where I am going with this?).
What are other Australian Tea brands doing in the loyalty space?
Not to bash only T2, but it seems not many premium tea brands in Australia are fully exploring the loyalty potential of their customers either.
The Tea Centre is another brand specialising in loose leaf teas with more of an English afternoon-tea feel. They also once had a charming, quaint tearoom in Sydney CBD where customer awareness originally began.
The Tea Centre's current Leaf Lover program benefits include:
A free tea sample every month
Exclusive offers
Hear about sales first
This also misses the mark, with a lack of an always-on discount and tiers that keep customers wondering how many sips they are from "ascending to the next level of exclusive benefits".
Then there is Tea Forte Australia who have no program, despite their American site having just re-launched an impressive program in September 2021 with clear attainable loyalty tiers, options to grow points balance and simple rewards redemption options. Given the branding is identical, the program could literally just be replicated on the Australian site.
Unfortunately, Tea Forte America does not ship to Australia which is a shame given the stunning presentation of their product. I mean, I could buy from the Australian site, but why do that when I can go elsewhere and get rewarded?
So is anyone doing this Loyal-tea thing right in Australia?
Yes! Tea Drop have a simple, well-structured program, Tea Drop Rewards, which is strangely similar to the Tea Forte America loyalty program.
The program has applied the use of tiers appropriately with clearly communicated avenues to earn points and redeem rewards.

Not only is there incentive to "Create an account" in exchange for a boost of 200 loyalty points, there is also a combination of one-off actions and opportunities to earn extra points. Referrals are also entwined succinctly into the messaging.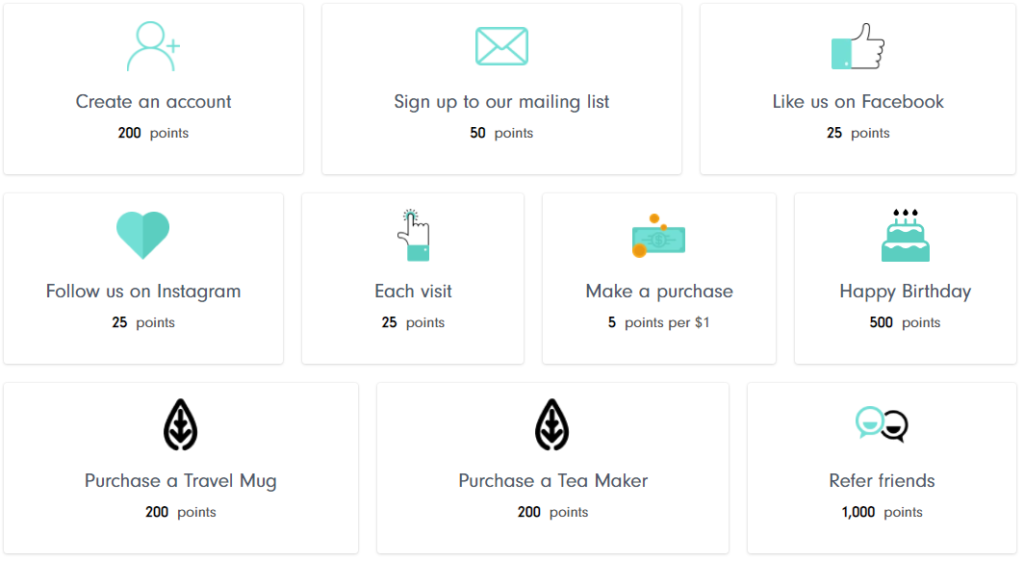 Other notable mentions in the best "Loyal-tea program" awards category are:
Both programs are easy to understand, well-structured and are designed to engage their members.
What could be done across the board to take these programs to the next level?
Greater personalisation (in-store and online)
Intelligent cross-selling of products on websites (based on past purchases and Wishlist)
More efficient rewards such as tea sample boxes
Potential for gamification
A final word
Attention: Tea brands of Australia. While your products are sublime, so much more can be done to reward your loyal customers and bring your less engaged target base back to the par-tea. Bring back the immersive tea experience with the tea houses, the quaint shops and a simple, feel-good rewards program with the right balance of gratification and aspiration that is far from lukewarm.