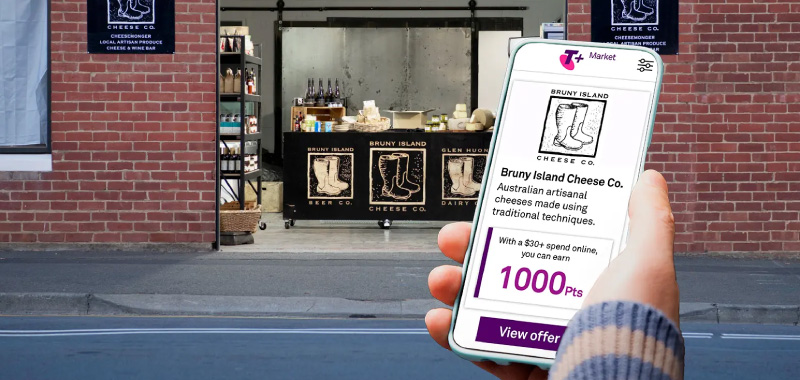 Telstra are scaling their Telstra Plus program to rival the best loyalty programs in Australia.
The major Australian telco highlighted in their latest T25 transformation strategy they will be turbocharging their tier-based loyalty program, Telstra Plus, and expand the services offered to small business customers to grow in the digital economy.
Launched in 2019, Telstra Plus now has 4 million members and the company is targeting 6 million members by FY25. Such a play would make Telstra Plus one of the largest rewards programs in the country.
Telstra plan to meet their target by leveraging existing relationships with major enterprises, and by partnering with small businesses to create greater local reach and rewards for customers. A major foundation of the latter is a new program called Telstra Plus Market.
What is the Telstra Plus Market?
Telstra Plus Market will provide small and medium businesses the opportunity to directly market to members of Telstra Plus.
Eligible businesses will be able to create offers that enable members to earn Telstra Plus points. Members can then view these offers inside the Telstra Plus app and unlock points when they take up the offer with those participating businesses.
For example, a florist could market a special offer on a bunch of roses for 10 points for every $1 spent or an artisanal cheese shop could offer a 1000 bonus points for any Telstra Plus member who spends over $30.
Points can then be redeemed in the Telstra Plus Rewards Store for the latest tech, devices and accessories.
A pilot program with around 40 small businesses from a florist to a hair salon and a wine shop began last year, so the latest big announcement encouraging small business enrolments suggests the pilot was successful.
The new Telstra Plus Market opens for small business registrations in March 2022 and will provide eligible businesses to directly reach Telstra Plus members.
Coalition competition
The main goal of the new Telstra Plus Market is to provide eligible small and medium businesses a whole new channel to market their goods and services and target customer segments.
From an internal business perspective, the platform will provide Telstra with an additional revenue stream by charging third party partners to fund Telstra Plus points offers. Globally, the coalition loyalty program monetisiation model has been demonstrated to be highly profitable and underpins some of the most successful loyalty programs.
An established Telstra Plus Market network will also provide Telstra with deeper insights into what customers who use their products and services look like, including their interests, habits and behaviours. Increased customer insights can be used to further enhance the customer experience. Beyond this, the assumption is these rich datasets will also provide Telstra the opportunity to create another revenue stream by brokering data to other companies.
Loyalty programs can play a key component in unlocking the value which data provides. Given the scale of the existing Telstra network and the target of 6 million Telstra Plus members, it is clear the company has recognised the opportunity.
The larger the size of the Telstra Plus Market network, the more valuable data Telstra will collect. Data at such scale will allow the company to compete alongside the largest rewards program in Australia, including Everyday Rewards, Flybuys, Qantas Frequent Flyer and Velocity Frequent Flyer.
Loyalty is the customer experience pillar
Telstra have been laying the foundations of Telstra Plus for several years – setting up the marketing and customer insights platform, building the member base and growing points balances. The major telco now has its sights on expanding the value with more partnerships for earn and redemptions.
Telstra have already established new relationships with Booking.com and Huddle, so it is likely the company will continue to expand major partnerships alongside the smaller localised ones developed via Telstra Market Place.
More options for members to earn (and potentially redeem) is likely to encourage the member base to see additional value in the program. New offers will also potentially enhance the value members derive from the My Telstra app and more notably, give customers more reason to interact with a brand which is inherently never front of mind. A key challenge Telstra may face in the roll out of such a program is maintaining CX simplicity and communicating value at scale.
As Telstra put it to investors: "Telstra Plus will be the cornerstone of how we engage more deeply with our customers".
It's all part of the company's wider strategy of an increasingly localised customer experience – from the contact centre service rep to the in-store expert, and soon, even the local coffee shop down the road.
If Telstra can develop a rewards program which operates with localised offer coverage on a national scale, the opportunities are immense.