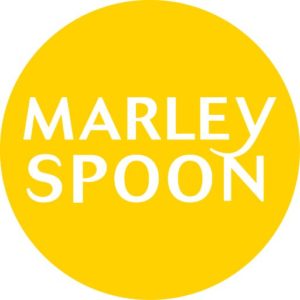 At some stage one reaches a certain age when the act of 'thinking' is far too exhausting and complicated to bother about. In the olden days this was a problem, because survival required thinking; what to hunt, when to hunt, how to hunt, what weapons to use, what yams to cook with the meat procured from the hunt, etc. No thinking = certain death.
Capitalism has solve this challenge by giving birth to companies who are happy to do all that exhausting thinking stuff for their customers when it comes to deciding what to cook. This types of service is really starting to peak, and Loyalty & Reward Co have been particularly impressed with Marley Spoon, who genuinely deliver on 'customer delight', the golden pathway to generating long-term loyalty.
Do you spend agonising hours thinking what you're going to cook for the week? It hurts, doesn't it? Marley Spoon can remove that ice-pick stabbing pain in your brain by sending you a box of ingredients each week complete with recipes that are easy enough for Dad to try.
The beauty of Marley Spoon's approach is the recipes for the week can be swapped out. Each week there's 8 recipes to choose from. Marley Spoon create a box based on your preference's profile, but if you don't like a particular meal, it can be replaced with another with a couple of clicks.
Members can also increase or decrease the number of meals they receive. It may be 4 one week, then two the following. Three meals for two costs around $69 including delivery.
It's the flexibility and control which makes Marley Spoon so appealing, and this extends to delivery options, which include most days of the week and convenient windows. They easily outplay competitors such as HelloFresh which are stuck in a meat or veg paradigm and don't allow recipes to be changed if they don't appeal.
The food itself is good. Recipes are simple without being dumb. Ingredients are amazingly fresh, and the taste combinations are healthy and delicious.
That being said, Marley Spoon and their customers could benefit from a well-designed loyalty program. Here's some thought-starters:
A points-based program where points can be redeemed on free fruit boxes.
A coffee card program where 10 meals earns a free 'exclusive meal' which other customers cannot access.
A charity program where for every 5 meals bought, a free meal is provided to a homeless person.
A benefits program where members can access discount movie tickets and gym memberships
A chef-access program where high-value customers are invited for dinner in the innovation kitchen to taste-test the creations of the chefs as they formulate new recipes.
Marley Spoon currently have a promotion where new members can enjoy a $35 discount on their first order using code SPOONSYD.
Philip Shelper is a specialist loyalty consultant based in Sydney, Australia who obsesses about everything to do with loyalty and rewards. His company Loyalty & Reward Co are a leading loyalty consulting firm.
Let's connect! https://au.linkedin.com/in/philipshelper