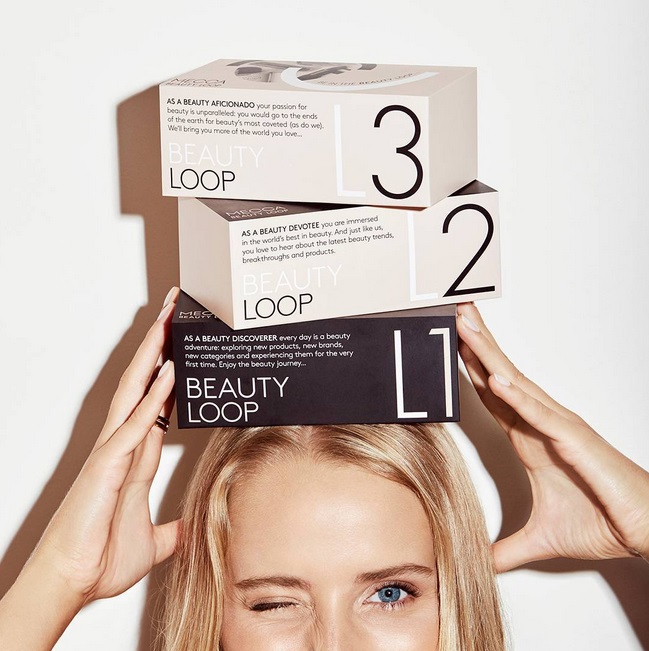 When conversing with clients, I often get asked the question 'what's your favourite loyalty program?'
I'm always joining, engaging with and contributing to hundreds of different loyalty programs, all of which I closely study the framework, the mechanics and the execution. Being well versed on the topic, you'd think that asking me to choose just one favourite would be like asking me to choose a favourite child. But actually, it's not.
While there are a handful of world class programs doing things well end-to-end, there are many more loyalty programs with a poor program design, poor communications, poor rewards options, poor commercial modelling and the list goes on.
But, Mecca Beauty Loop is just picture perfect and gets my #1 vote (for now). Here's everything you need to know about Mecca Beauty Loop.
Mecca Beauty Loop
Emoji description:

Program summary: Mecca Beauty Loop provides members with sample-filled boxes of beauty products four times a year which they collect instore. The higher the status tier, the better the quality samples provided in the box.
Higher tier members can also access complimentary makeup applications for when they have a big social event or a date night, plus a free birthday gift each year and surprise periodic bonus gifts. All cosmetics related, and all fabulous.
Why I LOVE the program:
It's Super Simple – it's easy to join with minimal details required and multiple options available to do so. There's also clarity on data collection with date of birth requested but optional, with a clear justification 'optional – but don't miss your birthday gift!' (hint: you want the gift).
It's Really Relevant– the rewards (free cosmetics products and services) are perfectly suited to an audience of cosmetics lovers whilst being complimentary and contextually relevant to the Mecca brand.
It's Very Valuable – the regular rewarding of the member base with samples encourages members to spend on new products and stimulates a reciprocating response from members in the form of loyalty and affective commitment to the brand.
It's Commercially Cost-Effective– the commercial model underpinning the program is very cost-effective for Mecca. The beauty brands pay for the samples included within the Beauty Loop boxes as a way of reaching the highly engaged Mecca member base and the additional service-based rewards provided by Mecca are highly efficient (inexpensive compared to the perceived value by the customer). Members are also required to visit a store at least four times a year to collect their boxes, providing a valuable up sell opportunity for Mecca.
It's Distinctly Differentiating – although majority of the beauty products stocked by Mecca can be bought directly through the individual brands, from large department stores or from lots of other boutique beauty stores, the Beauty Loop program is a differentiating factor, keeping members purchasing from Mecca, even though they're known not to discount.
It's Agile and Adapting – Mecca adapted quickly during lockdown to provide members with free shipping on all orders, recognising members couldn't get into store and finding a way to deliver appropriate service and value to them.
It's Deeply Delighting – by nature, the program surprises and delights members with exciting new samples released with every new Beauty Loop box. Mecca also employ additional surprise and delight tactics within their program to capitalise on the powerful benefits this approach can deliver from a consumer psychology perspective (including increased word-of-mouth promotion, lower selling and advertising costs, lower customer acquisition costs, higher revenues due to higher initial and repeat sales, and long-term strategic advantages due to increased brand equity and increased ability to withstand new entrants as identified by Berman (2005)[1]).
Two recent examples of increased organic program advocacy are showcased below with Mecca receiving accolades both professionally and personally as a result of surprise and delight mechanics:
Andrea Byrne Global Head of Digital – LinkedIn Post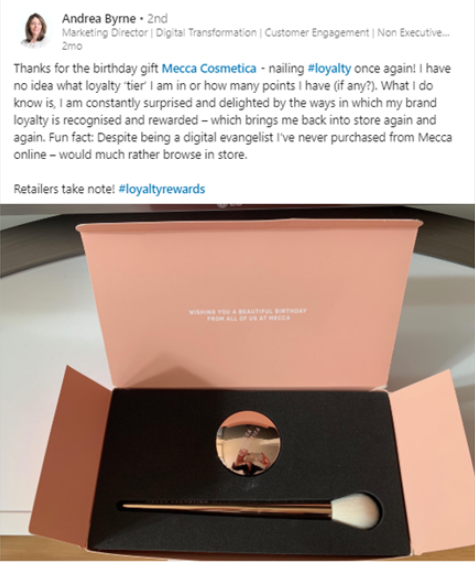 That Beauty Podcast Facebook fan page member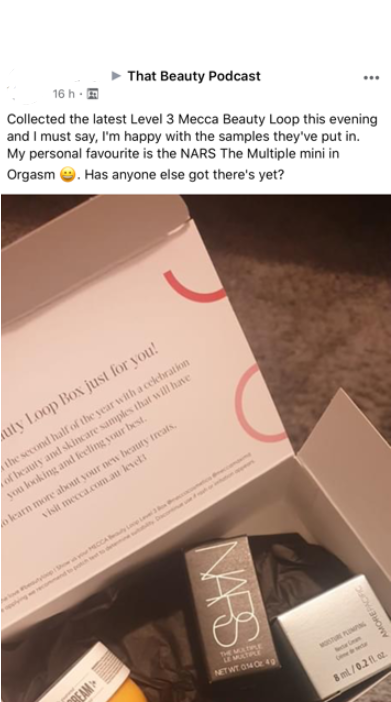 YOU will LOVE the program if:
You hate a long sign-up processes
You love regular rewards and recognition
You love trying new cosmetics (and also love a freebie)
You love popping into the Mecca stores to see what's new
You love when a brand proves they're truly invested in your loyalty
You love Mecca as much as me
The program is my favourite as it actualises everything I say a best-practice program needs to be from a strategic design, rewards, commercial and communications point of view. Also, from a results points of view.
Mecca Beauty Loop, you are simply beautiful.
[1] Berman, B., 2005, 'How to delight your customers,' California Management Review, Vol 48, Iss 1, pp129-151.