The International Bank of Pancakes opened to the public last month in the US. Hungry Americans can now save PanCoins, which are crypto-pancakes they can use to buy a hearty breakfast 24/7.
The bank initiative is the brainchild of the International House of Pancakes, a restaurant chain that specialises in American breakfast foods. The pancake house has been around since 1958 and currently serves their beloved thick and fluffy buttermilk flapjacks in nearly 2,000 locations across the country.
The company has now launched the International Bank of Pancakes loyalty program[1] to gain and engage customers who have become more digitally dependent throughout the past two years. The program launched officially in April 2022, but an early access period for 'funding members' during March offered early investor members bonus PanCoins and free delivery when ordering online.
How does the International Bank of Pancakes work?
Very simple, members get returns for their 'ingestments'. Every $5 spent at IHOP earns members one PanCoin which they can save and trade for a variety of tasty assets in the Stack Market. For example, members can trade 3 PanCoins for a short stack of 3 of the original buttermilk pancakes, or 5 of the crypto-pancakes for a full stack of 5 pancakes.
Something to note is that PanCoins are not actually a cryptocurrency based on the blockchain. The company has called them crypto-pancakes to represent a digitised pancake, which lives in the IHOP mobile app and ihop.com in the same way as points in any other loyalty program. One coin carries the value of an actual real-world pancake, making it easy for customers to see what they can get for a single PanCoin.
Earning PanCoins, Deposits & Trading In The Stack Market
Earning PanCoins is based on purchases alone, where members earn one PanCoin for every $5 spent. But IHOP always have 2x or even 5x PanCoin promotions on menu specials and join bonuses such as the current 2x PanCoins on any omelette offer.
When members order online, a deposit of PanCoins is made automatically into their accounts, and when visiting IHOP restaurants, members can choose to either scan their receipt barcode, if paying in person, or scan the receipt QR code to pay directly through the app. After scanning PanCoin, deposits are made into members' accounts based on their spend.
Members can use their PanCoins at any time to select and redeem buttermilk pancakes, or they can save them and accumulate enough to unlock other meals such as kid's meals, burgers, burritos or flavoured flapjacks too.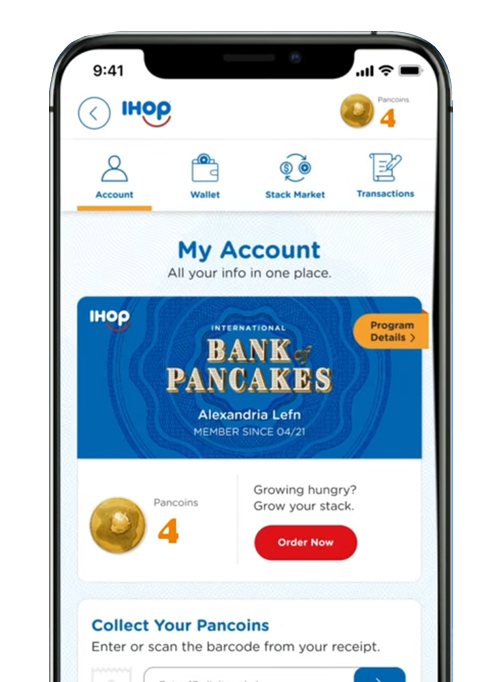 Members can check their PanCoin balance in the app or at ihop.com and trade their earnings for food items in the Stack Market. After trading, a digital coupon is placed in their rewards wallet and members can start redeeming them online or at the counter when visiting any IHOP restaurant.
In addition, members can redeem IHOP merchandise and experiences for family and friends as well as other member benefits. These include free birthday pancakes, exclusive member offers, and access to a secret menu vault, which are discounted and new food items.
The International Bank of Pancakes loyalty program stands out
The program is simple and easy to follow, but most importantly it's fun, and extracting value from it is not difficult. For example, the basic stack of 3 pancakes is $7.99, and since $5 spend equates to one pancake, members are getting back a third of their meal.
When joining, members receive a free stack of 5 pancakes after their first purchase –an immediate reward for members to start enjoying the program. For the company, offering members food items as a reward for joining and for their loyalty is efficient (inexpensive compared to the perceived value by the customer). Often people crave pancakes, which have the highest margin on the menu and all other food items in the Stack Market are chosen for the loyalty program based on their margin as well. So there is value for both, IHOP and the consumers.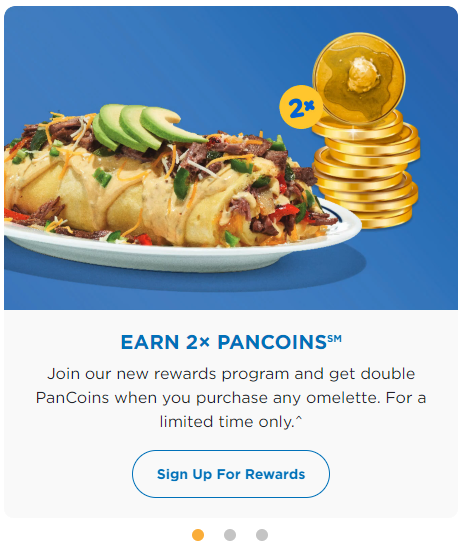 On the other hand, when compared to other family restaurant loyalty programs in the same category, the International Bank of Pancakes stands out. The creative elements and the bank concept are fun, but the gamification elements of the program such as members earning points or unlocking menu items also make it engaging.
The IHOP program has addressed the fact that consumers are ordering online more often than not with a well thought out loyalty program, it offers great value to its members and is engaging in a fun way. Many family restaurants can improve their loyalty programs and stay relevant with their consumers, but surprisingly many are not seizing the opportunity and falling behind.
For example, the Waffle House Regulars Club has no clear direction. The Waffle House Club loyalty program gives members access to exclusive specials, free coupons, and the Waffle House News. When joining online, members are supposed to receive a free order of hash-browns, but other than that it's not clear when or how to get a coupon or how to engage with the program. Members have no idea how to extract value from the club. The Waffle House has a unique quirk too, their stores have jukeboxes, and they have their own record label. Why is this not integrated into the program?
Similarly, Denny's Rewards Perks sends members deals to their inbox, where they get the latest news, exclusive deals, and birthday gifts, which is nice. Also, when joining, members get 20% off their next visit, which is a great incentive. However, it is not clear how members could engage and be rewarded or spend more and access better perks. Members also have no clear incentive to order online. Denny's has an app to order meals and find locations, but the app's rewards area is just a link that takes you to their website perks info page.
The Cracker Barrel Old Country Store has no loyalty program, which is surprising. The company started in 1969 with stores in 45 states. Their traditional biscuits are famous, and they also have general stores selling everything from throwback toys to vintage candy that hasn't been seen in decades. All of this could be easily combined into a loyalty program with little cost.
---
[1] Both the International Bank of Pancakes website and the IHOP app have geo-blocking technology and cannot be accessed from certain countries. A VPN may be required.