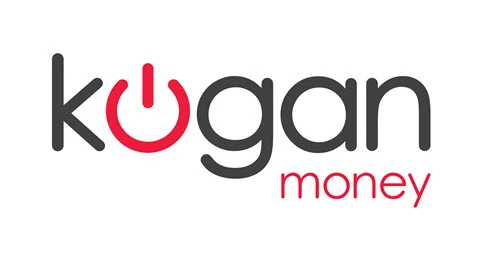 Kogan is an Australian-based online retailer founded in 2006 by Ruslan Kogan. The company started as an online retailer of consumer electronics and has since expanded into a wide range of products and services, including home appliances, furniture, groceries, insurance, credit cards and mobile and internet plans. Kogan's business model focuses on providing customers with high-quality products at competitive prices through direct sales and a low-cost structure.
Kogan Money is part of the Kogan.com network and offers one credit card: The Kogan Money Black. This is a rewards credit card that also offers shopping perks at Kogan.com. It is underwritten by NAB and was first launched by Kogan Money in October 2019.
Although the credit card has been in circulation for several years now, I wasn't aware of this product until a few months ago when I noticed a distinct marketing push to get the name out there.
Signing Up

You can apply for the Kogan Money Black Card online in around 10-15 minutes and the criteria required is to:
Earn more than $35,000 a year.
Be in permanent full time or part time employment, or be self-employed, and have a good credit rating.
Be 18 years or older and a permanent Australian resident.
Have a valid email address and mobile number.
The reward of earning $400 Kogan.com credits is central to the marketing and one of the key benefits of this credit card. Kogan has tapped into the psychology theory of Operant Conditioning, which involves modifying behaviour through the use of rewards which reinforce positive behaviours.
By offering incentives and rewards, businesses can motivate customers to participate in the desired activities and create a habit of engagement, ultimately fostering a stronger relationship between the customer and the brand. Kogan create this habit of engagement by incentivising the customer to spend $3,000 in the first 90 days.
Kogan Money Black Benefits
As well as the $400 Kogan.com credits, the additional benefits include:
$0 annual fee – A no annual fee rewards credit card
Uncapped rewards – Earn 2 rewards points per dollar on your eligible purchases at Kogan.com & 1 rewards point per dollar on your everyday purchases, almost anywhere.
Complimentary Kogan First Membership – valued at $99 per year – Get free shipping on 1000's of products, express shipping upgrades, and exclusive specials at Kogan.com.
0% p.a. for 6 months – on balance transfers
0% p.a. for up to 24 months – when you pay with instalments at Kogan.com
The combination of the $400 Kogan.com credits, $0 annual fee, complimentary Kogan First Membership and the ability to earn points through Kogan and elsewhere is what helps this credit card and rewards program stand out amongst others. It is especially beneficial to those who are already loyal customers to Kogan and spend regularly, as this program allows them to earn double the points.
---

However, the true winner in this program is Kogan and their ability to keep their customers spending with Kogan through this credit card program. Although customers receive points on almost all purchases within Kogan and elsewhere using the credit card, there are only two ways to redeem your points:
At checkout through your Kogan.com account
For Kogan Money Credit Card payments made at www.koganmobile.com.au and www.koganinternet.com.au
The genius of the program is keeping customers within the Kogan ecosystem when redeeming their points, as well as the ability to cross-sell other divisions within Kogan (mobile & internet) by allowing customers to redeem their points.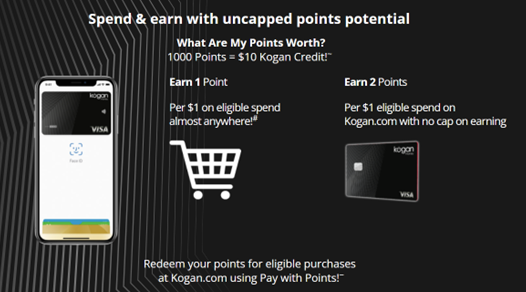 In Conclusion
Like most credit cards, the Kogan Money Black Card has a relatively high interest rate for purchases, so it's suited to people who can pay off their balance in full each month to save on interest (by taking advantage of the card's interest-free days for purchases).
If you shop regularly at Kogan and were already paying $99 a year for the Kogan First Membership, then the Kogan Money Black card may be a good option, as the rewards within the program are compelling.
If you are that person who pays off their balance each month with other credit cards, then this is a good option to take advantage of without having to change your normal behaviour from a spending perspective.
It's exciting to see Kogan continuing to evolve their strategy towards customer engagement and loyalty, and I look forward to seeing what is next.