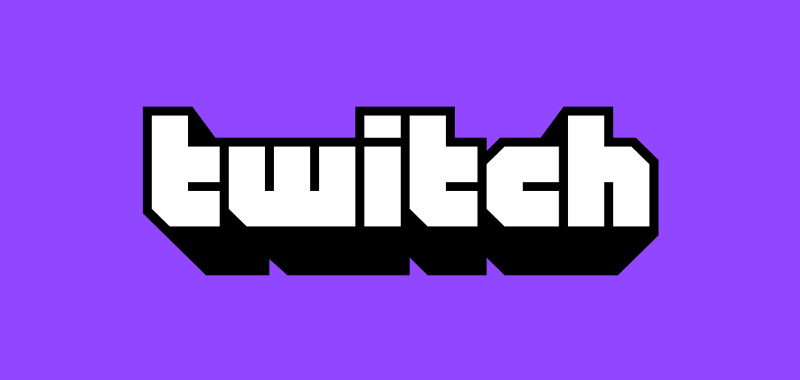 Twitch is the world's leading live streaming platform for creative content, with a primary focus on video games.
Millions of gamers stream their live gameplay, which in turn is spectated by millions of viewers.
Acquired by Amazon for approximately $1 billion in 2014, the platform has developed several features that have heavily gamified the experience of both watching streams and streaming itself.
The use of game mechanics has significantly changed the way streamers build their individual community, and reciprocally improved the user experience for viewers.
Defining gamification and game mechanics
Gamification is the use of elements of gameplay in non-game contexts to improve the user experience and stimulate specific behaviours.
Much of modern gamification theory tends to focus on the conventional means of gamification, which often manifests in the form of what is labelled PBLs (points, badges and leader boards). This approach can be superficial; true gamification design is far more complex.
To properly appreciate just how gamified the Twitch platform is, it is first helpful to understand the fuller, more distinct scope of game mechanics.
The Loyalty360 Expo back in 2009 featured a presentation on gamification by Barry Kirk and Tim Crank of Maritz Loyalty Marketing. They provided a long list of game mechanics, including points, tiers, collecting (e.g. badges), leader boards, exchange (e.g. social sharing), customisation, feedback, randomness, spectators, and bosses.
In 2014, Hamari et al.[1], one of the most recognised researchers on the topic of gamification, conducted a literature review of 24 empirical studies on gamification. As part of the review, the team collected and compiled a list of what they deemed the most significant motivational affordances (i.e. elements of gamification): points, leader boards, achievements/badges, levels, story/theme, clear goals, feedback, rewards, progress and challenge.
These lists will provide a basis to the analysis of the types of gamification used throughout Twitch. Where these mechanics do not explicitly define an aspect of Twitch, an additional motivation affordance will be suggested (an attribute by which a user can interact with a system to satisfy particular motivational needs. (Zhang 2008, as cited in Riar 2020[2])).
How does Twitch work?
Twitch is an online streaming website where users can stream, watch content and interact with each other. Individual gamers and eSports tournaments drive the majority of traffic, but the platform has expanded to encompass any creative content in recent years.
There are two user types: the streamer and the viewer (or spectator).
Streamers: Any user can create their own channel and become a streamer, but to earn revenue from the platform one must first complete a set of criteria to become what is called an Affiliate or Partner of Twitch.
Viewers: Watching streams is free, but if one chooses to participate in any additional way (such as talking in chat or following a channel) they must create an account. Viewers can further support their favourite streamers through subscriptions and donations.
A central part of Twitch is the live chat element, or Twitch Chat, which sits alongside the video stream. The chat enables the interaction between one viewer and another, as well as between the streamer and the viewers, and underpins much of the social complexity of the platform.
From both a streamer and viewer perspective, Twitch has heavily gamified the unique experience of each user type with a clear intention to encourage and reward desired use of the platform.
Gamification within Twitch
Gamifying the streamer experience
Twitch has gamified the task of becoming a revenue generating streamer using the basic principles of game design; the first levels are easy on purpose, make the player feel like progress has been made, and that they have been rewarded. Once the user is hooked by the compulsion loop, they may feel compelled to continue.
Levels: Streamers can unlock status levels (from basic to Affiliate to Partner) whereby each level receives increasingly more rewarding perks in the way of revenue earn and channel customisation.
Achievements: Completing achievements is part of the requirements to join the Affiliate or Partner Program and must be simultaneously met within a 30-day period. These achievements encourage streamers to stream more often, more consecutively and gain more followers and viewers, reinforcing desired behaviours[3]. Achievements also act as an onboarding tool for new streamers, educating them on how to setup and establish a viewer-friendly stream, transforming such simple tasks into a game-like reward system.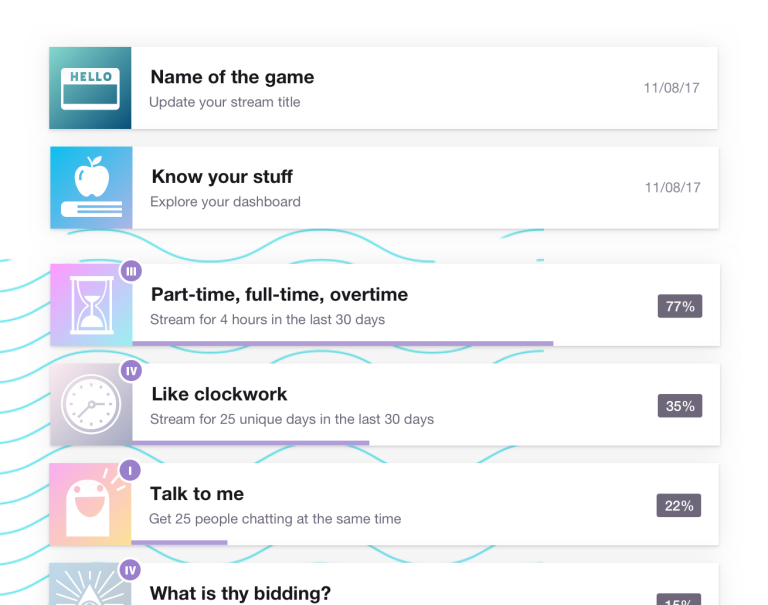 Progress Feedback: Some achievements have levels in themselves that increase in difficulty. Breaking down these tasks makes them seem more achievable and approachable. Within a personal dashboard, progress bars with percentages allow each streamer to visualise advancement.
Customisation: There's an estimated 7.8 million streamers, and each streamer can customise the look and feel of their channel. From the user interface to chat, subscriber badges, leader boards and stream-specific emoticons, the customisability deepens as a streamer unlocks status levels.
Story/Theme: Streamers will typically have two video captures running: one of the content and one of the streamer. Viewers are drawn not only by the content or game being played, but also the personality or brand a streamer has created for themselves. Each streamer has developed an individual narrative, with their own way of making their stream interesting and entertaining.
Rewards: Monetisation and gamification of streamer activities has been a core competency of the platform's success[3]. Affiliates and Partners can earn revenue on Twitch by accepting subscriptions from their viewers, as well as several other means including advertising, sponsorships and supporter donations via a virtual currency called Bits.
Community: Generating revenue is important, but it is the pride and sense of community built through time and effort which is the key motivation for many streamers. Intrinsic motivation – whereby one engages in an activity for the inherent reward of the behavior itself – has been shown to enhance engagement and strengthen retention. Effectively, people do what they do because they love doing it. Any extrinsic reward comes secondary. It is a similar mindset which engenders loyalty and support from viewers towards a particular channel – they watch for free but support by choice.
Gamifying the viewer experience
Twitch gamifies the viewer experience to encourage users to not only watch, but also join in on the experience. Many elements of the platform have been designed to encourage social interaction and create additional value for those that invest their own time and money.
Tiers: Any user can freely follow a Twitch channel, like following an account on Instagram or Twitter. Viewers can further support their favourite streamers by subscribing or 'sub' to a channel with one of three monthly subscription tiers, where each comes with several potential perks such as an ad-free viewing experience or access to exclusive emotes and loyalty badges. Like many subscription models, the more time and money a Twitch user invests, the more they will lose if they leave, raising the exit barriers and exploiting the sunk cost fallacy.
Twitch users can alternatively pay for Prime Gaming, a premium membership with a range of additional benefits such as a free channel subscription and free monthly games and in-game loot – this is included with each Amazon Prime membership.
Points: Points come in two forms on Twitch: Bits and Channel Points.
Bits are a virtual currency that viewers can use to Cheer in chat to show support and amplify their voice; they are essentially mini donations from viewers, paid for with real money. When a viewer uses Bits, animated Cheermotes pop up in chat and can sometimes overlay the stream itself. The more Bits used, the more animated and exciting the reaction. Again, they are another way for an individual to show support, stand out in chat and literally put their loyalty on display. Cheering is an intriguing concept, as it provides a motivation for streamers to be entertaining or perform certain actions to maximise the amount of cheers (and therefore revenue) generated. In addition, it brings viewers closer to the streamer and makes them more involved with the stream, further engraining them into the community.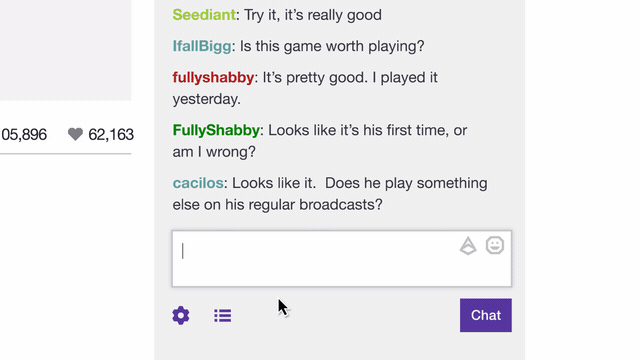 Channel Points are channel specific, meaning they can only be earned and redeemed on the same channel. They have no monetary value, but act as a customisable points program that streamers can use to recognise and reward the community (including non-subscribers) for their support. Like a loyalty program operator, a streamer can give the currency a unique name befitting of the channel and choose how points can be earned and redeemed. Streamers can get creative and involve their community, providing rewards such as requesting a music track or choosing the next character to play in a game; there is no limit.
It's yet another system that keeps viewers watching content and encourages consistent interaction between viewers and the streamer.
Rewards & Challenges: Channel Points allow for a wide variety of community-based rewards and challenges that are intrinsically Twitch. One example is earning points for joining a Raid, a clever feature where a streamer can send their viewers to another live channel at the end of their stream, introducing their audience to another streamer they support. Rewards will often give standard users a taste of what it is like with access to subscriber-only perks for a limited time, taking advantage of the psychology of loss aversion. The aggravation of losing something is greater than the pleasure derived from gaining the same thing; this may induce a standard user to subscribe to a channel.
Twitch viewers can also pool their Channel Points with the rest of the community to unlock a range of special experiences via Community Challenges, bringing the channel community together to work towards achieving a common goal.
Collecting: Emotes play a heavy role in Twitch culture; used by viewers and streamers to have fun and express themselves in real-time chat. Global Emotes are available across the Twitch platform, while Custom Emotes are specific to each channel, obtained by subscribing to a channel. They represent a common language amongst a community, such as an inside joke, and can be used to incite deeper engagement like a moment of excitement where everyone will start spamming a hype emote into the live chat to show support and elation. Emotes provide users with a way to feel connected, and Partners and Affiliates to reinforce branding and personalities.
There is even a literal Hype Train, which triggers when there is a spike in Bits or Subscription activity in a channel from multiple users within a specific time frame. This activates a countdown which challenges everyone to participate by subbing, gifting, donating to fill the community meter and access exclusive emote rewards; this continues to level up if the goal is met within the timeframe.
Exchange: Social interaction is at the core of Twitch; when people are allowed to interact, they stay longer. This is reinforced through social gifting, where viewers can gift subscriptions to other viewers. Gift subscriptions exist to give a channel's biggest fans another opportunity to provide further monetary support and have a direct impact on growing the community they love. Further motivation lies in being awarded exclusive badges that can be leveled up as an individual continues to gift.
Leaderboards: Leaderboards can be enabled to give viewers recognition and kudos for supporting a channel. Viewers of a channel can view the top 3 Cheerers and Gifters throughout the month, creating competitive placement and motivation for users to complete the respective actions.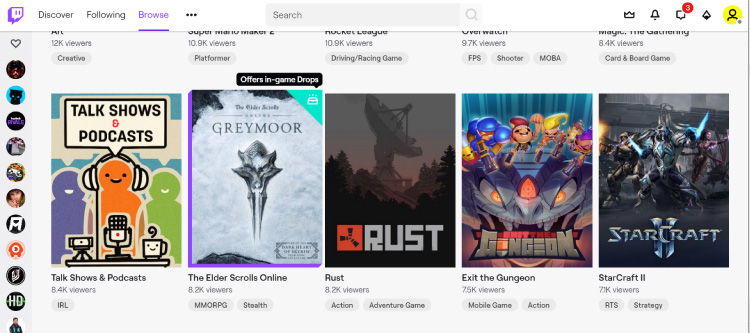 Randomness: Twitch Drops are a way to get in-game loot just for watching and engaging with a channel; they're also a neat way of serving unpredictable rewards. Game developers can partner with streamers to enable random drops; viewers simply must link their Twitch and game account to be eligible. Drops are usually time-limited in nature and have a mutual benefit; developers promote their game, and streamers bring in unfamiliar viewers. The randomness of the drops create surprise and uncertainty, further hyped when called out in chat.
Spectators & Bosses: No matter the medium, humans have an obsession for spectating, and the Twitch platform is no different. Just like watching a favourite sporting hero or team, people (spectators) delight in seeing someone else (bosses) excel at something they love. The human brain gets almost the same enjoyment from watching as it does from doing. Inherent in Twitch's design, the spectacle of a stream provides unscripted entertainment, inspires, and brings people together to create a sense of belonging and shared experience. Much of the gamification used across Twitch takes advantage of how viewers feel they are part of a group.
Conclusion
It is intriguing to write about a streaming service from the perspective of gamification, particularly as it so closely relates to games and gaming.
Nonethless, Twitch demonstrates how effective gamification and competitive scenarios can be when meaningfully designed to the inherent nature of a service (be that a loyalty program or other). Consistent platform evolution guided primarily by user feedback has been a key driver for this efficacy.
Twitch is the ultimate example of how gamification can be used to invoke gameful experiences and stimulate specific behavioural outcomes. It is clever, because the brand continues to learn about what makes users loyal, how each user type interacts, and how to iterate the platform and messaging to continue its appeal.
Everything Twitch offers is aimed to keep people engaged, streaming, watching, and coming back for more.
---
[1] Hamari, J., Koivisto, J. & Sarsa, H. (2014). 'Does Gamification Work? — A Literature Review of Empirical Studies on Gamification', Proceedings of the Annual Hawaii International Conference on System Sciences. 10.1109/HICSS.2014.377.
[2] Riar, Marc. (2020). 'Using Gamification to Motivate Cooperation: A Review', Technische Universität Berlin.
[3] Siutila, M. (2018). 'The gamification of gaming streams'. GamiFIN Conference 2018, Finland.
[4] Johnson, M.R., & Woodcock, J. (2019). '"And Today's Top Donator is": How Live Streamers on Twitch.tv Monetize and Gamify Their Broadcasts'. Social Media + Society, 5.