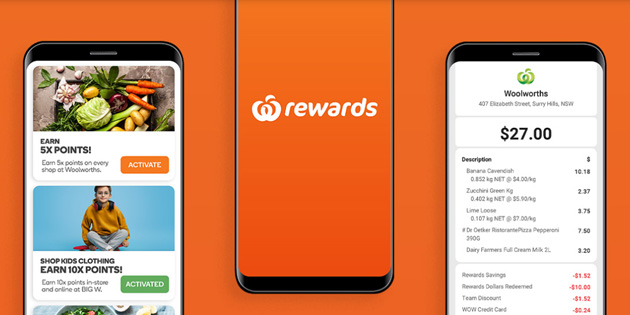 Lockdown has seriously impacted the way brands service their customers, requiring many to rapidly adapt the customer experience to meet new habits and needs.
One prime example of this is the new Woolworths Rewards app. Launched in May 2020, the app aims to promote contactless shopping for customers by removing the need for receipts and physical cards.
The app has likely been in the pipeline for some time, but it can be assumed the pandemic fast-tracked the rollout. Global figures recently published comparing online traffic growth of major industries placed the supermarket sector first, with a 60.7% increase from January to June.
This shift to online and essential spending is also reflected in loyalty program member redemptions. Loyalty & Reward Co have seen member interest for digital gift cards rise exponentially each month, with some item redemptions 700 per cent higher over the period February to June.
So, as the supermarket giant takes its next big digital leap, how well does the new app compliment the existing loyalty program?
What is the Woolworths Rewards App?
The Woolworths Rewards app allows members to earn points, check their points balance, receive bonus points offers, and access personalised discount specials across BWS, BIG W and Woolworths Supermarkets. Members can also check their transaction history, view digital receipts, and earn and redeem fuel discounts, all in-app.
Welcome & Onboarding
A fundamental principle of loyalty program design is simplicity; a program should be simple to join, understand and engage with. The Woolworths Rewards program is well-established, so most customers already know how it works, but it is just as important to convey the right message through the new app.
Getting the app up and running was simple; I was greeted by onboarding screens introducing the main aspects of the program and a quick verification of my existing Rewards memberships. From there, I was in and free to explore.
My one suggestion would be the ability to skip the onboarding screens. While it is important to educate new members on essential elements during the join and onboarding phase, there is also a pre-existing member base of 11.7 million to keep in mind. Based on focus groups conducted for clients in the past, we have found some users view onboarding screens as redundant and annoying without a skip feature.
Customer Experience
From a design standpoint, the app is aesthetically pleasing. It does a great job of clearly displaying the visual hierarchy of the key aspects (points, specials, offers and activity) all in one place.
Points
Nunes and Drèze (2006) highlighted that providing members with a sense they are progressing towards a reward (a sense of momentum) is critical for ongoing engagement.
The app follows best-practice by using a progress tracker as a visual tool to show members how they are advancing to their next reward including how many points accumulated, the amount required to reach a reward off the next shop and any accumulated fuel vouchers.
The fuel vouchers is a nice touch, as it utilises the psychology of attribute framing to communicate to members that they receive a gain (the fuel voucher) in addition to the reduced loss (money off a future shop) for shopping at Woolworths.
Personalised Specials
The 'Specials' section or 'Your Weekly Picks' highlights weekly deals based on past activity, a feature many Woolworths shoppers would be familiar with when shopping online or receiving marketing communications.
I found it a little underwhelming that I could not click and buy items in-app, and instead were redirected to the web browser, which also prompts you to download the main Woolworths app. While I can understand why, it is still a little strange splitting functionality across two apps and breaking the flow.
Offers
The 'Offers' section has a prominent spot on the app, with each offer requiring activation. After trying out the app for almost two months, I can say there is a decent level of regularity to new and varying offers, some of which have influenced my buying behaviour.
A recent example was a close-to-expiring bonus points offer for 2300 points for spending $50 in one shop. I assume this offer was tailored to me based on my data profile and spend patterns, and served up by Woolworths AI platform (provided by Quantium)
Here's a few other suggestions for how the Woolworths Rewards app could be improved:
Earn Scenarios: A great addition to flat bonus point offers would be to include cumulative or consecutive spend targets. My colleague pointed out that Coles already do this with flybuys; an example would be spending a minimum of $120 each week for four weeks in a row to unlock bonus points.
Surprise & Delight: Offers could be taken to the next level by creating personalised offers based on my past activity, like how they use member data to personalise weekly specials. Imagine how powerful it would be to sporadically run individual surprise and delight campaigns, rewarding a member with goodwill bonus points for always shopping at Woolworths for a product they love. Or, when the member scans their Woolworths Rewards card, they are notified that the item is discounted off the final price.
Expiry First: Offers are currently displayed by recency. To create a stronger sense of urgency, offers closest to expiry could be placed first, or give members the option to decide.
Declutter: Expired offers sit in the app for some time. While there is some logic to showing what was missed, it can also be a demotivator and clutter the UI unnecessarily. Removing offers when they expire or making it possible to delete expired offers will improve useability.
Incentivised Surveys: Customers are at their most receptive with a brand when they have just made a purchase. Why not include quick in-app surveys which pop up when, or soon after, the member scans their in-app digital Rewards card? The app is already open, the member is receptive, and extra bonus points or another relevant offer based on data gathered at point of purchase would top it off.
Transaction History
One of the biggest features that make Rewards members excited is digital receipts. On top of promoting contactless shopping, it is a welcome addition to those who prefer a paper-free transaction. The e-receipt is detailed, easy to read, and it is visually obvious from where it originates (such as a Woolworths, a Caltex, or BWS).
My two main suggestions are:
Member transaction history is only stored for 90 days. Best-practice recommends a complete and always available transaction history.
Individual e-receipts should be downloadable. Not being able to store them defeats the purpose of offering the digital option, especially if they expire. I'm able to screenshot the receipts, but this is neither convenient nor user-friendly.
In summary
Overall, I am a fan of the new Woolworths Rewards app. While I certainly have some issues, and have suggested a range of ideas for how it could be improved from both a loyalty and member perspective, I commend the Woolworths Rewards app team for the initial design. On a grander scale, I look forward to newer iterations of the Woolworths app and customer experience to keep up with the accelerating global trend of digital transformation.