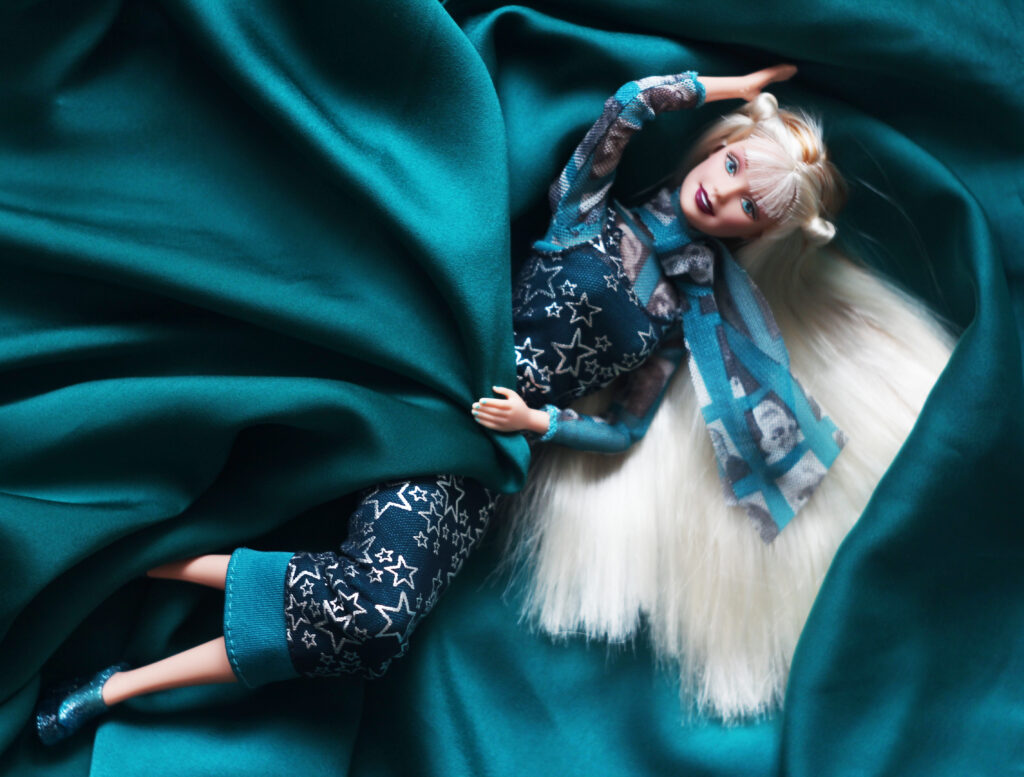 Barbara Millicent Roberts, better known as Barbie, was debuted in 1959 by southern Californian toy company Mattel, Inc. The doll was inspired and modelled on the German Bild Lilli Doll, a doll known for being a little… well…sexy compared to other dolls of the time with her femme fatale physique, trendy fashion, and bold makeup.
The Bild Lilli Doll was based on the German comic strip character "Bild Lilli" (Lilli), known to have a talent for seducing wealthy men and a keen appetite for challenging male authority. Lilli was not a doll for young girls. She was available to purchase at adult toy stores most commonly gifted at bachelor parties or owned predominantly by men. When toy makers in Germany attempted marketing the Lilli doll to young girls, parents were naturally reluctant to purchase.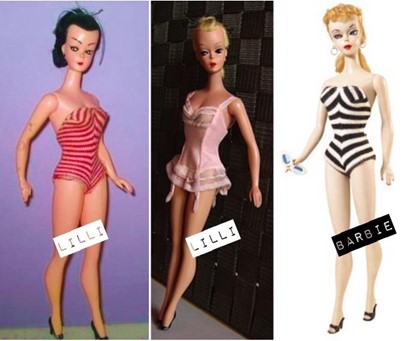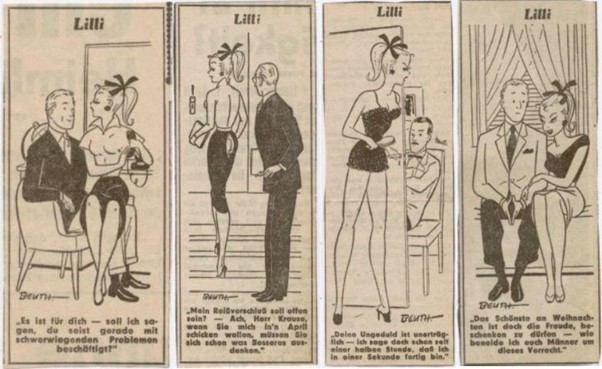 Mattel founder, Ruth Handler came across the doll during a trip through Switzerland in the 1950s inspiring the creation of the doll we all know as Barbie (named after Ruth's daughter Barbara).
Whilst Lilli was popular in Germany, the US doll market (up until Barbie's launch) was filled with dolls resembling infants. The introduction of Barbie was somewhat disruptive and controversial. Parents passionately voiced concerns over Barbies mature physique and "sex appeal" as an attack on innocence. Alas, with the increased power of television advertising targeting children, not only did Barbie's popularity skyrocket, but toy buying habits shifted considerably as parents began to buy more toys throughout the year instead of only during Christmas gifting season.
Today, over half-a-century since Barbie hit toy-store shelves, Barbie has experienced her fair share of feminist praise and criticism. Regardless, Barbie is still requested by children as a prized addition to toy collections worldwide. 
Barbie has evolved and adapted in style, appearance, and occupation. For many Barbie is now a diverse, empowering and widely relatable doll. Mattel is dedicated to researching societal and fashion trends to ensure Barbie remains relevant and with limitless opportunity. Consumers have witnessed the introduction of ethnically diverse dolls with varying features and colouring, younger sister 'Tiffany' doll, male doll 'Ken', elderly dolls and even Barbie in a wheelchair.
Barbie has been employed in just about every occupation and has a range of merchandise (and pets) to stimulate and support imaginative play. Movies and series have also been created around Barbie's many adventures.
Competitor threats to market share, such as the introduction of Bratz dolls in 2001, have not maintained consumer interest and Barbie consistently comes out on top as the most prized doll on the market today.
The pinnacle of innovation in Barbie's history- A loyalty program that is relevant and evolving
Where Mattel has really outdone themselves is through the launch and evolution of the Barbie Signature Membership program. They've created a program that is memorable and relevant, furthermore, the program is forward-thinking.
Mattel has really designed the Barbie Signature Membership with the collector cult-following in mind, and frankly, after joining the program, even a less fanatic Barbie enthusiast could be sucked into the vortex of collector-mania.
The globally accessible program is prominently promoted via the Mattel website and is an annual paid membership of $9.99USD.
What do members get access to?
Members appear to access the usual perks present in most retail loyalty programs such as priority access to sales, member-only forums, and exclusive content, however, Barbie just takes these benefits to the next level providing:
Exclusive access to highly collectible members-only premium dolls
Exclusive behind-the-scenes content
Voting privileges- Vote on design of new dolls
Joining a community of collectors- and what a community it is!


Die-hard Barbie enthusiasts are satiated in numerous ways with these benefits, however, the depth and effort behind each benefit offered is astounding and proves this program is far from tokenistic. Sure, it is really empowering for members to collect premium dolls and feel that they have input in the design of new dolls, however, the trail-blazing crowning glory of the program is the partnerships that Barbie forms with other iconic brands such as the recent collaboration with high fashion brand Balmain, Paris. The collaboration means that members can purchase from a 50-piece collection of Balmain-designed clothing and accessories in adorable Barbie-size. Driving further excitement around the Balmain-Barbie Partnership, members are also given the ability to bid via online auction for digital art versions of Barbie and Ken dressed by Balmain via Non-Fungible Tokens (NFTs). Non-Fung-WHAT?
To try and explain this simply, an NFT is a verifiably owned digital work of art. These one-of-a-kind artworks have verifiable ownership, recorded on a blockchain. With verifiable ownership comes the opportunity to collect and buy digital artworks and have proof that you own them. Further you can sell and trade these pieces of art.
In the way someone can "own" a brand, a website, or rights to a particular colour (like Cadbury with their famous shade of purple), permission to use that image or piece of media must be sought or bought from the owner.
That NFT digital art ownership can also be traded with impressive profits made. Previous owners of the art can also continue to make money each time it is resold, as many NFTs are offered with royalties each time an NFT is on sold or traded.
The Barbie Signature program has further deepened the collaboration with Balmain and studio and marketplace, mintNFT to create further hype around the auction of digital art to members. Virtual Panels are held to give insight to a limited number of members during the creation process. Registrants are also gifted a free Balmain x Barbie NFT to start off or contribute to their collection- very smart psychology-play.

The entire NFT auction experience is well-promoted, beautifully presented and on-brand.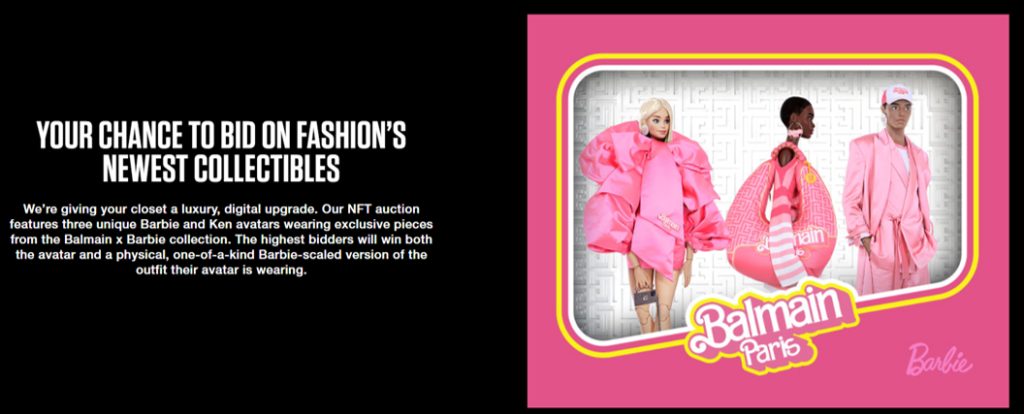 Member sentiment indicates that engagement with the program would be the envy of competitors in the toy market. Member comments display the enthusiasm and delight with which members are receiving Barbies latest initiative.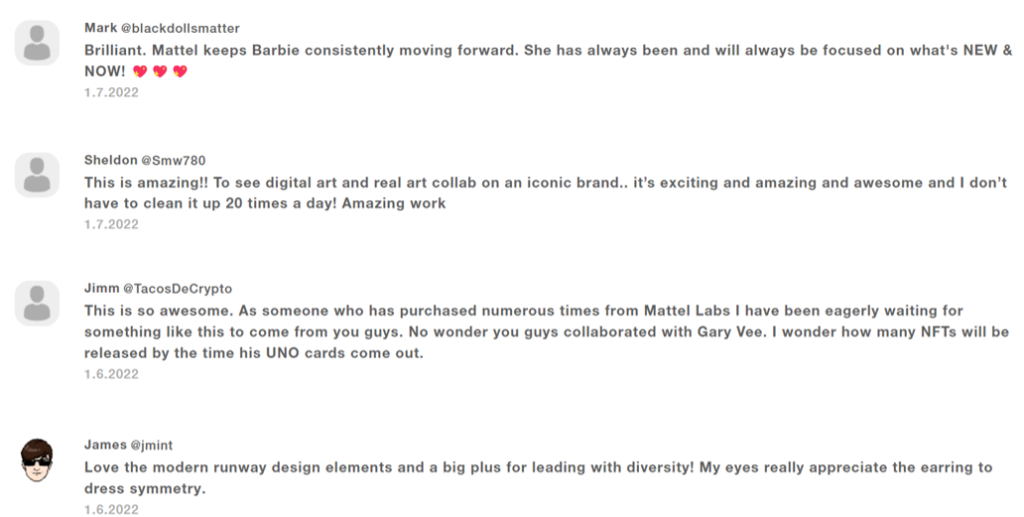 A final word – The Barbie Signature Membership gives members exactly what they want and more.
While Barbie began as a doll that was demonised in 1959 as being a sure path to destruction for children, she has proven to be a symbol of empowerment, evolution, resilience and innovation for children and adults of today.
Mattel has excelled through unique partnerships with brands such as Balmain generating excitement around the brand, enhancing collectability, and stimulating artistic expression.
Retailers are strongly recommended to look to Barbie as a leader in the loyalty and innovation space with the Barbie Signature Membership pushing boundaries and proving to be a program not only for today, but also for tomorrow.
The program is a natural extension of the Barbie brand, impressively crafted to enhance member behaviours existing and emerging, and will undoubtedly pique the interest of untapped consumer territory.
You go girl!