The last couple of years have reshaped consumer behaviour worldwide with more and more people are shopping online. The digital economy continues to grow, and it is fair to say that if you are not shopping online regularly yet, you probably soon will be.
As online retailing continues to expand, it begs the question: will shopping malls become a thing of the past?
For many it is doubtful. Shopping malls will continue to exist, but as shopping habits continue to morph companies need to enhance value and improve the customer experience for an omnichannel present consumer.
The fact is that people shop through multiple channels. Websites, physical stores, malls, direct mail, catalogues, kiosks, and outlets. But also call centres, social media, mobile phones, gaming consoles, home assistants, and recently the metaverse.
Ultimately, the new consumer paradigm is about helping consumers buy what they want when they want, and where they want.
CapitaLand is one of Asia's largest real estate companies. Based in Singapore, they own and manage shopping malls around the globe. CapitaLand understand the new consumer paradigm and make use of their online and offline channels to deliver an omnichannel experience supported by their loyalty program.
CapitaStar loyalty program
In 2011 CapitaLand launched the CapitaStar app, which they call a holistic consumer and retail platform. It is designed to enable an omnichannel retail strategy and create a rewarding seamless shopping and lifestyle experience across the company's retail network.
Today CapitaStar is hailed as Singapore's leading lifestyle and shopping loyalty program. It offers members access to rewards 24/7 across a multitude of retail channels, partners, experiences, eateries, and digital avenues.
How does the CapitaStar loyalty program work?
Shoppers are rewarded with stars for every transaction across CapitaLand Malls, eCapitaMall online, and Capita3Eats (Singapore's first mall-operated food ordering platform) when using the CapitaStar app.
To join, new members download the app, shop at participating venues, scan and submit their receipts to earn stars, and redeem them for eCapitaVouchers or a wide variety of rewards.
When joining, new members receive a $5 eCapitaVoucher. Members even earn stars when redeeming it. This demonstrates to members how quickly they can grow their star balance from the very beginning.
The program rewards members on their birthday, and for referring family and friends. Members are also invited to member-only events and can access car parking e-vouchers.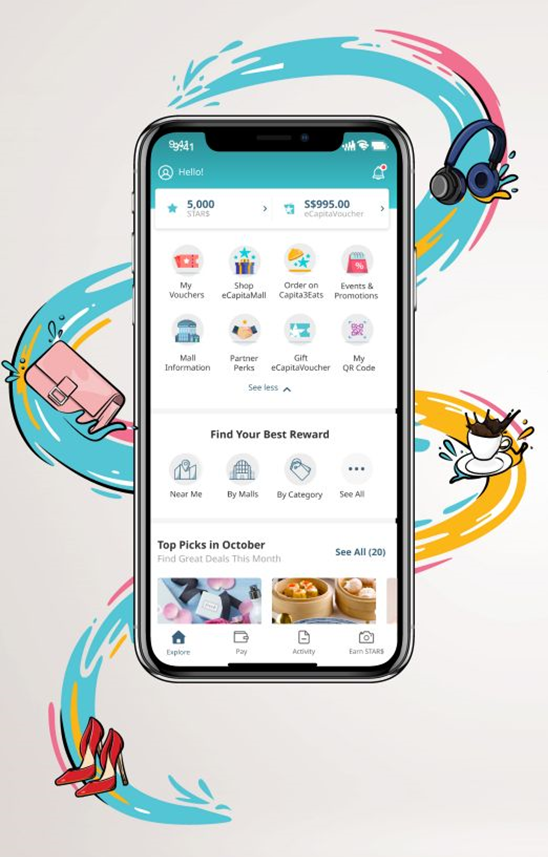 How to earn stars in CapitaStar loyalty program?
Members can earn five stars when they use the app to snap shopping receipts with a minimum of $20 spent at any CapitaLand Mall. When ordering food via Capita3Eats members earn five times the stars by choosing to pick up their order.
Members can earn stars at Jewel Changi Airport. If a member has linked their CapitaStar and Changi Rewards accounts, they automatically earn double the stars.
Furthermore, CapitaStar has implemented card-linking, where consumers link their payment card to the loyalty program and earn rewards. For example, partners such as DBS bank offers members 10,000 stars when linking CapitaStar and DBS's PayLah, the bank's mobile payment and mobile wallet service.
In addition, American Express CapitaCard holders who are members of the program can earn six times the stars when using their card. And for atome users, a buy-now-pay-later service, bonus points are also on offer.
How to redeem CapitaStar stars?
Members can use stars to offset entire shopping purchases and dining bills at all CapitaLand malls. They can also access eCapitaVouchers which can be used as a gift or to pay for shopping.
A key feature of the program is that members can redeem deals and products not available anywhere else from a large network of retailers via a shopping rewards catalogue in the CapitaStar app.
Another way to redeem stars is by converting stars into KrisFlyer or KrisPay miles (Singapore Airlines' frequent flyer and airport lounge loyalty programs) for shopping and travel rewards. This is a two-way conversion option, so members can convert Kris points into stars too.
Converting stars into Ascott Star Reward points is also possible. Ascott is CapitaLand's midscale-to-luxury portfolio of serviced residences and hotels.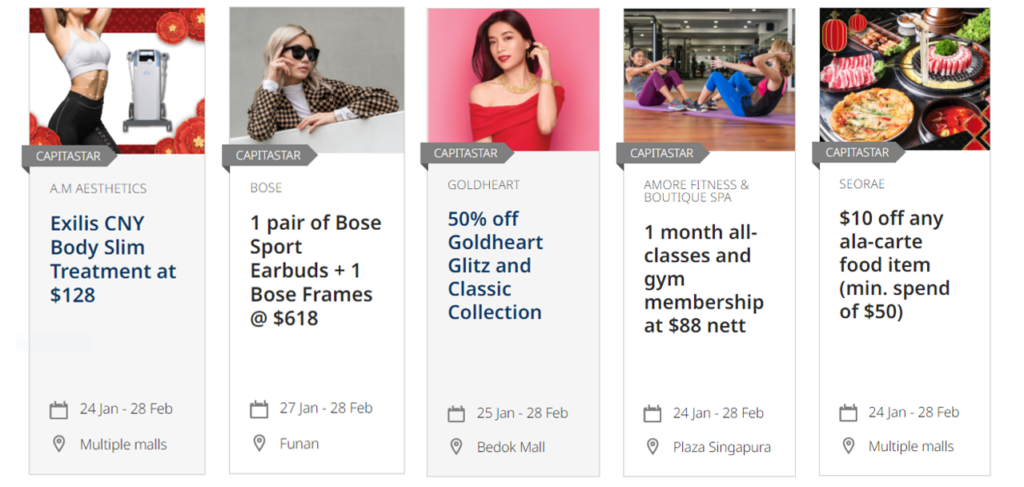 How much is a star worth?
For every $1 captured on scanned shopping receipts, members earn 5 stars, and for supermarkets and food court receipts 1 star. The exchange rate of stars is:
5,000 stars = $5 eCapitaVoucher
10,000 stars = $10 eCapitaVoucher
50,000 stars = $50 eCapitaVoucher
Does CapitaStar deliver meaningful value?
The value earn from the program equates to half a percent return on every dollar spent. For many, this may not seem attractive. However, stars are not the only way for members to extract value from the program.
Additional value is provided to members via small retailers which can promote exclusive deals to members via the app.
There are over 20 shopping malls and 2,800 retailers participating in the program, allowing members to earn basic and bonus points in many locations. In addition, dozens of marketing partners offer the opportunity to earn bulk points.
The ease of earning and redeeming stars through various channels makes engagement with the program attractive.
What is next?
Today the program has more than one million members in Singapore, and it has grown into China and Malaysia.
More and more retailers participate in the CapitaLand online ecosystem and the pool of partners offering new opportunities to accelerate earning stars continues to grow.
An obvious area of improvement, however, is to move away from members having to scan receipts.
In the past, CapitaLand customers use to take receipts to the mall concierge to receive their stars and get vouchers they could use with mall retailers. Thus, scanning receipts with the app is a step forward.
To truly drive a seamless omnichannel experience, CapitaStar should try to improve on this further?
Scanning receipts may drive people to the mall and some retailers may have technology limitations, but card-linking is already a feature in the program and many merchants use QR code payments.
CapitaStar should focus on removing the friction of receipt-scanning to provide members with an even more rewarding online and offline experience.