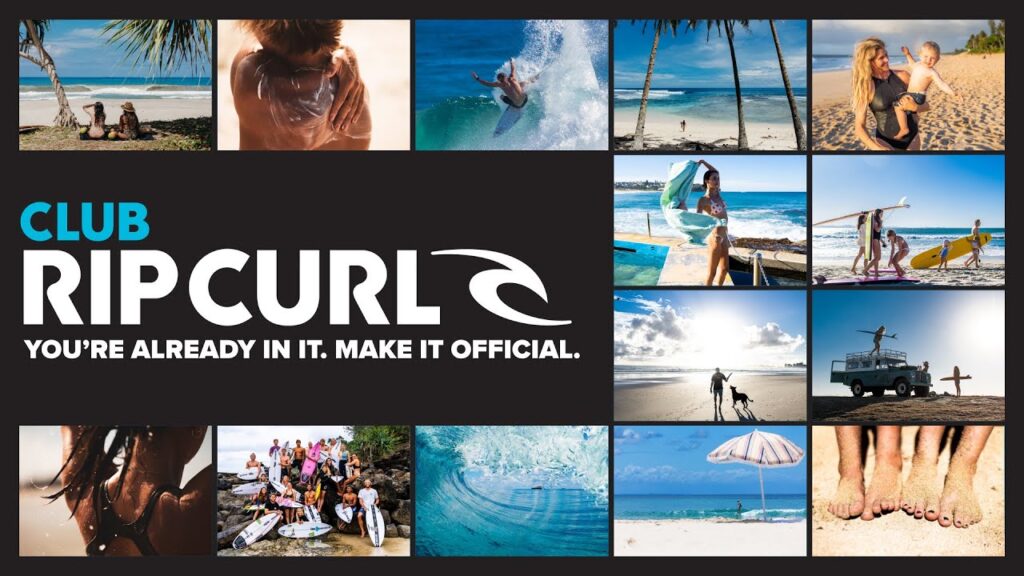 Founded in 1969 by Brian Singer and Doug "Claw" Warbrick, Rip Curl is one of the world's most recognized and respected brands. It has been at the forefront of the surf and snow scenes since its creation.
Rip Curl has recently launched their pilot program, Club Rip Curl. The pilot program launched through five stores in July 2022 before expanding across Australia and New Zealand in August 2022.
Joining the program
The sign-up process takes less than a minute online and it is free to join. Members will need to provide their full name, email, DOB, gender, and mobile number to register. Members can also join the program when they go into a Rip Curl store, via Search GPS Watch app, or by contacting Rip Curl's Customer Support Team.
Members can log into their account and add their membership card to the digital wallet on their iPhone or Android device, so they have quick access to scan their membership card in-store.
Online experience
When members first log into their account, they will see a banner showing their digital membership card, points, points value, and a prompt to update their preferences for 10,000 points.

When a member updates their preferences, they will receive their 10,000 points within a couple of minutes.

The online account clearly explains how a member can earn and redeem points.
How to earn
Reward points are the currency of this loyalty program. Members earn 100 points for every $1 spent on Rip Curl products. Also, members receive 10,000 points in totality when they add preferences to their profile. As the loyalty program grows, members will also be able to earn points via referrals, product reviews, connecting surfing data to their membership account, recycling a wetsuit, and watching the Rip Curl Pro Surfing event.
Points expire after 24 months with no activity on the member's account.
How to redeem
Members can only redeem points on Rip Curl products at this stage, online or in-store. Every 2,000 points earnt is the equivalent of $1 in value, which is a return to members of 5% to be used for future purchases. Exclusive Rip Curl experiences or donating back to environmental and indigenous initiatives will be other ways members can redeem points in the future.
Coming soon…
As mentioned earlier, Club Rip Curl has unique ways to earn and redeem points on the horizon.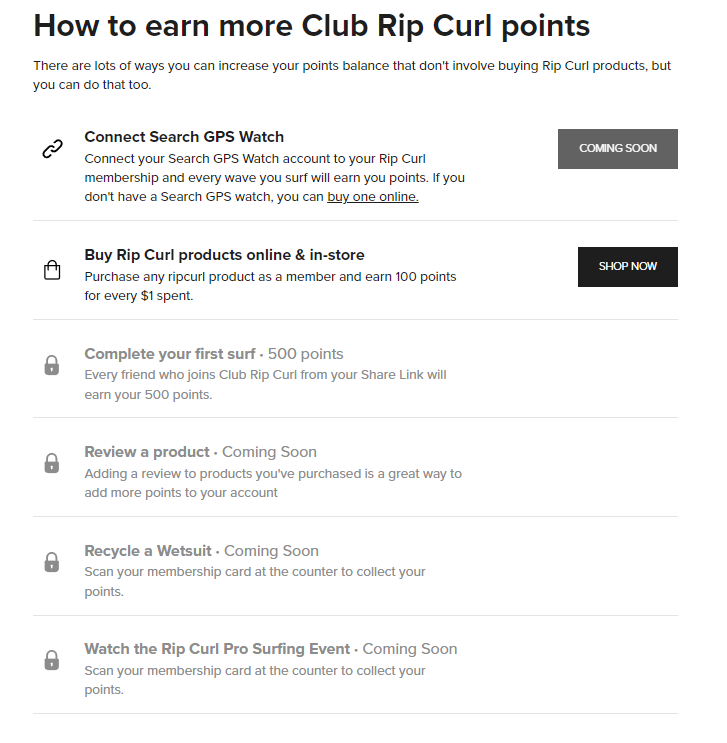 The success of the loyalty program will depend on how long Rip Curl has planned to run the pilot program before they move into the next phase of their program rollout to make these additional benefits available to their members. Showing the benefits that are coming soon on a member's account is a fantastic way to get them excited with what's to come. In saying that, if members are waiting too long to see these benefits, this will discourage member advocacy and engagement.
Gamification
It will be interesting to see if gamification will play a role with Club Rip Curl when members can connect their Search GPS watch to their membership to earn points when they are surfing. Incorporating leaderboards, daily challenges or badges may lead to a boost in member engagement and encourage more customers to purchase Search GPS watches to get involved.
Last thoughts
Club Rip Curl is a great loyalty program in the making. The join process is simple, you get a nice little bonus early on for adding preferences and the program is easy to understand.
Once the additional benefits publicised are available to members, Club Rip Curl will have the differentiation through their unique member benefits to stand out against their competitors.