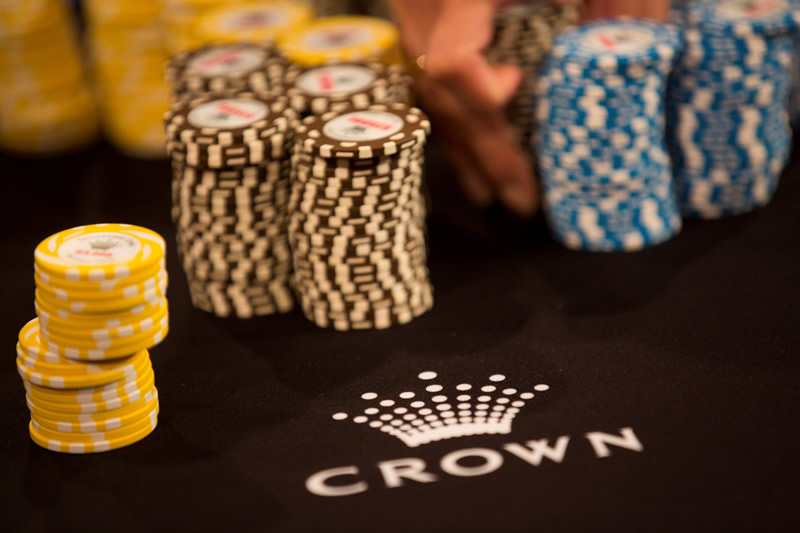 Crown is a chain of casinos across Australia with three locations in Melbourne, Perth, and Sydney that offer services from gambling to accommodation and restaurants. They even provide health and beauty spas and entertainment shows. Crown offers a loyalty program called Crown Rewards, previously known as Signature Rewards.
At first look, the program appears to offer members a lot in value with exclusive benefits and Points to spend. However, upon closer inspection, there is a lot of confusion and unanswered questions about how the program really works.
The Program
The program is advertised as a tiered Points program where members can earn Points every time they visit Crown.

Crown Rewards comes in five tiers, each with increasing rewards and value. The lowest tier is the Member Tier (Blue) and the highest is the Black Tier. Progression through the tiers is based on Status Credits (but more on that later).
The benefits members access through the program start with a birthday offer of sparkling wine and chocolates. Benefits continue with member pricing and discounts and go all the way up to exclusive access to 'The Mahogany Room' for Platinum members.
A big differentiator for this program is the Black Tier, which is accessible by invitation only.

The Black Tier is so exclusive that only members who are invited know the list of benefits on offer at this level.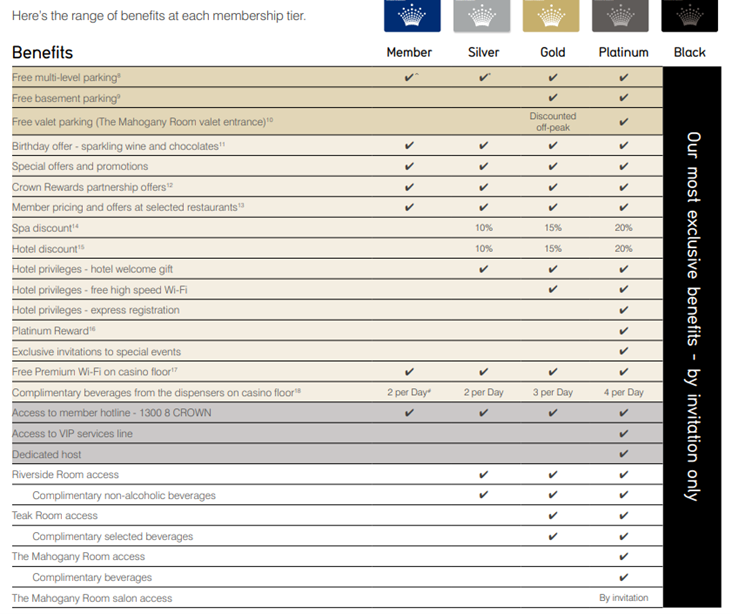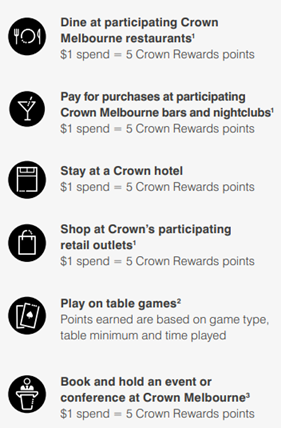 As well as the above benefits, members are able to earn Points on every transaction with Crown. They simply have to show their card whenever they pay.
The Points can then be used to pay for future transactions with Crown. Points can even be used to pay for table play at the casino. When redeeming, 100 Crown Points = $1.
Join
The joining process for this program is a little different to an ordinary loyalty program. For a customer to become a member, they must visit a Crown Rewards Desk and present some form of Australia Identification. As the program is available within a casino customers must be over 18 years of age to join the program.
What is really interesting about this program is the lack of accessibility over the internet. Customers can book hotel rooms and purchase meals from the restaurants at the casino online, both of which are activities that members are meant to be able to earn Points for. However, there is no way for members to join the program online. The website even offers a call-to-action link where members can 'Join Now', but it simply links to the page explaining that the join process can only occur in person.
This may create a level of frustration for some customers. Technology is where the world is going and there is a level of expectation of accessibility online across programs now.
Progression
As mentioned above, the progression through this program is via Status Credits. To move from the Member Tier to the Silver Tier it takes 5 Status Credits, compared to a whopping 100 Status Credits for the Platinum Tier.
How does one earn a Status Credit? Good question.
Status Credits are gained once a member earns enough Points. A single Status Credit costs either 500 Casino Points or 1,500 Lifestyle Points. While one can assume that a Casino Point is a Point earned through play at the Casino and a Lifetsyle Point is a Point earned anywhere else, nowhere in the program advertisement does it clarify this. It also doesn't mention what happens if a member has a mix of the two Points, how do they progress through if they have 250 Casino Points and 1,000 Lifestyle Points? Previously all points are called Crown Reward Points and then suddenly they are split into two different Point types? This is understandably a pain point for many members.
The real difficulty with this program is that progression occurs on a six-month membership cycle. If a member does not spend enough to maintain their tier in the previous six months, then they are demoted to the appropriate tier. The membership cycle begins on the 1st of April and the 1st of October.
In terms of retail spending only, a member must spend $30,000 between the 1st of April and the 1st of October to earn the Platinum tier. They must then continue to spend at least $30,000 with Crown every six months to maintain their tier.
Let Downs
The program does provide a lot of value for its customers. It has great benefits, and the first few tiers are achievable for visiting members. The high-end tiers do require a lot of investment, but there is no doubt that there are people out there that are highly involved with Crown.
Where this program becomes a let-down is the mechanics. Having both Points and Status Credits can become increasingly confusing for members. If Points are spent do, they still contribute towards progression? Do members have to have earnt those Points within the 6 months or is it just Status credits? If that is the case does that mean the Points roll forward?
Often companies think having multiple mechanics within a program can make things simpler but more often than not it creates more questions. It also doesn't help that they have decided halfway through the program to differentiate the Points based on how they have been earnt.
The program could also stand to move forward with technology and provide a bit more accessibility to members. The Join process is difficult and the absolute opposite of seamless.
Conclusion
Overall, while I don't think Crown Rewards deserves a throne among loyalty programs, this program does provide a great case study for how to provide value back to customers. However, I do think Crown needs to put more forethought into the program as at the moment it feels like a mismatch of competing thoughts all mashed into a single program. Especially in comparison to other Casino's like MGM grand who have a far more compelling program.
Unfortunately, It is far too early to be celebrating a Jubilee for this Crown.
Ready to increase customer retention and drive revenue in the gambling industry? Let us help you create a loyalty program that will keep your customers coming back for more. Contact us to learn more about our loyalty program strategy services.