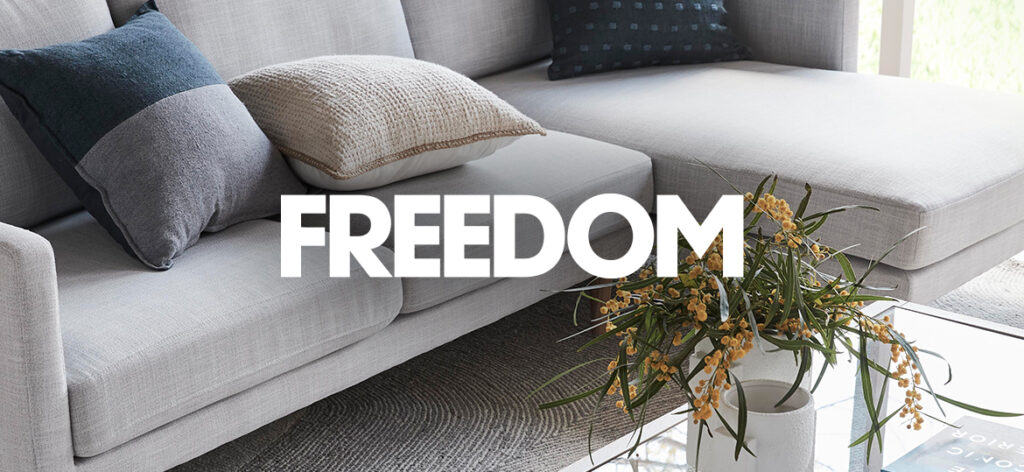 Freedom is a major furniture and homewares retail chain with 58 stores across Australia and New Zealand. The first Australian store opened in 1981 and in New Zealand in 1996.
I first came across the Freedom Rewards program, myFreedom, last week when I was in-store test driving couches for comfort.
Joining the Program
The joining process is very simple and can be completed in-store or online, by simply providing a name, email address and phone number. I was in-store at the time of my purchase and was asked by one of the staff members if I would like to join the myFreedom Rewards program. Before I could even answer, I was informed that I would receive a $50 myFreedom voucher for every $1,000 spent.
It didn't take me long to work out that this could be a great saving, as my wife also had her eye on an outdoor setting. This is a great initial surprise and delight and played a role in me signing up there and then.
The only downfall on this from a customer's perspective is that you can't use these vouchers on the current purchase, they are activated after the purchase and can then be used on your next purchase or within three months, when they expire. Three months is a fairly short time frame, especially when the spend is high, so my recommendation to Freedom would be to extend this expiry date so there is a greater chance of the member coming back into the store for their next purchase.
Member Benefits
Below are the key benefits of the myFreedom Rewards program:
Free to join
Receive a $50 myFreedom Reward Voucher for every $1,000 spent
60 Days Extended Change of Mind for Homewares
Free Metro Online Delivery for Homewares Purchases over $50
Sofa Frame Warranty Extended to 12 Years
VIP access to events and member exclusive promotions
The program is a very simple model, and the key benefit is the $50 reward voucher received for every $1,000 spent. If you look at this reward individually, it is only a 5% discount, which isn't anything special, especially in the furniture and homewares industry. Where it does work well though, is that you can still negotiate a better price on the item you are buying in-store or take advantage of an existing sale and still receive the reward voucher on top of this.
I think Freedom is missing a good opportunity to build on this program and include a tier-based system to help segment their database and further reward their loyal customers.
A tier-based model would also allow Freedom to target individual segments with tailored communications and offers to help move them through the sales funnel and gain a greater share of wallet.
Digital Card
A great feature of the program is the digital rewards card that can be downloaded via Stocard. This provides all the information you need in one place and allows you to redeem your rewards vouchers via this solution.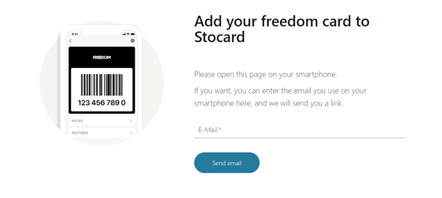 Email Communication
Since joining the program, I have only received one email asking me to activate my account and an email promoting a sale one week after our purchase. This seems unusual in this day and age, as in previous blogs, I have complained about the excessive number of emails I received when signing up to a new rewards program.
It is a nice change, but dare I say it, there might be an opportunity to provide one or two emails promoting the program and benefits and encouraging me to use my rewards vouchers before they expire.
Having said that, there is a feature within my account to select "My Preferences" on when, what and how I would like to be communicated to. This is a great feature and could even be taken a step further to ask me the specific items I would like to hear about. As I have just purchased a couch and outdoor setting, I don't really have any interest in hearing about these products anymore, so it would be good to understand what else might be on sale in the future.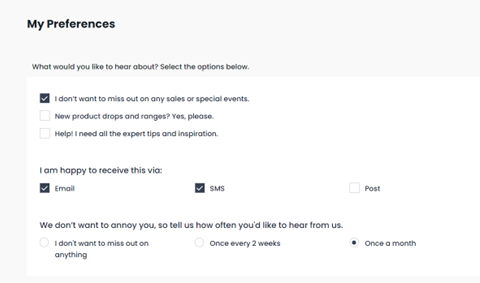 Great Customer Service
It was a strange feeling to receive the email one week after we purchased our couch and outdoor setting promoting a sale, as we could see that we would have saved over $1,000 if we had waited or had been told about the upcoming sale. We decided to go back into Freedom and discuss this with them, but I was more than ready to accept that this is life and that there was nothing that could be done.
To my surprise and delight, the staff were incredibly sympathetic to the situation and were happy to credit the missed savings of over $1,000 back into our myFreedom account, to be spent there at a later date.
I was prepared for us not to receive any compensation, and this still wouldn't have changed my feelings towards Freedom and I would have continued to shop there. However, after this interaction, it has definitely moved me closer to a brand advocate and I am happy to tell people about this encounter.
In Summary
This blog posed the question in the title, "Great Rewards Program or Great Customer Service – What works best?" The myFreedom Rewards program is a fairly simple program, however, when you align this with the products and pricing they have in-store and the amazing customer service that they show, then this becomes a fantastic offering.
It's an incredibly competitive space that Freedom plays in, and customers will make a day of visiting 4-5 stores within a business centre to find the best deal. If Freedom continues to deliver good quality products, amazing customer service and a loyalty program that continues to evolve, then maybe the original question becomes obsolete, and they have found the right mix. Time will tell.