Recently I discovered a product I needed, but it was only available at Adore Beauty.
Adore Beauty was created in the early 2000's by Kate Morris who identified a gap in the market. Working at a cosmetic counter while studying at university, Kate discovered most women were intimidated by the department stores. This led to her borrowing funds and building a disruptive new shopping experience online to empower beauty consumers.
On my phone, I visited the Adore Beauty website, found what I wanted, and added them all into my cart. A popup message appeared offering me to join their Adore Society. The offer was to save $20 if I spent over $99 and entered in a promotional code. Who doesn't love to save?

The reward to join their loyalty program was a great offer! My cart would definitely be over $99 with my special buys. It was super easy to add my promotional code through the checkout. I also received 2 free samples as a lovely value-add.
Now that I have spent some time on the site and app, I believe they are working on a mobile first experience. This has been reinforced by my welcome email showing app images of the site and how to use the app.
The welcome email I received was fantastic in detail. It told me:
I was now a member of the Adore Society
What tier I was on
Reminded me of the welcome coupon I could use (I received this email before I made the purchase)
How to navigate the app
I could share the love, and receive a referral credit
If I told them my birth date, I would receive a reward
But what is the Adore Society?
The Adore Society
Adore Society is a tiered loyalty program that rewards customers for their purchases. This program aims to enhance customer loyalty and engagement by offering various benefits, and rewards based on the customer's spending behaviour.
It has three distinct levels, each requiring a minimum spend over a 12-month period to achieve. It offers rewards such as birthday or anniversary rewards, free express delivery for specific spending thresholds, refer-a-friend rewards, member-only promotions, priority access to exclusive experiences, member-only competitions, and early access to new brand, and product launches.
It is evident this loyalty program was designed to cater to Adore Beauty's engaged, and connected community of consumers, aligning with the brand's ethos of "beauty democracy". By providing personalised experiences, enticing rewards, and recognition of individual beauty journeys, Adore Society aims to further solidify customer loyalty, and strengthen its position in the competitive beauty industry.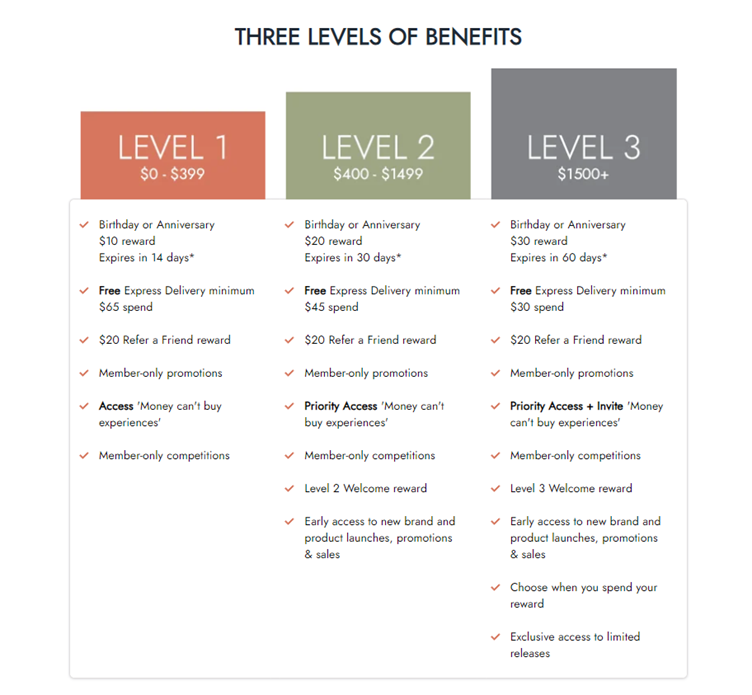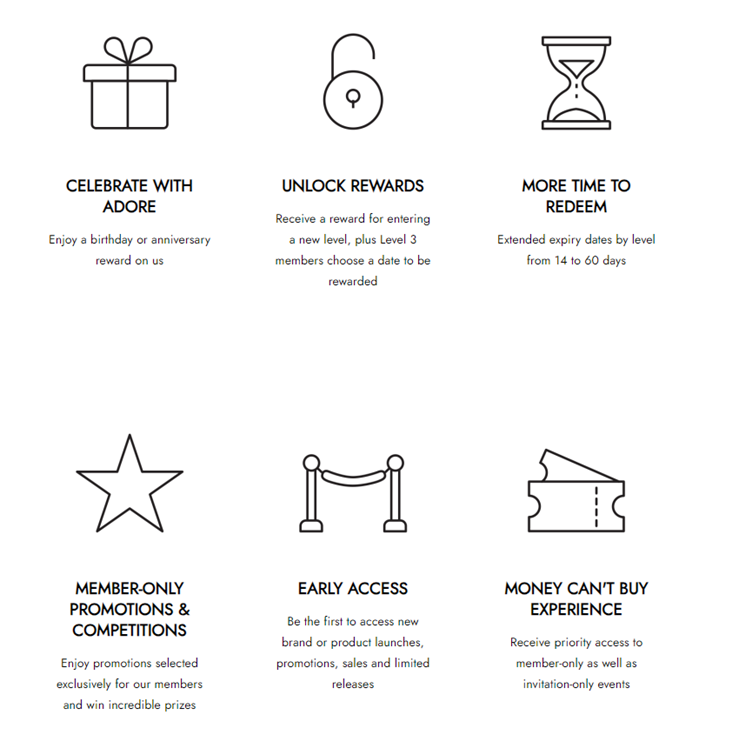 Personally, I like the progress reward amplifying method, such as the Birthday Reward moves from $10, $20, and $30, when you are on higher tiers; Level 1, Level 2, and Level 3 respectively.
One of the unique rewards is the extension of time to utilise rewards. The time to redeem moves from 14 days (level 1) to 60 days (level 3). This is a generous approach – and for me it will come in handy.
This program is very clear and concise to understand. When I visited my membership dashboard I can clearly see:
A tracker on my progress
How to refer a friend easily
Activity on rewards to redeem or past activity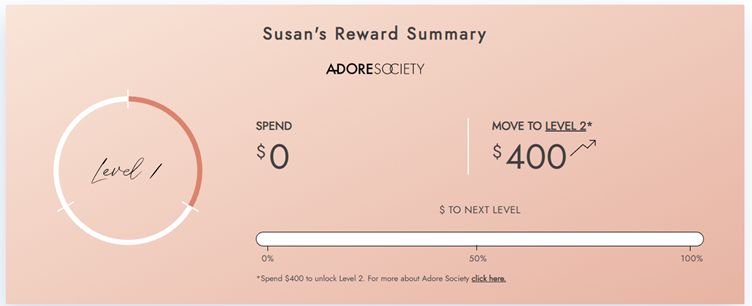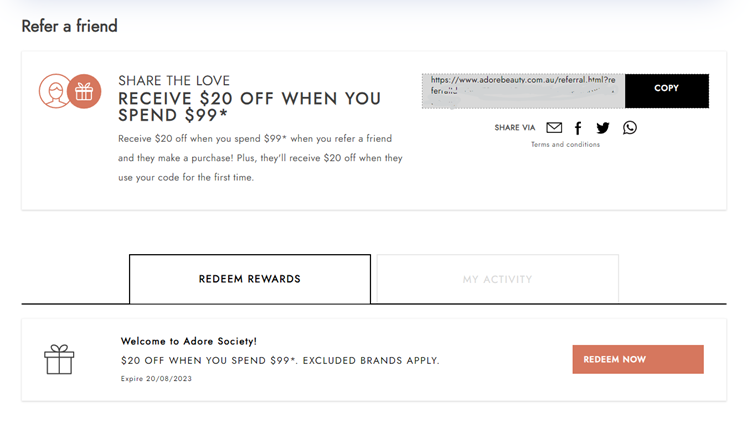 I love that Adore Beauty has incorporated loyalty psychology into their program with the tracker. The strategy behind utilising a tracker is called the "Goal Gradient Effect". It leverages the psychological tendency of individuals to increase their effort, and engagement as they approach a goal or reward. When customers see that they are close to achieving a specific milestone or reward, they are more motivated to accelerate their actions to attain that reward quickly. To read more about the "Goal Gradient Effect", check out this article.
Overall
The Adore Beauty Adore Society is an easy-to-understand loyalty program. I am sure any customer loyalty consultant would agree – the tiering approach helps grow engagement and utilises the Goal Gradient Effect. I would love to see an auto apply for the welcome discount in the cart – as I can see this being forgotten when checking out. I can also picture elements of gamification that could be incorporated into this program in the future. Otherwise, this is a great digital first approach loyalty program that really does reward beauty lovers.
Looking to launch an award winning loyalty program?
Our loyalty consultants can design an award-winning loyalty program strategy or enhance your existing one to make. Discover our wide range of comprehensive loyalty services. Get in touch to talk with our loyalty experts and kickstart your journey to loyalty glory.