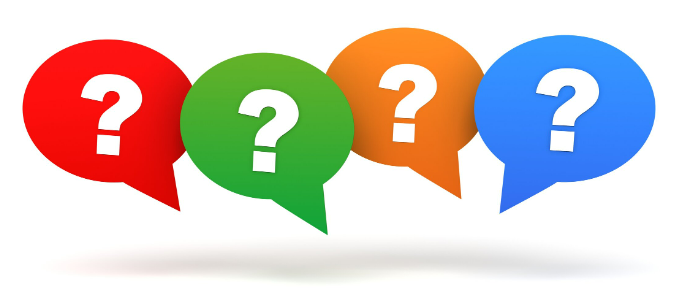 As a loyalty consultant, a question that we are continuously being asked by our clients is if a subscription program can be classified as a loyalty program.
Whilst a subscription program can be used to generate customer loyalty, the way that they are structured typically differs from that of a loyalty program.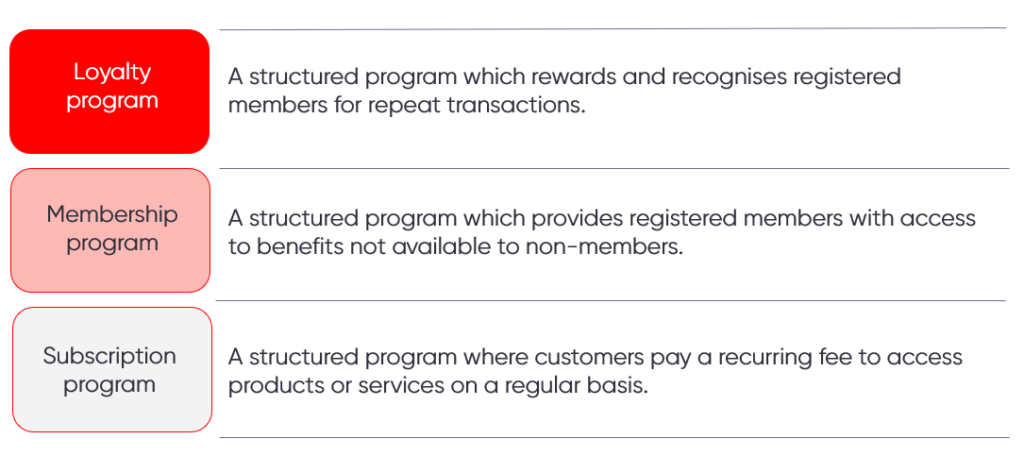 Both loyalty programs and membership programs can include subscriptions as part of the design. This can make it confusing to understand the difference between the models.
To help you understand subscription programs, let's take a deep dive into the following key areas:
Examples of subscription programs
Rent the Runway
Rent the Runway is a fashion brand that offers customers the opportunity to rent their favourite clothes as a more cost effective alternative to purchasing. Customers can reserve clothes as a one time rental or they can purchase a subscription that provides an ongoing, always rotating plan with a selection of designer styles.
There are three plans to choose from with the number of items to rent increasing depending on the plan, with flexibility around the number of shipments e.g., once a month. Perks of the subscription include:
1:1 styling
25% off one-time rentals
Dry cleaning
Discounts on purchases Pause/cancel anytime
1-3 day shipping
Keep items as long as you want
Pause or cancel anytime
Discounts to buy what you love
Netflix
Netflix is a popular example of a brand offering digital content to customers who pay a recurring subscription fee. The streaming service offers three different plans, with different benefits available depending on chosen plan. For example the premium subscription offers:
Unlimited ad-free movies, TV shows and mobile games
Watch on 4 supported devices at a time
Watch in Ultra HD
Download on 2 supported devices at a time
option to add 1 extra member who doesn't live with you
Typeform
Typeform is a web-based platform that is primarily used for building online surveys. Users are required to pay a subscription fee at a flat rate to access the service, with four different payment options available. The plans differ based on number of uses, and number of expected customer responses per month. It also incorporates a pay-as-you-go element where users can pay for additional responses that exceed the included limit when needed.
Users that sign up to Typeform can access benefits such as:
Templates
Embed form into web page
Logic jumps
Unlimited forms and more
Amazon Prime
Amazon Prime has one of the most popular subscription services out there. Customers can pay a subscription fee to get access to a bundle of exclusive member benefits including:
Free expedited delivery with no minimum purchase
Stream movies, TV shows and music
Stream top podcasts ad-free
Hundreds of new books/magazines each month
Free games plus a free Twitch channel subscription
Try on fashion items before you buy (only pay for what you keep)
Exclusive deals
Loot Crate
Loot Crate is a subscription program is where a member receives a box with surprise contents centred around a specific theme. Every month members receive a surprise bundle of 3+ items that includes collectibles and gear from movies, TV shows, games, comics etc. Members can choose from a variety of themed subscriptions ranging from $40-$60 but never know what products will be included.
The Honest Company
The Honest Company is a brand that offers baby, personal care and beauty products. Customers can make one-off purchases or can subscribe to their bundle and save subscription. This is particularly useful for products that need be replenished regularly e.g., nappies. Customers can save 20% on nappies and wipes per shipment and receive:
Free shipping always
10% off add-ons
Early access on new prints
Choose an eligible free full-sized item for every 3rd shipment
Choose frequency
There is also the option of purchasing single product subscriptions.
Winc
Winc is a wine subscription service that tailors the wine varieties that members receive based on an engaging survey completed during sign-up. Wine is chosen based on
Preference for red or white wine
Regional preferences
Favourite foods
Taste preferences
Flavour preferences
The benefit of this model is that it is highly personalised where brands can tailor the products and overall experience to a member's specific taste.
BMW Car Club
The BMW Car Club of America is a subscription program that offers members monetary rewards as well as experiential benefits that cater to their shared interest. This subscription works to retain long-term subscribers by focusing on building a sense of community, exclusivity and belonging.
A BMW Car Club member pays an annual subscription fee to gain access to:
Exclusive dinners
Cocktail receptions
Driving events.
Networking opportunities with other BMW enthusiasts
Opportunities to win exclusive prizes.
Rebates on vehicles
BMW discounts on driving course, parts and accessories
AMC Theatres
AMC Theatres offers a membership, AMC Stubbs, with a choice between three different tiers that comes with progressive benefits. Customers can choose:
Insider: join for free (limited benefits)
Premiere: upgrade to yearly membership to access more benefits
A-list: add on a monthly movie membership to receive the Premiere perks plus up to three free movies every week
AMC Stubbs is a good example of a subscription program that is combined with a loyalty program where members can also earn points based on their spend (which differs between tiers). Once 5,000 points has been accumulated, members will earn a $5 reward to put towards their next purchase.
Common features of global subscription programs
| | | | |
| --- | --- | --- | --- |
| Brand | Feature | Why it works | |
| The Beard Club | Anniversary/birthday bonus | Provides recognition to the member for their ongoing loyalty/celebrates key milestones | |
| AMC Theatres | Tiered pricing | Flexibility of pricing can attract a large customer base | |
| Harry's | Savings tracker | Acts as a reminder to members how much money they have saved by subscribing/incentivises them to continue to subscribe | |
| FabFitFun | Early access to add-ons | Provides exclusive access to products that members view as a high value reward | |
| Amazon Subscribe & Save | Subscriber prices/discounts | Provides exclusive savings to incentivise continual subscription | |
| FabFitFun | Additional products added when opting for annual payment | Incentivises long-term subscription | |
| Bevel | Currency multiplier | Stimulates an increase in engagement by offering bonus earn in exchange for engagement | |
| BMW CCA | Experiential rewards | Provides a positive and memorable experience for the member usually at a lower cost to the business | |
| BookMyShow | Priority access | Offers exclusivity and experiential rewards | |
| Rent the Runway | Multiple set plans to choose from | Provides simplicity and convenience for customers to choose a plan that suits them | |
| Harry's | Mystery item with delivery | Provides extra value within the delivery along with a surprise & delight element | |
| Fabletics | Receive subscription fee as account credit | Locks the customer into a subscription but provides the value back in credit that they can only spend at the brand | |
| Bevel | Category-based subscription plans | Provides simplicity to member who can choose a subscription plan based on their core need | |
| The Beard Club | Non-transactional earn | Stimulates engagement by offering member the chance to earn without being required to spend money | |
What are the benefits of a subscription program?
Recurring Revenue: One of the most significant advantages of subscription programs is the predictable, recurring revenue they provide. This steady cash flow allows companies to better plan for the future and invest in growth opportunities. Subscriptions offer a buffer against the seasonality that many businesses face.
Flexible Pricing Models: Subscription programs can be tailored to fit various pricing structures, such as monthly, annual, or tiered pricing. This flexibility allows companies to cater to different customer segments and financial preferences.
Customer Loyalty: Subscribers tend to be more loyal to a brand. By committing to a subscription, customers demonstrate a higher level of trust and engagement with the company. This loyalty can lead to longer-lasting customer relationships and increased customer lifetime value.
Cross-Selling and Upselling Opportunities: Subscription models create opportunities for cross-selling and upselling. As customers engage with a company through their subscription, businesses can promote additional products or services, leading to increased sales and revenue.
Customer Acquisition Cost Efficiency: Because acquiring new customers can be costly, focusing on retaining existing subscribers can often be more cost-effective. The longer a customer remains a subscriber, the more value they generate, making customer retention crucial.
Enhanced Customer Data: Subscription programs provide a valuable source of customer data. Companies can gather insights into customer behaviour, preferences, and demographics. This data can be used to personalise offerings and improve the customer experience.
What are the challenges of a subscription program?
Customer Churn: While subscription programs aim to retain customers, churn remains a challenge. Subscribers can cancel for various reasons, including dissatisfaction, financial constraints, too many products, product/service has lost novelty etc. Reducing churn rates is an ongoing concern for subscription businesses.
Content and Service Quality: To maintain subscriber loyalty, businesses must consistently deliver high-quality content or services. Falling short in this regard can lead to cancellations and harm a company's reputation.
Subscription Fatigue: Consumers are increasingly inundated with subscription options, from streaming services to meal kits. This saturation can lead to subscription fatigue, where customers become overwhelmed by the number of subscriptions they maintain, leading to cancellations.
Pricing Strategy: Determining the right pricing strategy is challenging. Set the price too high, and you risk pricing out potential customers; set it too low, and it might not cover costs. Pricing models require careful consideration and periodic adjustments.
Lack of Transparency: Many subscription programs in the market somewhat trick customers by not being transparent with what customers are committing too, (i.e., they are unaware that they are paying for an ongoing subscription). This can lead to cancellations and can negatively effect brand trust.
Customer Acquisition Costs: Acquiring new subscribers can be expensive, particularly in highly competitive markets. It can be difficult for a brand to convince new customers that their products/service provides enough value and excitement to warrant an ongoing payment/regular deliveries. Balancing the acquisition costs with the expected customer lifetime value is a challenge many subscription businesses face.
Is a subscription program a loyalty program?
Whilst subscription programs can be incredibly effective in generating long-term customer loyalty, the way that they are structured shows that they differ from loyalty programs.
A subscription program doesn't require customers to show loyalty or regularly engage with the business in order to benefit from the program. As shown through the subscription examples, customers who pay a recurring fee for a subscription receive access to products or services, regardless of how often they use them or how much money they spend with the business.
A loyalty program is intentionally designed to reward customers for their continued business, and for completing desirable behaviours that the business is specifically incentivising. Thus, customers must show loyalty to the business in order to be rewarded.
Take a look at these 11 different types of loyalty program frameworks to learn more about how loyalty programs work.
Conclusion
Overall, subscription programs and loyalty programs can both be effective ways to increase customer engagement, retention, and revenue. However, the best type of program for a particular business will depend on its specific goals and target market.
If a business is looking to generate recurring revenue and increase customer retention, then a subscription program may be the best option. If a business is looking to increase customer engagement and brand loyalty, then a loyalty program may be the better choice.
As loyalty consultants, we often work with our clients to design and implement hybrid programs that combines elements of both subscription programs and loyalty programs. This can be a great way to get the best of both worlds whilst providing customers with a valuable offering.
Looking for a loyalty program with a unique edge?
Our loyalty consultants have helped global brands take the critical steps to design unique and effective loyalty programs, as well as support ongoing evolution to meet changing business and consumer expectations. Contact us to learn more about our comprehensive loyalty services and talk with our loyalty consultants to understand how to develop or optimise your loyalty program strategy.