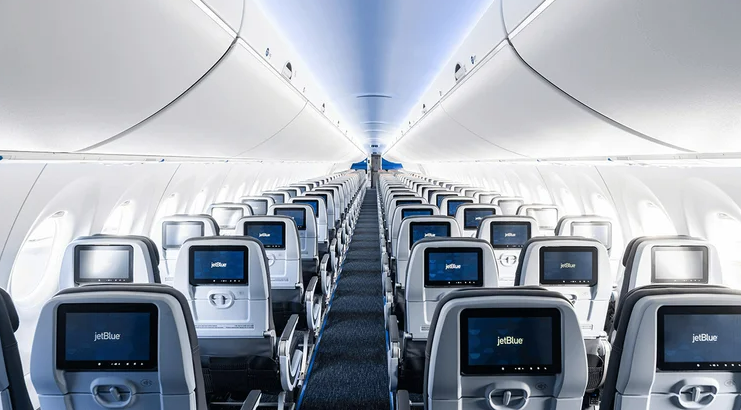 In an exciting move, JetBlue has revamped its loyalty program strategy offering more choices, flexibility and additional perks for their loyal flyers.
JetBlue's loyalty program, 'TrueBlue' now offers a new way of measuring loyalty status through 'Tiles' that members can earn when spending with JetBlue, their partners and through using cobranded credit cards.
Alongside the introduction of four new 'Mosaic' tiers, JetBlue are now also offering perks to members that have not yet reached the first tier in an attempt to avoid alienating infrequent travellers. A rather unique approach in comparison to most loyalty programs that often focus more on higher value customers.
This blog will explore the enhanced TrueBlue loyalty program and how it aims to deliver more value to JetBlue's loyal customers.
How do you earn with the JetBlue loyalty program?
It is important to note that the introduction of Tiles is not replacing points. TrueBlue members will continue to earn and redeem points as they always have. Tiles are simply replacing the Mosaic-qualifying points (i.e., the number of Tiles you collect will determine what tier you sit in).
TrueBlue members will earn 1 Tile for every $100 spent on JetBlue travel (including purchases on flights, vacations and Paisly) and American Airline flights. Members can also earn one Tile for every $1,000 spent on eligible purchases with any JetBlue credit card.
Another key change to call out here is that members can now combine their travel spend with their JetBlue credit card spend which can help accelerate their progress towards earning Mosaic status.
Unlocking more benefits with New status levels
JetBlue's esteemed loyalty tier, TrueBlue Mosaic, also underwent expansion, introducing multiple new levels of recognition for the airline's most loyal customers. The updated program acknowledges and rewards frequent flyers who consistently choose JetBlue as their preferred airline. By offering new tiers within the Mosaic loyalty status, JetBlue demonstrates its commitment to appreciating and catering to the needs of its dedicated customers.
The TrueBlue loyalty program now includes four different status tiers; Mosaic 1, 2, 3 and 4. See below for the breakdown of benefits.
Mosaic 1 (50 Tiles):
2 free checked bags for Mosaic and eligible travel companions¹
Free inflight alcoholic drinks (21+)²
Free Even More® Space at check-in (pending availability)
Free same-day switches³
Mosaic boarding
Priority security⁴
Dedicated check-in
Dedicated customer service
3X points on JetBlue-operated flights
Select reciprocal perks on American Airlines flights⁵
Complimentary Heathrow Express upgrade
Mosaic 2 (100 Tiles):
Complimentary Even More Space seat selection at booking (pending availability)
Mosaic 3 (150 Tiles):
4 'Move to Mint' certificates that can be used to upgrade to a business class seat on an economy fare (number of certificates required for this varies by flight)
Mosaic 4 (200 Tiles):
2 more Move to Mint certificates
Credits for 4 one-way BLADE Airport helicopter transfers between Manhattan and JFK or EWR
You can now pick your perks with TrueBlue
One of the key changes to the JetBlue loyalty program is that for the first time, TrueBlue members who have not yet reached Mosaic status now have access to rewards. As a way of giving all travellers a chance to be rewarded (whether you travel frequently or not), TrueBlue members can access rewards for every ten Tiles they collect (equivalent to spending $1,000) with the new Mosaic Perks You Pick. Here TrueBlue members are can select one of the following:
Early boarding
Priority security
Alcoholic drink
JetBlue vacation bonus
5,000 bonus points
This enhancement allows members to reap the rewards of their loyalty at an accelerated pace, providing an immediate sense of value and recognition. Early access to perks also encourages customers to engage more actively with the program, fostering increased loyalty towards JetBlue.
With the Mosaic Perks You Pick, members will also be able to choose an extra perk every time they officially unlock a new level of Mosaic status (limited to one perk per year). These additions were designed to offer more value and recognition to customers throughout their travel journey. Members can choose between:
Pet fee Waiver
Mint Suite priority
$99 statement credit on select JetBlue credit cards
20-Tile bonus
15,000 point bonus
FoundersCard Blue membership
Previously, all Mosaic members received a $15,000 point bonus when reaching or requalifying for status. Allowing members to have the flexibility to choose their perk provides them with a personalised experience where they can select a reward that aligns with their preferences.
Updates to JetBlue's cobranded credit cards
JetBlue is also making some updates to its cobranded credit cards alongside the new loyalty program. JetBlue Plus cardholders will benefit from a feature called "Points Payback," allowing them to redeem points to pay themselves back for purchases of $25 and above.
As part of the revamped loyalty program, JetBlue is introducing exciting updates to its cobranded credit cards. JetBlue Plus cardholders can now take advantage of a new feature known as "Points Payback." With this feature, members have the ability to use their points to reimburse themselves for purchases of $25 or more, with an annual maximum of $1,000.
Furthermore, JetBlue Business Card members now receive Group A boarding on JetBlue-operated flights. This new benefit ensures that Business Card members have priority access and can enjoy a seamless boarding experience for their JetBlue flights. These enhancements to the cobranded credit cards align with JetBlue's commitment to providing added value and improved travel experiences for their loyal customers.
Is the revamped TrueBlue loyalty program worth it?
With its revamped TrueBlue loyalty program, JetBlue aims to provide enhanced value and rewards to its loyal customers. The introduction of Tiles, Perks You Pick, and expanded Mosaic status tiers offers more flexibility and opportunities for members to earn and enjoy benefits. Whether you are a frequent flyer or a casual traveller, the new program strives to reward customers at various stages of their loyalty journey. JetBlue continues to innovate and chart its own path in the airline loyalty landscape, making the TrueBlue loyalty program an enticing option for those seeking a rewarding and personalised travel experience.