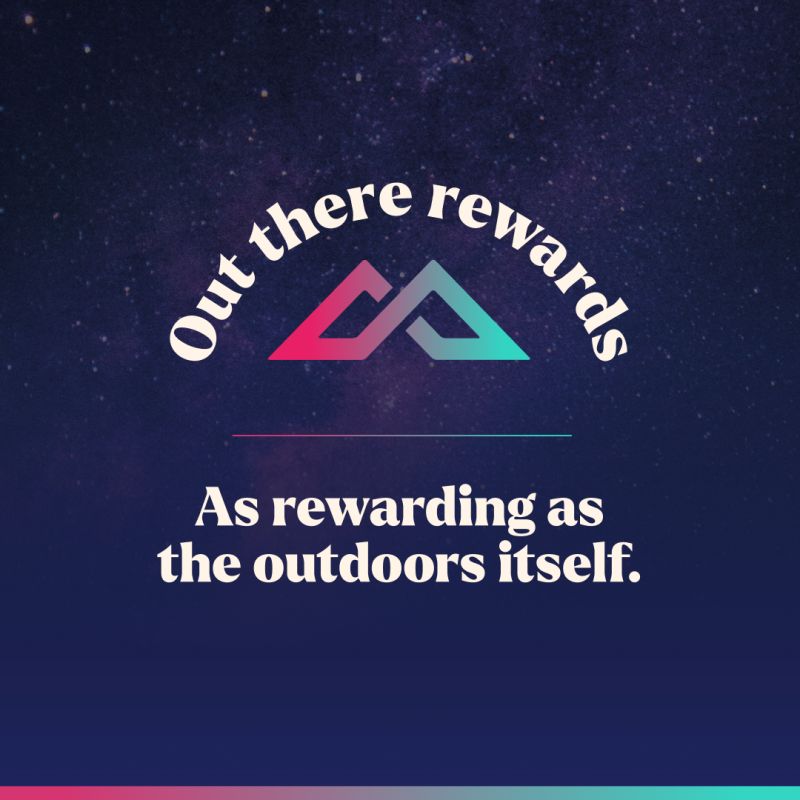 When you have reached the summit, keep climbing
Kathmandu was founded in 1987 in Christchurch, New Zealand. The company specialises in outdoor and travel apparel, gear and accessories. KMD Brands is the holding company that owns Kathmandu alongside Rip Curl and Oboz. Kathmandu continues to grow globally and is currently available in New Zealand, Australia, United States and the United Kingdom.
Kathmandu launched Summit Club as their loyalty program back in 1994. Summit Club is a great success story for the brand. After an incredible 30-year run the program has evolved and undergone a significant overhaul. Earlier this month Kathmandu unveiled Out There Rewards as their new program.
According to Kathmandu's GM of Marketing and Customer, Richard Dalke, the redesign and evolution of the program took three years of research. Kathmandu has long-recognised its loyalty customers as an important asset to the business. This meant revamping the program with a best-in-class experience in mind for members was paramount.
Spend time in nature and be rewarded


The Out There Rewards design delivers a best-in-class experience for the 2 million plus member community. It is a shift from a traditional spend-and-save model to a tiered system. Members move up through four levels the more they spend and "get out there".
When engaged as customer loyalty consultants, part of our process includes working with brands to come up with an "X-factor". The X-factor can be a unique reward, benefit or mechanic that serves as a differentiator for their program, drives engagement and compliments the brand. Prior to launch, KMD's Rip Curl engaged Loyalty & Reward Co to validate the commercial model underpinning their new loyalty program, Club Rip Curl. We loved the fact that members could earn points for surfing. This is a unique edge and appealing differentiator for the Club Rip Curl program.

Loyalty & Reward Co were engaged once again to validate the commercial model underpinning Out There Rewards. We were just as thrilled to see their unique edge. As well as spending at Kathmandu, members can earn points by simply getting out into nature and completing outdoor activities they love. Members can earn points for hiking, bushwalking, visiting a national park, discovering a waterfall, admiring the view or discovering a new trail.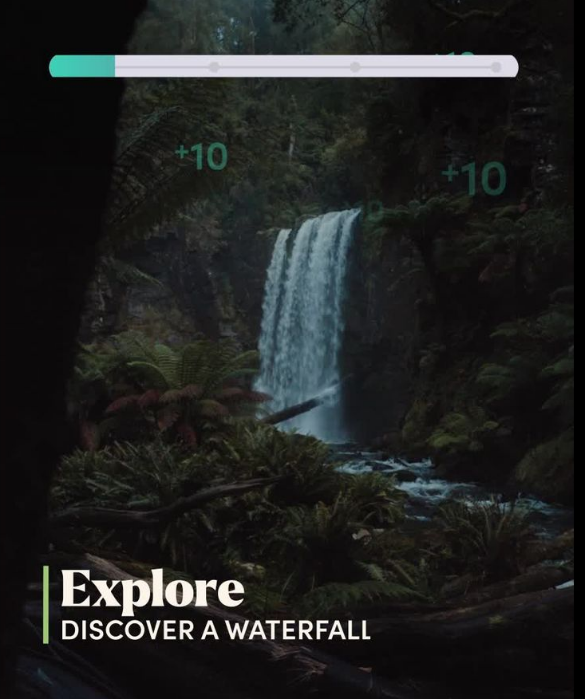 Out There Rewards: Simple, valuable and engaging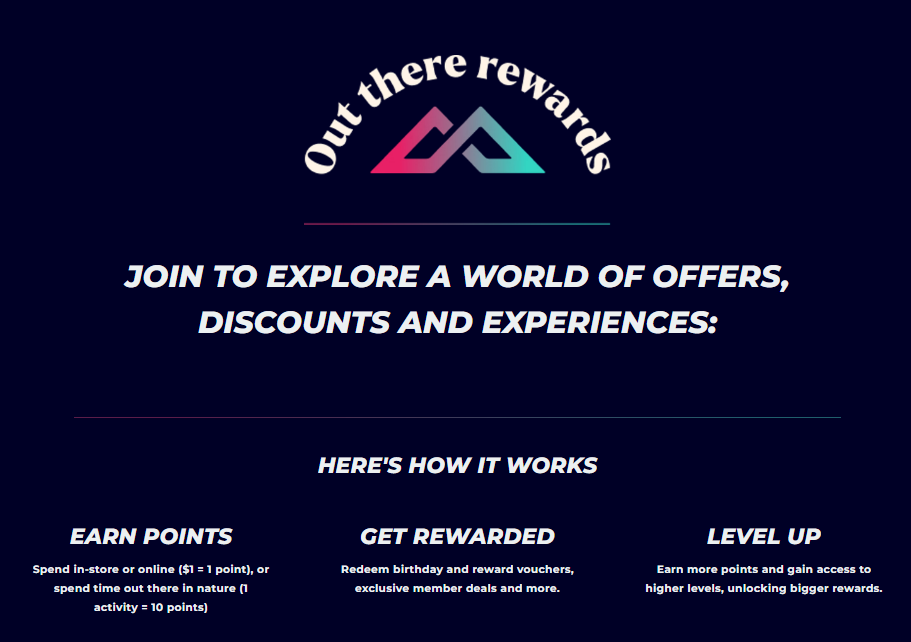 The program is simple to understand and engage with. Achieving points thresholds is what advances you to the next tier with spend in-store or online being worth 1 point per dollar. Spending time out there in nature converts 1 activity to 10 points. Once you have achieved your tier, the benefits are yours for the next 12-months.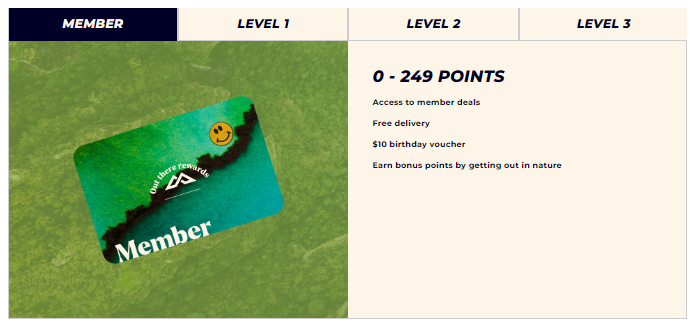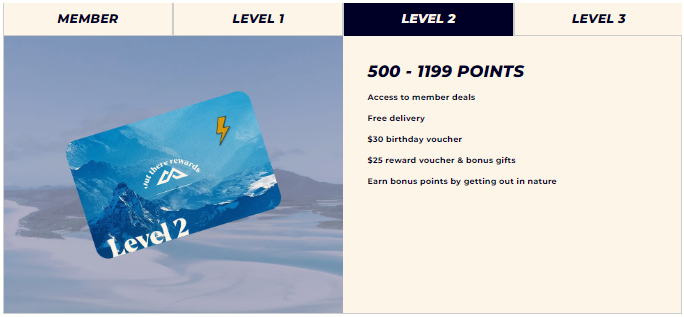 The major shifts as you progress tiers are:
The value of the birthday voucher increases for all four tiers
The introduction of an increasing reward voucher from level 1 to level 3
Bonus gifts for level 2 and level 3 members
Kathmandu confirmed member benefits will continue to expand over time.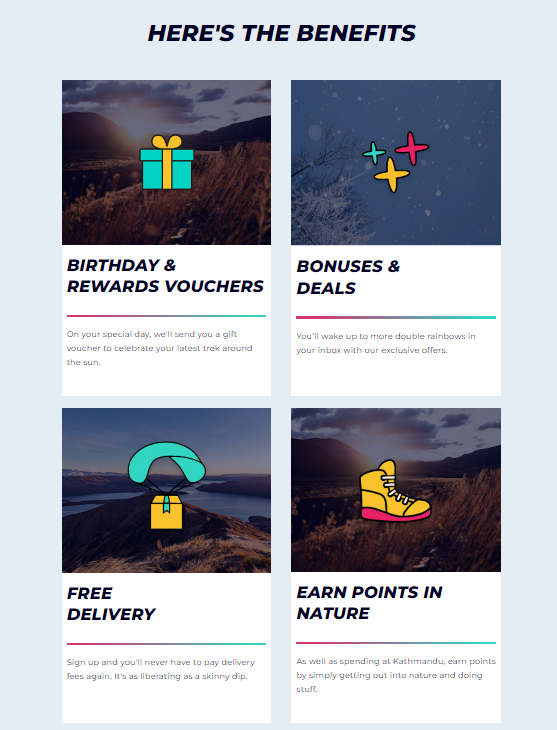 Benefits may expand to include things like:
Exclusive access to free or discounted outdoor recreation apps and services
Invite-only outdoor events and experiences
Early promotions and gear launches
Rewards for submitting gear reviews and returning pre-loved Kathmandu gear for upcycling
Other than rewarding members for spending or being active outdoors the new program also has:
An interactive member hub
A simplified sign-up process via QR codes
Digital member card access via Apple or Google wallet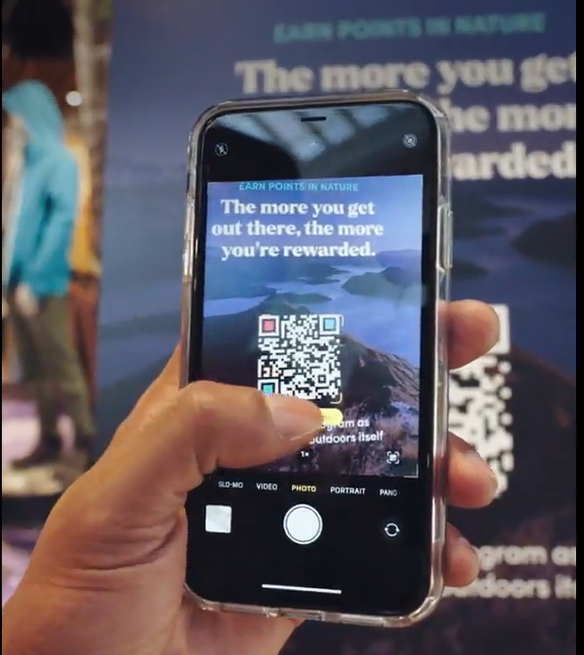 Out There Rewards as a best-practice example
Kathmandu loyalty program manager, Elaine Nguyen, had this to say about the Out There Rewards program, "Within our market, most outdoor retailers are focussed on providing value to members through discounts, and those more progressive are providing events and exclusivity. While these elements are great and serve purpose, we placed importance on taking it that step further by rewarding members for enjoying outdoor activities."
We scored Out There Rewards against Loyalty & Reward Co's Essential Eight™ principles of best-practice loyalty programs. The program scores highly across all eight. You can learn more about the Essential Eight™ in our newly released 2nd edition of our book, Loyalty Programs: The Complete Guide. I look forward to seeing further improvements and optimisations as the Out There Rewards program evolves. Thank you to Kathmandu for involving us in the commercial model.
Looking for a loyalty program with a unique edge?
Our loyalty consultants have helped global brands take the critical steps to design unique and effective loyalty programs, as well as support ongoing evolution to meet changing business and consumer expectations. Contact us to learn more about our comprehensive loyalty services and talk with our loyalty consultants to understand how to develop or optimise your loyalty program strategy.