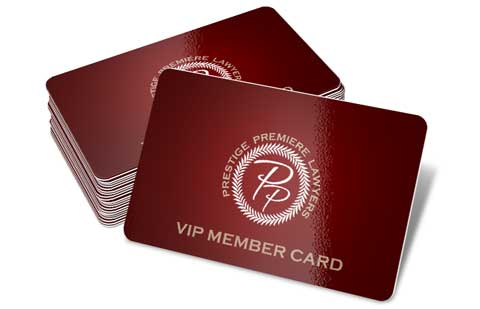 Firming up the client experience
My wife holds a law degree and specialises in international legal recruitment. What this means (other than the fact that I cannot win many arguments) is that I am often exposed to some interesting conversations with legal professionals. During a recent conversation, we were discussing the increasing focus that law firms are putting on the overall client experience. Naturally, my mind jumped to loyalty programs and their potential applications in the legal industry.
What types of loyalty program frameworks might work for a law firm?
Unsurprisingly, the legal industry is fraught with regulation about incentivising clients for repeat business. Things like discounts are highly controlled practices. Of course, there are also certain clients who law firms may not want as repeat clients in areas like criminal defence, bankruptcy, or family law. At the same time law firms need to protect their brands, reputations, and margins.
Larger law firms rely heavily on the ability to foster long term client relationships. Clients they represent have the deep pockets needed to ensure they get the personalised service they need. Clients are happy paying the high fees because there is a comfort in knowing they have the top firms and legal teams at their disposal. Elements of loyalty programs are utilised by the firms with things like volume discounts or multiple fixed fee engagements used as incrementality drivers, but they are not commonplace. A discount might be extended by a law firm as a goodwill gesture to a returning client as the firm does not need to spend as much time getting to know the client's business. On the other hand, a returning client returns to a large law firm because they are satisfied with the results they have gotten in the past.
Any other type of loyalty program approach needs to be carefully considered. Something like "let us defend you 9 times and your 10th defence is free" or "earn double points this month on all defences" will just not work. So, what could work?
A case study: LegalVision paid tier subscription for small businesses
LegalVision refer to themselves as "a team of lawyers, technologists, marketing mavericks, strategists and operations gurus who are drawn together by a shared vision of changing the delivery of legal services in Australia and New Zealand". Founded in 2012 as an online legal documents business they established an incorporated legal practice in 2014. In 2019 they transitioned to a membership model. Clients now became members of LVConnect. LVConnect is a legal advice membership which unlocks unlimited consultations with their lawyers, free legal templates and members-only discounts.
LegalVision have won multiple awards in the past three years. The business continues to grow and expanded into the UK market in 2022 after riding the wave of pandemic-induced demand for cheaper and more efficient legal advice. It is clear that they are a client-centric organisation. The employees love being part of their client's journeys, continually seek feedback and ways to make the client experience better.
So what does becoming a member get you?
There is a minimum 12-month membership period. If you select a Pro membership for three or five years you unlock a further discount.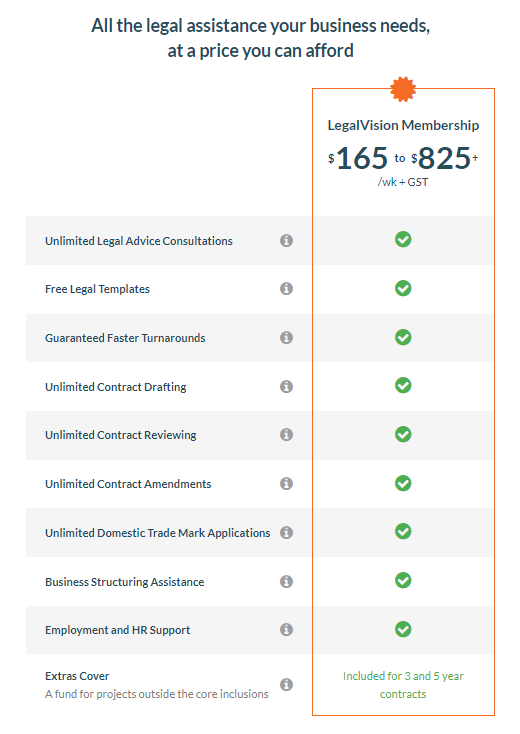 The Pro membership also unlocks complimentary access to Extras cover. Extras cover allocates members with a fund that can be used for additional support each year.

Not only do you get access to the extensive list of inclusions but there is a wealth of knowledge, resources and templates that might be useful for a small business. At the very least these inclusions provide reassurance that the help and support is available should it be needed.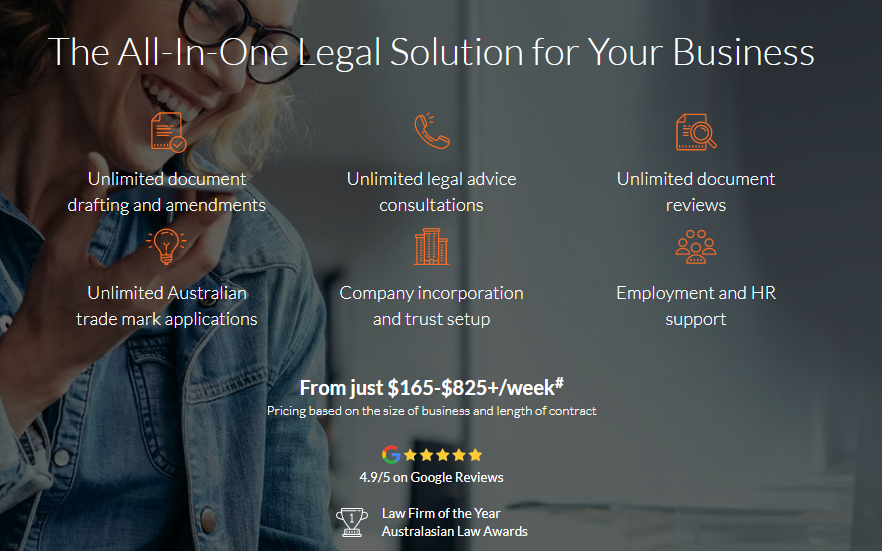 Navigating the website, I assumed clicking on "Partners" would take me to a page showing the law firm's managing partners. I was wrong. Partners takes you to a section of the site that details the LVAmbassador program.
LVAmbassadors is essentially their referral program with its own suite of benefits. As part of the program, you can earn a monthly commission for each referral. You can network with other small businesses and promote your own business to them. You also gain access to VIP support. If receiving a commission feels too shady then you can get one month free membership or have 50 trees planted per month for each referred member.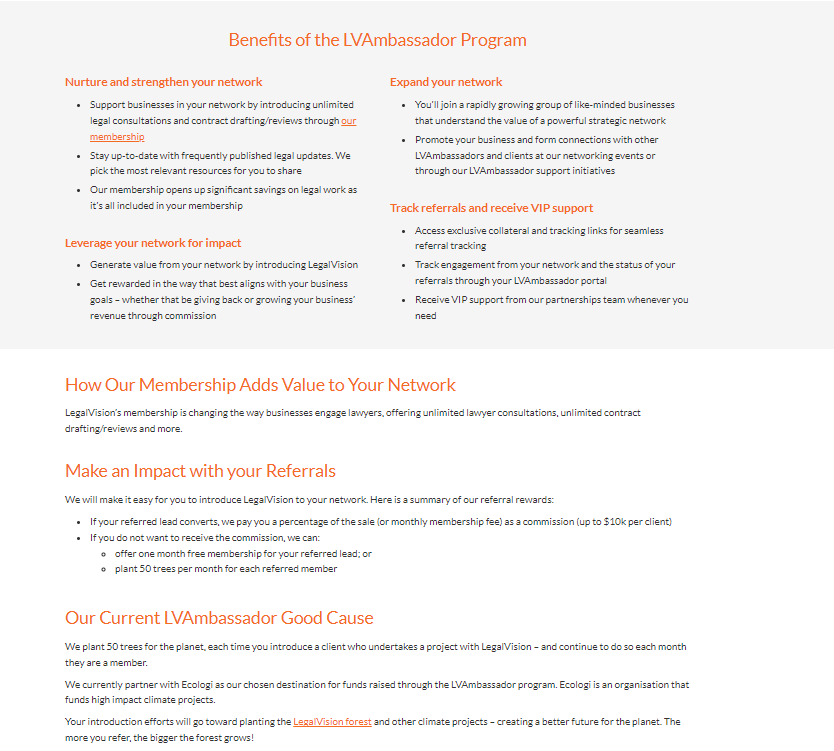 Closing statement
LegalVision presumably know their margins inside and out and have used this to develop a templatised model with a shopping list of inclusions. This means competitors are playing catch-up. Companies like Sprintlaw offer their own subscription-based model but it is clear is that this model serves a very specific niche.
Will models like this disrupt the broader legal industry? Unlikely, but it will serve a sector of the market that will respond well to the value provided. These small businesses will also appreciate the reassurance of being part of a supportive club, chock full of resources, alongside other small businesses who have all gone through similar challenges. Most importantly, it shows that there are loyalty program applications for industries that might not be obvious choices at first but still stand to benefit from a well-structured program design.