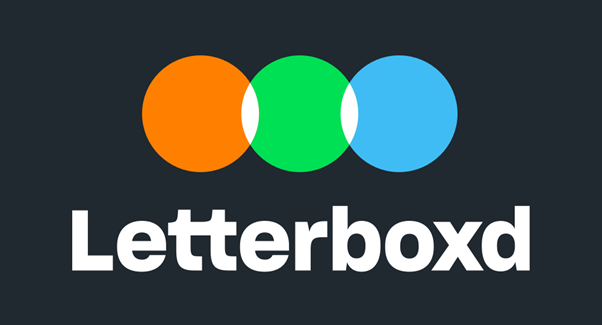 Letterboxd is a social discovery platform for film fans. Their members keep a diary of films they watch, add ratings and reviews, curate film lists, and share all this with friends on Letterboxd and other social networks. Members can follow their friends' activity in a timeline feed or browse the reactions of the wider community in their popular content sections. They interact with others by following, liking, and participating in discussion threads. Letterboxd is often described as "Goodreads for movies". Members use Letterboxd (on the web or via iOS/Android/Apple TV apps) to read opinions about films from friends, critics, and the wider community, and thus to discover new films to watch.
Join process
The sign-up process takes less than a minute online and it is free to join. Members only need to provide an email address.
Paid subscriptions
Letterboxd is free to use, however they do have two paid subscription tiers. Members pay to unlock extra features including stats pages and the option to select (and filter by) preferred streaming services.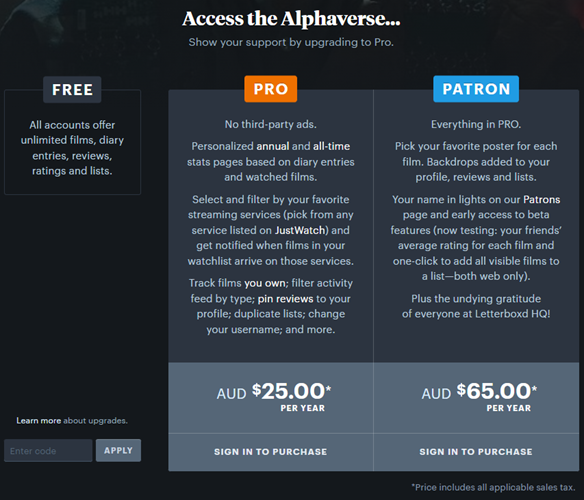 Letterboxd also have a new HQ tier, which is the best way for organizations—including studios, distributors, festivals, theatres, podcasts and other film-related entities—to engage with and participate alongside the Letterboxd member community.
HQ accounts have most of the same capabilities as regular paid accounts, with a couple of notable exceptions (no public watchlist, no stats pages, no favourite films) and a number of additional tools.
User interface/User experience (UI/UX)
The UI/UX of the Letterboxd app has helped contribute to its explosion in growth. The inclusion of film posters is the focal point when navigating through the app. A grid of film posters is a great way for curating movie collections and this makes the app look great visually. The most popular reviews on the site are bite-sized and easy for members to digest.
Letterboxd relies heavily on community input when evolving its UI/UX. On the Letterboxd feature-request board, members can search through existing requests and choose to upvote or downvote. Letterboxd are open and transparent about the requests raised. They have a status assigned to every request raised. This shows members that their feedback is valued and is being used for improving the UI/UX.
Personalisation driving loyalty
Letterboxd is also setting the standard with the way their members can tailor their movie searches. A popular feature of the paid tiers is filtering by your streaming service – driven by an integration with JustWatch – and getting notified when films in your watchlist arrive on those services. This saves members from logging into their streaming services to check if a movie they have on their watchlist is available.
Personally, I check my stats regularly as I enjoy seeing how the numbers change over time. The personalised stats provided by Letterboxd are incredible. I can view my highest rated decades, and the actors and directors I have watched the most. Members can view all time stats or the yearly stats.
A few other way members can personalise their Letterboxd account is by displaying their four favourite films on their profile page, adding tags to movies for an extra level of organisation, building curated lists that can be shared publicly or privately, and the ability to choose web-sourced custom posters for films.
To summarise, the way that a paid member can personalise the way they search for movies and receive their stats helps improves member engagement and stickiness towards the platform.
Sunk cost effect
From a bias perspective, the sunk cost effect is demonstrated by members in the paid tiers; they have invested money, which in turn, means they are more likely to engage with Letterboxd (personally, it's several times every day) and utilise more features within the site. Also, they have more favourable evaluations of Letterboxd and its capabilities as opposed to non-paying members.
Social identity theory
Letterboxd has managed to tap into the power of social identity theory with some of the features available within their Patron tier. Patron members will have their "name up in lights" on the Patrons page, which allows the community to view their profile and they receive the gratitude from Letterboxd HQ. Patron members are more likely to have elevated feelings of prestige and exclusivity seeing their name displayed for all the community on the Patrons page.
Last thoughts
Letterboxd haven't set out to create a loyalty program. However, their paid subscription tiers demonstrate certain loyalty biases and psychologies. Being able to log movies and add movies to your watchlist is really easy and members are provided with a great user experience within an app that has a clean user interface.
There are already a couple of great suggestions to improve the personalisation. The improvements I would look forward to would be matching members with similar taste and generating film recommendations based on history, à la Netflix.
In conclusion, Letterboxd have proven that personalisation is an effective way to drive loyalty and repeated engagement within a brand or platform.