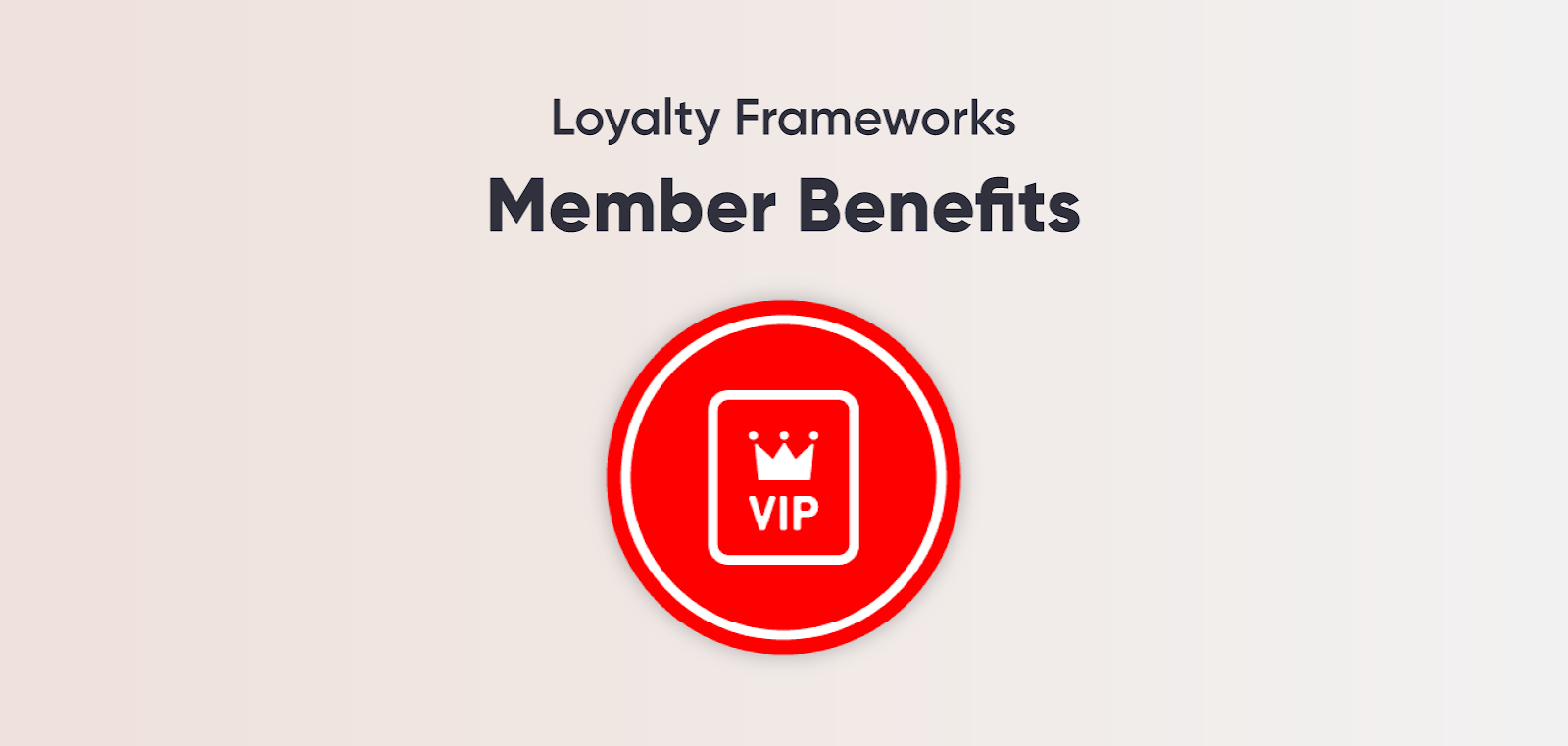 There is more than one way to design a program and achieve a company's loyalty objectives. Brands can follow a single design, or combine elements from a number of frameworks to create a more comprehensive loyalty program. For example, it is common to see fashion retailers using points in combination with status tiers and member benefits or discounts.
Certain designs, however, may not be suitable in delivering to a specific company's needs and objectives. Strategically working through a range of design options will help ensure the framework adopted by a company is appropriate.
The Member Benefits framework is one to pay particular attention to. Marketers look forward to building communities, which has become a key focus for many brands. From a business standpoint, building communities is a means to harness customer loyalty and a member benefit's program could be the right fit.
Member benefits are perks or privileges received for joining and being a member of a particular group. Members may access benefits by presenting a membership card or voucher, by calling a dedicated phone number, or by accessing a website or app. Benefits can be tangible, such as discounts or merchandise, or intangible, such as access to exclusive content, events or services. Below I detail some considerations and provide some examples for brands considering this loyalty framework.
Why consider a member benefits program design?
Many companies do not earn sufficient margin, or do not have customers spending enough at an individual level, to support a loyalty currency program or status tier program that delivers adequate value to drive consistent member engagement. A popular alternative is a member benefits program, which provides members with access to a range of benefits simply by joining. These may be provided by the company, but primarily tend to be sourced from third-party partners.
Member benefits programs are particularly prevalent across specific industries, such as utilities, telecommunications, insurance and pension funds/superannuation, where large member bases spend relatively small amounts at an individual level, but the companies are wealthy enough to invest in quality partnerships to access desirable benefits. These are companies where customers tend to make regular periodic payments and where there is a dedicated focus on reducing customer churn.
Membership may be provided as complimentary as a way to reward members for being a customer. Alternatively, program access may be provided as part of a subscription model.
In exploring member benefits programs, three design variations are considered:
1. Company-provided member benefits program:
Under the company-provided member benefits design, members are provided with access to desirable benefits which are products or services of the company.
The strategic imperative is to offer members a bundle of benefits which they value highly, but cost the company little to deliver. This may include free samples, extended warranties, charity donations and other benefits that make it worthwhile enough for the member to identify when transacting, or sticky enough to reduce their propensity to churn.
The challenge for companies is being able to deliver program benefits of significant appeal to their wider population of customers.

IKEA Family
Members of IKEA Family[1] are encouraged to swipe their card at the checkout each time they transact to access a bundle of benefits. This differs by country, but can include free insurance to cover the transport of the product from store to home, an extended returns policy, entry into a draw to win IKEA gift cards and a small donation to a local charity.
The bundle is perceived by members as good value, stimulating membership card swipe behaviour, and allowing IKEA to capture important member transaction data, while the cost of running the program equates to a fraction of a percent of revenue per member.
In reality, members are unlikely to return a product if they have not already done so under the standard non-member 3 months returns policy. The claims associated with store-to-home insurance are estimated to be exceedingly small. The gift card prizes cost each store a few thousand dollars per year, and likely stimulate incremental revenue by persuading the member to spend more than the value of the card. The small charity donation is capped, allowing IKEA to manage the cost because once the limit has been reached, member card swipes no longer generate a donation until it resets at the end of the year.
While the cost to IKEA is likely incredibly low, when presented as a carefully constructed stack of contextually relevant benefits, the value to the member feels greater.
2. Supplier-provided member benefits program:
Certain companies are fortunate enough to access product samples or rewards from suppliers, which they can incorporate into loyalty programs. Accessing free samples is a fantastic way for members to try new products without having to commit to a purchase. Under this model, members receive access to a selection of regular samples, combining the delivery of relevant rewards with surprise and delight, as members do not know what specifically they will receive. This enables a dynamic where the member places a high value on a reward which costs the company little, an approach which is particularly prevalent in the beauty and cosmetics industries.

Priceline Sister Club
Priceline Sister Club program is the rewards program of Priceline, with over 7 million members.[2] Priceline Sister Club is primarily a points-based program; however, they have introduced tiers which unlock a number of benefits including access to secret sales, VIP events and competitions. The most valuable reward advertised, to which all members are encouraged to strive for, is the Pink Diamond Gift which is available to their highest tier Pink Diamond Members.[3]
The Pink Diamond Gift is a complimentary gift box provided every quarter and containing 3-4 sample products. The samples are provided by Priceline suppliers who use this as an opportunity to get their brand and product lines in front of the company's most engaged and loyal shoppers.
3. Third party-provided member benefits program:
Where benefits cannot be sourced internally, or provided via supplier samples, a company may develop relationships with a range of third-party partners to provide member benefits. This is the most prevalent member benefits design in market.
While company and supplier provided member benefits programs (such as IKEA Family and Priceline Sister Club) stand-out for their cost-efficiency, third-party provided member benefits programs can be more expensive to run, particularly if the company is seeking exclusive, best-in-market offers. These types of offers can require annual licensing fees, reciprocal marketing support and other concessions. For example, a company wishing to provide their customers with access to discount event tickets may need to pay an annual fee to the ticketing partner for the rights, as well as promoting certain events to their member base.

O2 Priority
O2 Priority,[4] the loyalty program of UK telecommunications company O2, provide rotating benefits to members across over thirty exclusive categories, including discount event tickets, discounts at major brands such as The Body Shop, free cookies and crisps, free Uber rides and generous discounts on new technology.
The rotation of the offers keeps them fresh, compelling members to continually check-in to ensure they do not miss a bargain.
To conclude, whilst there are many distinct types of design frameworks utilised in loyalty programs, certain designs may be better suited to delivering to a specific brand's loyalty objectives. When considering the member benefits program framework, working through the benefits and challenges of each variation in the design will guarantee the approach adopted is appropriate for the brand. Most importantly, this will ensure it delivers relevant value to program members.
---
1 IKEA, https://www.ikea.com/au/en/ikea-family/, accessed 29 June 2020.
2 Australian Pharmaceutical Industries Limited, Annual report 2017, p11. No membership figures were listed in the Annual report 2018.
3 Priceline, https://www.priceline.com.au/sister-club, accessed 29 June 2020.
4 O2 Priority, https://priority.o2.co.uk/, accessed 29 June 2020.