It was lunch time and I had a mission: get some food and join a new loyalty program.
I knew there was one place to go.
As a fan of Mexican fast food, Mad Mex is a place that I frequent for lunch. To be honest, I'd never once thought to join their loyalty program in the past. In fact, I can't remember the last time I was asked to by one of their staff. Make of that what you will, it was finally time for me to join 'Los Locos', the crazy ones.
Before jumping into the queue, I quickly downloaded the app and signed up. I'll give a nod to the amigos at Mad Mex, the registration process was simple, not to mention quick. It was straightforward, they didn't ask for too much information, and within a couple of minutes I had a burrito in-hand and the person at the register scanning my unique loyalty code.
Mad Mex's app and the join process
The Mad Mex app titled 'Los Locos' has a clean and simple design, and besides the loyalty section, you can also use it to find the closest store or make an order. For every 1500 points you earn, $10 is credited to your account.
The program works as follows:
Download the app and register
Scan your unique barcode each time you order
Receive and accumulate points
Points convert to credit at the 1500-point threshold
The value of your loyalty
After eating, I opened the app to work out exactly how the loyalty program works. To my surprise (and delight), the friendly amigos at Mad Mex had gifted me 750 points as part of the enrollment process.
What was also a surprise was realising it would be a long journey to a free burrito.
I worked out that you receive 1 point for every 10 cents you spend. Considering the standard burrito costs $11.90, you would need to buy 13 burritos before you can cash in 1500 points.
Sadly, when you finally make it, that $10 credit won't even cover a burrito.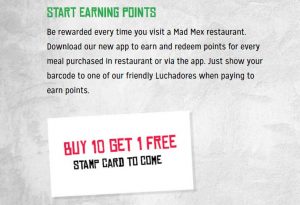 When you consider the old stamp card system (buy 10 get 1 free) this program replaced, the new system appears to provide less value to the customer while asking for more data.
On that note, Mad Mex states on the loyalty section of their website that the stamp card will come back. But, a quick search on the Wayback Machine reveals this same statement was there a year ago, so who knows if, and when, this is to be true.
Key takeaways
While I will continue to use the loyalty app, at first glance, this is what I think.
First impressions: registration is easy, and the app is clean and simple. It's important that the enrollment of new members is smooth to activate participation.
Bonus points: the 750 points I received on my enrollment is a great example of the endowed progress effect. If you provide some form of artificial progress towards a goal, people are more likely to commit to achieving it. Being halfway to the end-goal at the start of my enrollment is a nice way of motivating me to continue to eat at Mad Mex and earn credit.
Communication: Early meaningful communication is critical to the onboarding segment of any lifecycle management strategy, but I didn't receive a welcome email after registering (I checked my spam). Additionally, the program or app was not advertised at the Mad Mex I went to. Perhaps this may vary by location or promotional activity, but customers cannot participate in something if they know nothing about it.
Value: Like I've said before, the bonus points on sign up was nice, but where is the additional value that will drive me to repeat purchases? There needs to be more reasons for me to engage with the program, and if there already is, why not tell me about it? Customers need to be excited by a program, and this excitement can also incentivise referrals.
Could it be better?
Mad Mex gets a thumbs up for having a loyalty program in place to reward repeat purchases, and the sign-up process was easy, but that's it. It feels like something that was launched and forgotten.
Loyalty programs should facilitate ongoing customer interactions to attract new users and help customers engage more with the brand. Engaged customers deliver far more value than the one-off customer.
While I may still eat the regular burrito, the more than partial freebie would be nice.