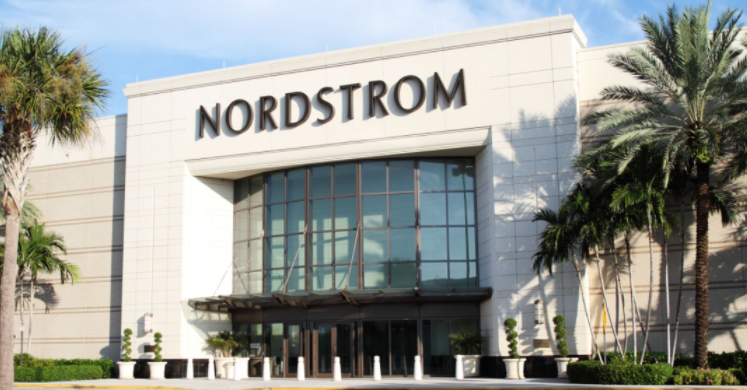 For a while now I have felt disappointed by Australian fashion retailers and their unengaging member experience. From lack of selection and sales support to many, dull loyalty programs, I have little reason to shop in-store. My disappointment increased following a visit to major U.S retailer Nordstrom in Hawaii (pre-covid). Here I was met with outstanding customer support, a wide selection of products and a range of bars and restaurants. How could it get any better?
Then I learned about The Nordy Club, Nordstrom's loyalty program that offers loyalty currency and an extensive range of member benefits.
How to join
Customers first need to create a Nordstrom account with an email, name and password. Customers will then need to go to their account profile, click Nordy Cub rewards and enter their mobile number to link their account to The Nordy Club.
The program
The Nordy Club offers company provided loyalty currency combined with status tiers that adds luxury and fun to a member's shopping experience. The program is split into two: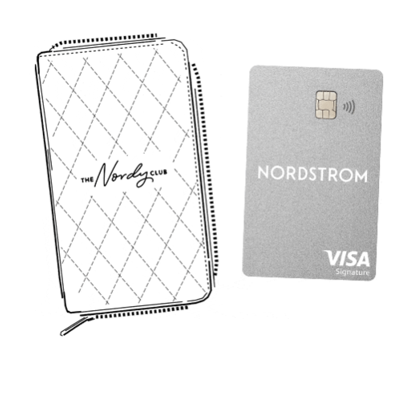 Non-cardholder members = 1 point per $1 spent.
Member: No minimum spend.
Influencer: $500 minimum spend.
Ambassador: $5,000 minimum spend.
Cardholder members = 2 points per $1 spent.
Influencer: $500 minimum spend.
Ambassador: $5,000 minimum spend.
Icon: $15,000 minimum spend.
When a member becomes a cardholder member, they automatically unlock influencer status and get access to double the points and additional benefits.
The benefits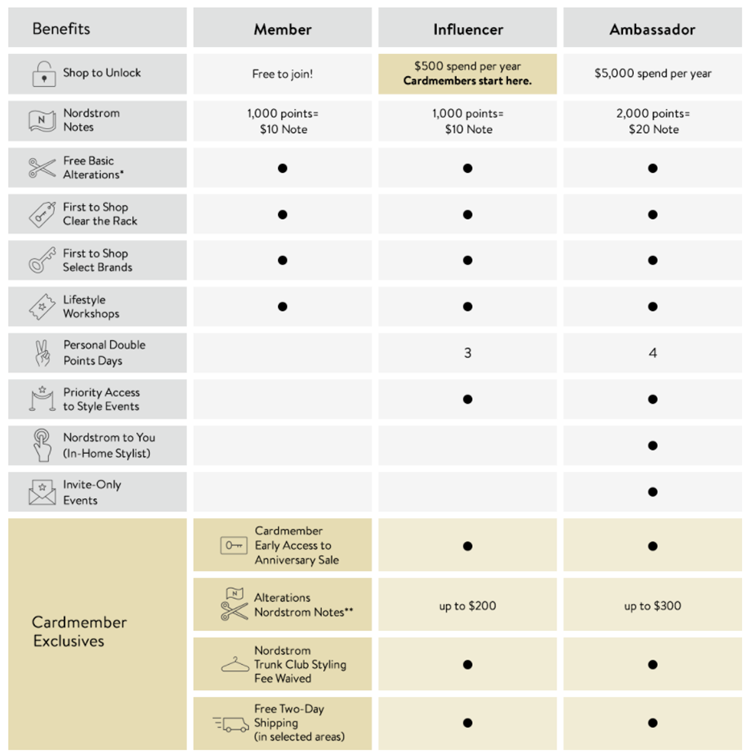 A notable feature of this program is the free tier that allows you to access benefits without a spend requirement. Alongside the benefits listed above, all members receive a range of experiential rewards such as free curb side pickup, free basic alterations, and access to private events.
A personal favourite of mine has to be the personal double points day. This is where members can choose multiple days (depending on if you're an influencer or an ambassador), where they can double their points. An especially good benefit for cardholder members who would effectively go from 2 to 4 points per $1 spend.
Additionally, benefits like in-home styling, lifestyle workshops and first to shop access provides members with a range of quality rewards that offer a much more engaging shopping experience.
Redeeming points
As a Nordy member you will receive 'Nordstrom notes' that are redeemable online, in-store or via the app.
Online: Each note comes with a unique number and access code which members can enter when checking out online.
In-store: Members simply need to inform staff at the register that they are a member who will then add their purchase to their account and provide a discount if applicable.
App: This is the ideal way to redeem as the app allows you to conveniently track your orders, it offers a personalised experience with items tailored to you, and a Nordy Club dashboard that allows members to track rewards easily and redeem.
Members and influencers will receive $10 Note for every 1,000 points. Ambassadors and icons will receive a $20 note for every 2,000 points. The value here isn't significant, where non-cardholder members in the first two tiers would have to spend $1,000 just to receive their $10 discount. However, it is clear that The Nordy Club focuses more on member benefits to provide an engaging experience over loyalty currency.
Targeting the elite with 'Icon' status
Icon status can only be achieved if you are a cardholder member that has reached the minimum yearly spend of $15,000. For those who are able to reach this status, the following additional benefits are provided:
$1 = 3 points
5 personal double points days.
Unlimited free alterations.
Free dining or spa experiences with 3 guests.
Same day delivery.
Nordstrom after hours shopping with a personal stylist.
Early access to new products, events, and sales.
Whilst the minimum spend would clearly be a stretch for most people, it shows the range of customers Nordstrom is wanting to target from no minimum spend, up to $15,000 minimum spend. This also shows the aspirational element of the program where members are encouraged to spend more in order to reach the more elite tiers.
Challenges
The obvious challenge of this program is high spend required to unlock discounts. This limits the program as it restricts members from receiving the thing that many people want, cash. Another key challenge is the significant gap between influencer and ambassador status with a minimum spend difference of $4,500. Nordstrom could consider offering a tier in between that offers a more attainable yearly spend.
Summary
Although the discounts aren't significant, the program makes up for it with the range of member benefits. When you consider the program, combined with my own positive experience shopping in-store, you have one outstanding retailer.