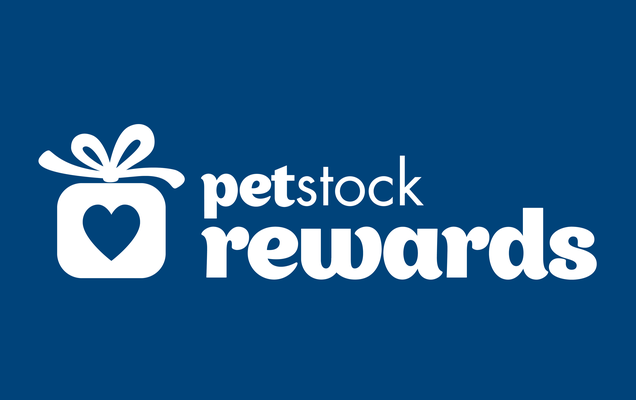 PETstock was born in 2002, 11 years after the Young family took ownership of Ballarat Produce in 1991. Brothers David and Shane built the business on family values and a passion for pets; what they consider the ingredients of the PETstock DNA.
The company prides themselves on providing their customers with good old fashioned customer service. PETstock believes that their customers are not just going to get the best quality pet care products, services, and advice; they are going to be treated as part of the family.
How to earn rewards
PETstock Rewards is the loyalty program for pet owners to be rewarded for taking care of their buddy.
Members have two ways to earn rewards:
PETstock Dollars
Members earn $10 in PETstock Dollars for every $500 spent on products and services in-store and online.
In fact, members earn triple PETstock Dollars on grooming services, and by completing their puppy's details in the app they will also receive triple PETstock Dollars on puppy school and level one obedience training.
Brand Cash
Every time members purchase one of the participating premium foods or parasiticides, they get 15% back in Brand Cash to spend on the same brand next time they shop with PETstock.
Join and online experience
The sign-up process only takes a few minutes online and it is free to join. Full name, mobile and email are required.
The easiest way for members to view their PETstock Rewards account is via the desktop or mobile login. Members will be able to quickly access their Brand Cash and PETstock Dollars balances.
Brand Cash expiration rules are clearly outlined. Members are encouraged to purchase their next round of parasiticides or premium foods within three months, because Brand Cash expires three months after the month it was earned (six months for parasiticide 6 packs).
The PETstock Rewards app is another method for members to log into their account. Unfortunately, members will not be able to view their Brand Cash and PETstock Dollars. The user interface is dated and there seems to be no intention to develop the app in the future since the last update was 4 years ago. Having a well-designed app would allow members to view their balances and deals offered to them with ease.
Rewards Expiry
One key area for improvement is the 3 or 6-month expiry of PETstock Dollars and Brand Cash. Members who prefer to buy their products in bulk will be disadvantaged by the expiration periods and may never have the chance to use their rewards. This could discourage members from buying in bulk at PETstock. Therefore, more members may become disengaged with the program.
A potential solution could be changing the expiration period to 12 months after purchase. This would give members an adequate amount of time to spend their rewards. This also allows the members who bulk buy to continue to make a couple of purchases within the year without missing out on using rewards.
Final thoughts
PETstock Rewards is great way for pet owners to receive dollars back for helping their buddy look, feel and behave their best. Although, it would be convenient to have an up-to-date app available, the mobile and desktop is a great alternative for members to view their PETstock Rewards.
As outlined earlier, PETstock could allow some leniency on the expiration period. As a result, bulk buying members will utilise the great value rewards due to higher spending and repeat purchases.
Overall, a generous loyalty program that could benefit from several changes.