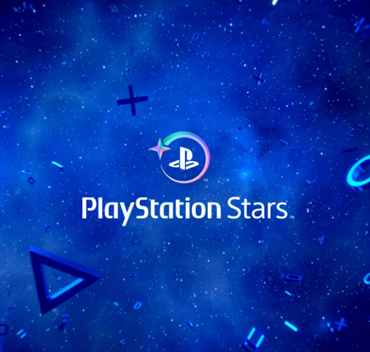 Towards the end of 2022, PlayStation debuted a new loyalty program 'PlayStation Stars' incorporating points, digital collectibles and rewards to draw in the biggest gamers out there.
So far the program has received mixed reviews. Whilst some have applauded the brand's ability to create an engaging online experience, others have branded it as dull, and failing to deliver a truly rewarding program.
How to join
You can join the program by signing in with your Sony account via the PlayStation Stars website or PlayStation app.
The website proceeds to warn you that you could possibly be placed on a waitlist for up to two months (not a great way to be introduced to a new loyalty program), with no explanation as to why this is.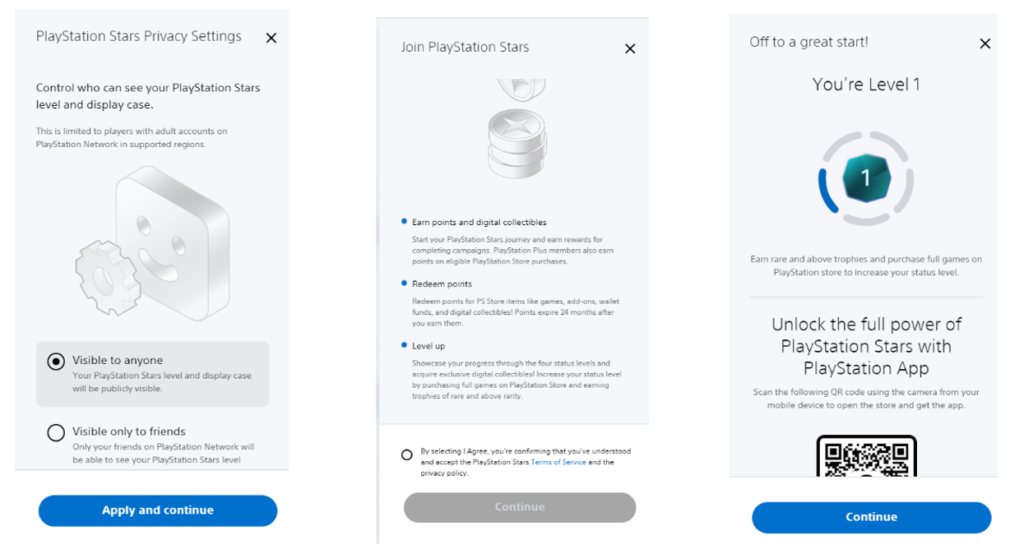 The online web experience is limited with users only being able to track their points progress and transaction history. The messaging is also confusing. When you navigate to your account menu and click on PlayStation Stars, it takes you to a page with a section that says "Track your progress" yet directly above it is prompting you to join the program (see image below).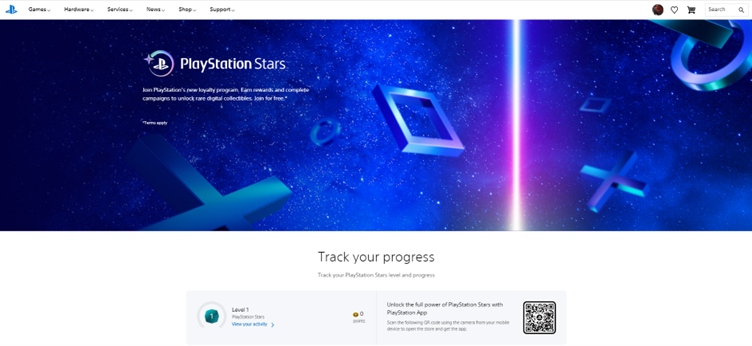 As noted in the above image, you are prompted to download the app to be able to 'unlock the full power of PlayStation Stars' which is most likely why the web experience is so limited.
The PlayStation app
PlayStation Stars can be found in the app under 'Player Profile' and delivers a superior experience compared to the web. Users can easily navigate between sections to find their available campaigns, the rewards catalogue and digital collectibles as well as view their recently played games.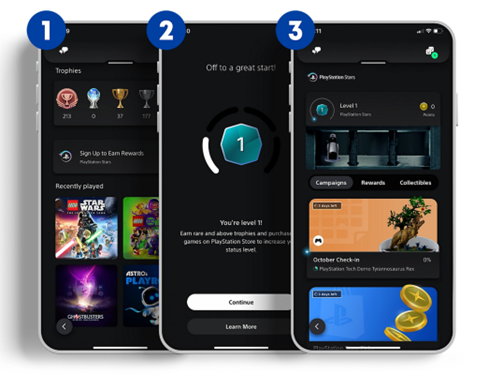 How to earn with PlayStation Stars
Earning points is fairly straightforward and can be done in three ways:
Complete monthly campaigns – this consists of different activities and challenges (e.g. exploring overlooked game areas, playing with friends etc.) or may even be as simple as exploring your console's features. Campaigns offer different earn rates, for example earning 50 points for purchasing from a specific category of games on the PlayStation Store.
Complete custom campaigns – these are designed for you based on the games you like to play
Purchase at the PlayStation store (roughly 10 points per dollar)
Users can also earn trophies when gaming by achieving objectives like finding collectibles or completing certain tasks. Each trophy has a different grade from most difficult to get (Platinum) to the more achievable (Bonze), and are used to provide users with recognition for their achievements.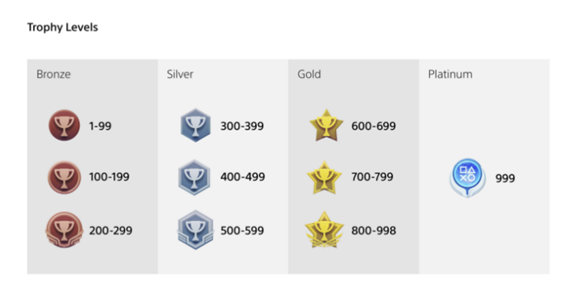 Each trophy also has a rarity level that determines how 'rare' or 'uncommon' they are. This is determined by how many players have earned the same trophy and are categorized into Ultra rare, Very rare, Rare, or Common.
The number of uncommon trophies you accumulate then determines what status tier you sit in.
Status tiers
The structure of the status tiers is very basic and is based on the milestones that users achieve (see below for more detail).

A full game means a paid for digital game purchased at the PlayStation store, and does not include free games/game trials.
Although the first level is entry-level and requires little effort, the rewards for each tier don't feel encouraging enough for users to want to progress. The increase from level 3 to level 4 (that jumps from needing 32 uncommon trophies to 128) would feel unattainable to those who aren't constantly gaming, and the reward of 3 collectibles and chat priority isn't a hugely motivating factor.
How to redeem
Points can either be redeemed for digital collectibles, PlayStation wallet funds (credit) or games via the rewards catalogue in the app.
Here is where most users are directing their negative reviews. To actually redeem a reward you have to spend a significant amount of points:
Digital collectibles cost 200 points
A PlayStation store credit of $8 costs 2,000 points (equivalent to spending $200 at the store)
Games range from 6,250 points to 17,500 points
Considering the low earn rate, users will be required to spend a lot of money and engage with every available campaign to see a reward (or was the intention to focus the rewards on collectibles rather than games? It's unclear).
What are digital collectibles?
Digital collectibles, often referred to as NFT's, are unique digital items that use blockchain technology to provide a record of collectible ownership. However Sony stresses that their digital collectibles are nothing like NFT's.
They can be earned by:
Accomplishing objectives tied to the campaigns
Levelling up in your status
Using your points to purchase a digital collectible via the rewards catalogue
Considering the rise of Web3 in the last year it is no surprise that a brand like PlayStation has incorporated digital collectibles into their loyalty strategy. However, unlike many other Web3 strategies we have seen, PlayStation Stars restricts users from being able to use their collectibles to trade, exchange or unlock for anything. They offer no real value to the user other than the supposed satisfaction of being able to show them off in their display case to share with other gamers.
Despite this, the collectibles feel relevant to a gaming brand, especially since they are inspired by well-known game characters from the last 25 years. To increase engagement, the brand could consider allowing users to leverage their collectibles for rewards, moving up tiers or unlocking bonus earn opportunities.
What are the limitations of PlayStation Stars?
At this stage, the program would likely only appeal to hardcore gamers who are already loyal to PlayStation, with the program offering extra gamification and earning potential to keep them engaged. However, this is where the program falls short:
The time and money required to earn enough points to redeem anything worthwhile is extensive, and the rewards don't seem worth the effort if you are not an avid gamer
The digital collectibles feel like a nice-to-have, gamified element that are relevant to the gaming brand. But these unique digital collectibles that users are meant to show off offer no real value, so is it enough to keep users striving to collect more?
The name itself misses the mark as 'Stars' is not used anywhere else in the program (i.e., users don't earn 'Stars' so what was the motivation behind this naming convention?)
What does the program do well?
Despite the criticism, PlayStation Stars offers enthusiastic gamers another platform where they can play, earn and track their progress as they go.
The app delivers a strong customer experience that is easy to use and engage with.
The program plays into the Social Identity Theory where being able to display your trophies and digital collectibles to fellow gamers can ignite a feeling of pride and self-esteem that help individuals feel more connected to the brand.
---