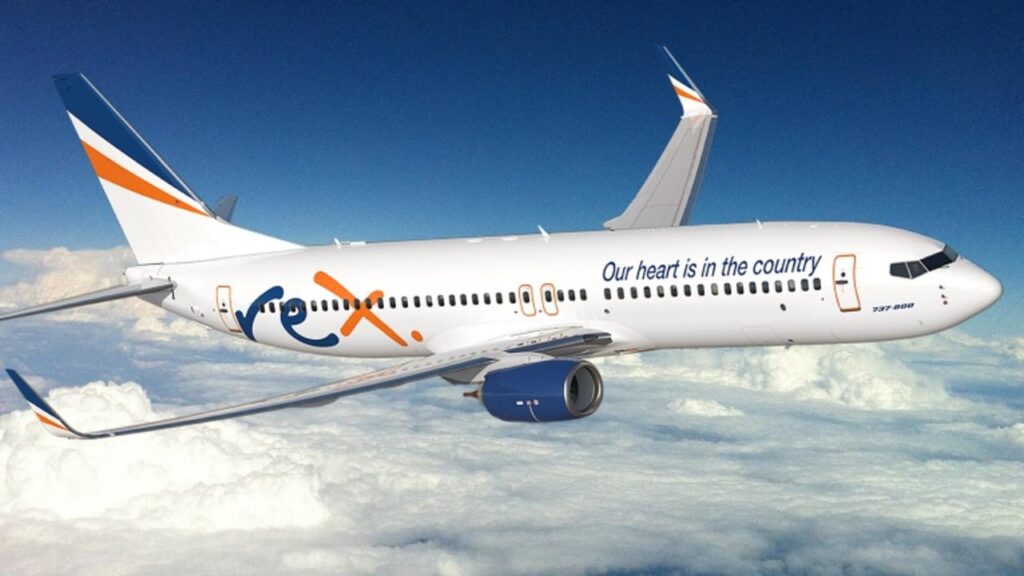 Founded in 2002, Rex Airlines has grown to become one of the largest regional airlines in Australia. The airline is known for its focus on safety, reliability, and customer service, and it operates a fleet of Saab 340 aircraft. Rex serves a variety of destinations across Australia, including major cities as well as regional and remote communities. In 2021, the airline expanded its operations to include domestic services between major cities, providing a competitive alternative to the country's larger carrier. Rex is now looking to move into the incredibly competitive space of airline loyalty programs, with the launch of Rex Flyer.
Joining the program
The joining process is very simple and can only be completed online, by providing your name, email, mobile, suburb, and birthday.
Once you have completed the sign-up process, you receive an email to activate your account. Following this, you will receive a welcome email that provides your member number and a clear overview of the program. The email includes supporting links to find out more information on earning points, reward options and an overview of the three tiers: Sapphire, Emerald, and Diamond.
What I really liked about the joining process and the beginning of this program is that you receive 5000 bonus points for simply signing up. This helps to sets you on your way to reaching your next tier and unlocking more rewards.
This is a great example of tapping into the psychological phenomenon of the Endowed Progress Effect, in which individuals are more inclined to engage with a loyalty program once they have made initial progress. Many brands adopt this theory as part of their loyalty strategies to inspire members to strive towards specific goals, ultimately fostering repeat business.
Furthermore, Rex has utilised the Goal Gradient Effect, which states that the tendency to approach a goal increase with proximity to the goal. This behaviour is evident in loyalty points programs where members tend to intensify their consumption as they near the next status tier, aiming to achieve it quickly. This strategic approach aims to stimulate an increase in discretionary purchase behaviour among members.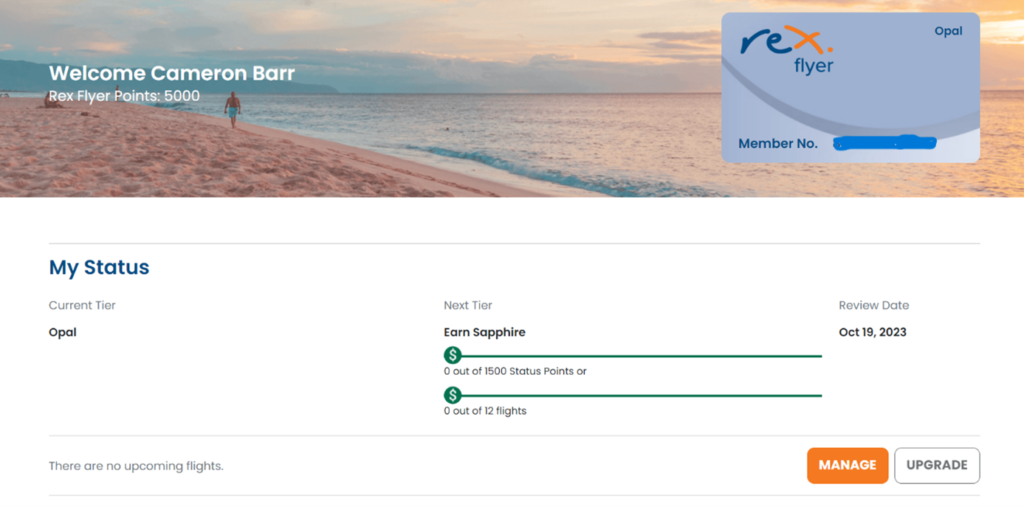 Member benefits
The Rex Flyer program looks like a traditional airline frequent flyer program from the out-set, with a focus on points earning and burning and tiers.
Earn Points – members can earn up to 7 points per $1 spent every time they fly with Rex, and up to 5 points per dollar on eligible Rex Extras, like seating fees and baggage.
Use points – points can be used for Economy and Business Class reward seats.
Membership Tiers – member will move up tiers and maintain their existing tiers by earning points and hitting or maintaining a threshold.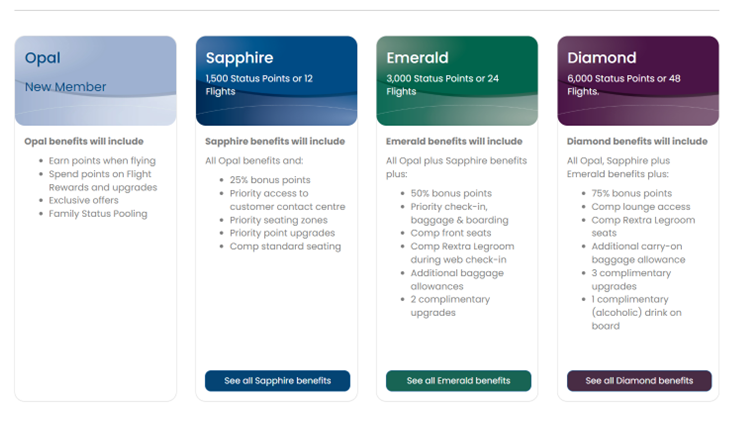 Differentiating from the competitors
Where the Rex Flyer program is looking to differentiate itself from other airline frequent flyer programs like Qantas and Velocity, is to not use fixed tables for reward seats. Instead, the number of points required to book a seat is based on the published cash fares for a route. This means they can change in line with published fare changes. But they won't vary on a day-to-day basis.
There are also three reward seat options in each cabin. In order of increasing cost, flexibility and availability, those are Ultimate, Getaway and Anytime. Members can also upgrade to Business Class with points.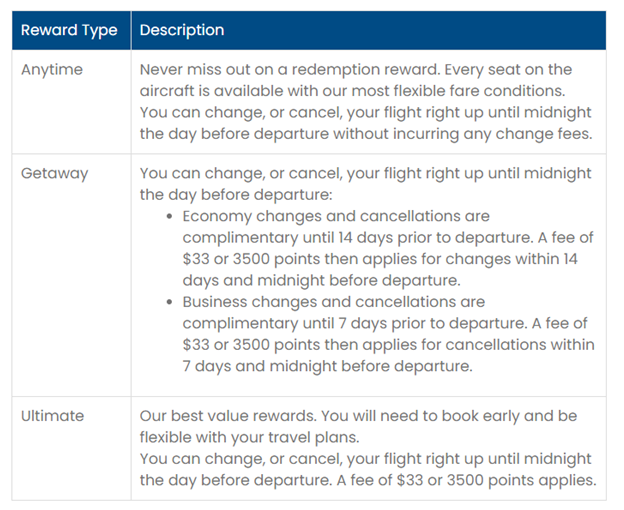 Even more interesting and unique will be the ability to capture Ultimate reward seats close to departure. Rex Flyer promises that nearly every unsold seat can be booked with points at the lowest rate. Here's how it works:
At 48 hours before departure: All unsold Economy seats (except 5) will be available as an Ultimate reward.
At 24 hours before departure: All unsold Business Class seats (except 2) will be available as an Ultimate reward.
From midnight on the day of departure: All remaining unsold seats will be available as an Ultimate reward.
This benefit is advantageous for various types of passengers, encompassing impromptu business and recreational travellers. While it's not certain that there will be unoccupied seats on a flight, it significantly improves the likelihood for members to secure Ultimate reward seats should the need for prompt travel arise.
The concept of opening all the seats for redemption in the last 24-48 hours prior to a flight has not been tested before in loyalty programs. Time will tell if they are doing the right thing.
In conclusion
As loyalty consultants, we work across and review hundreds of programs every year and the best loyalty programs in the world always provide value to members, first and foremost. When designing a loyalty program strategy, it's imperative to focus on value and there is no doubt that Rex had this written on a whiteboard in bold letters when they were creating Rex Flyer. The ability for members to receive great value through redeeming their points on seats and not a toaster online, will go a long way to building a member base and ultimately advocates. Rex will also roll out new airport lounges in Adelaide, Brisbane, Melbourne and Sydney. This will definitely help them to bridge the gap between the other airline programs.
Where Rex does need to focus, is the ability for member to earn points outside of the Rex ecosystem, through a credit card or supermarket. This is still a tried and tested format that can't be ignored and that is expected of by members.
I look forward to watching the growth of this program over the coming years and to see if Rex can truly be a disruptor in this incredibly competitive market of airline frequent flyer programs.
Looking to enhance or build a loyalty program?
Our customer loyalty consultant experts can help you measure your loyalty opportunity and develop a comprehensive loyalty program or enhance your existing one. Discover our wide range of comprehensive loyalty services. Get in touch to learn more about our wide range of loyalty services and kickstart your journey to building loyalty with your customers.