Subscription programs are one of the most effective loyalty strategies available to businesses today. The basis of a subscription program is simple: customers pay a fee to receive regular deliveries of a product or service, usually at a discounted rate. In return, they receive benefits.
Let me introduce Sweetgreen and their problem to solve
Sweetgreen is a US based salad chain that provided white collar workers food delivered direct to their work desk. As with many companies, COVID and the post-COVID economy has impacted Sweetgreen. Many workers in cities have returned to work in a hybrid model i.e., 3 days a week. With less frequency Sweetgreen needs to create customer centric value driven program that meets their members need needs.
Compelling value proposition
The key to a successful subscription program is to create a compelling value proposition that resonates with your target audience. This could be a significant discount on your products, exclusive access to limited edition products, or early access to new products. This is exactly what Sweetgreen has achieved to solve their "Monday to Friday problem".
To entice their loyal customers to return purchasing as those previously higher frequencies, Sweetpass loyalty program was revamped. The free to join loyalty program has a new paid subscription tier called Sweetgreen+ and costs $US10 a month. The compelling value proposition includes customers receiving $3 off each order, one free delivery a month at dinnertime, priority support and early access to merchandise.
Customer needs
Designing your subscription program requires careful consideration of your customer base and their needs. Consider what products or services they already buy from you and what they might want to receive regularly. You need to look for ways to add value to their subscription, such as including samples or offering discounts on related products.
Sweetgreen considered that customers have changed their habits of work but still want fresh salads for themselves and family. By adding dinner options for delivery they are providing their base with a service that is highly desirable.
Customer experience
When implementing your subscription program, it's essential to create a seamless customer experience. Make sure that the subscription process is easy to understand and straightforward, with clear instructions on how to sign up and manage your member account.
Sweetgreen's approach to customer experience is stella
For Sweetgreen they designed this new tier to create a deeper connection to their customers, " We wanted to find a way to reward loyal behaviour versus discount behaviours", Chief Brand Officer Nathaniel Ru. For the usage experience, customers already order through the App. The new tier was added as a new option and more times were available for delivery.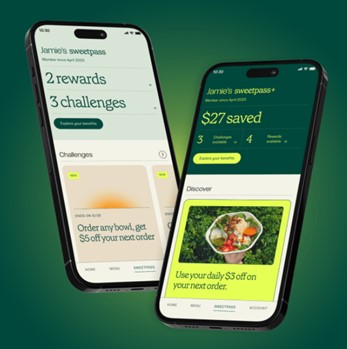 Timing of your services is key
Another crucial factor to consider is the frequency and timing of your deliveries. If your customers receive their deliveries too frequently or at inconvenient times, they may become frustrated and cancel their subscription. On the other hand, if your deliveries are too infrequent or irregular, your customers may lose interest and not renew their subscription.
As Sweetpass is an on-demand service, the customer has complete control. However, they benefit from using the subscription program to save more, have more delivery options and can feel healthy from their food choice.
Continual improvement
To keep your customers engaged and loyal, it's important to continually evaluate and optimize your subscription program. This could involve testing different pricing models, offering new benefits, or adjusting the frequency and timing of your deliveries.
Also test and learn is a key step when trailing a new concept. Sweetgreen conducts a trial last January in Washington D.C., Texas and Colorado. It received 16,000 sign-ups in a month to this new tier loyalty program.
For Sweetgreen, this evolution was to add a subscription service to a food which I believe them to be the first to apply this model to food in the US.
Summary
A subscription program can be a highly effective loyalty strategy when designed and implemented correctly. By creating a compelling value proposition, understanding your customers' needs, and providing a seamless customer experience, you can build a loyal customer base that will support your business for years to come.
For Sweetgreen, they have created a loyalty subscription program that benefits with customer with discount on each order, options for new delivery times and enticing them to try something new. And the company itself benefits from recurring revenues.
In summary, Sweetgreen has proven that customers will join a loyalty program for subscription food. Might be something to consider for other markets too.