I don't know about you but after two years of being stuck at home, I am desperate to start travelling again. But I was nervous about the cost of travelling and curious to see if prices would spike with the travel industry wanting to make up for the money lost during COVID.
Then I found Hotels.com Rewards. The online travel agency allows customers to compare prices across a range of different hotels and get rewards at the same time. A program that doesn't limit you to one hotel but instead allows you to move from place to place with your rewards counting towards the same goal. But are the benefits worth it?
The program
Hotels.com Rewards operates via a stamp card system where members can receive one stamp for every night stayed. Once you have acquired ten stamps, you will receive one free night along with additional benefits depending on what tier you sit in.
Customers can join from the homepage or at the point of purchase. From here you'll be asked to provide your name, email, and password and then the earning can begin.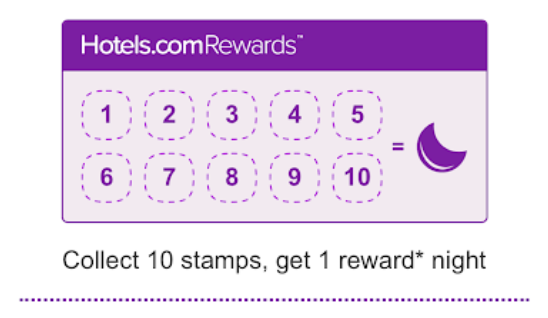 When making a booking your stamp card will automatically change to reflect the number of nights you are paying for. Once your stamp card has reached 10, it will restart. This is all made easy by the app that tracks your progress.
The benefits
Along with the 11th night free, members can receive additional benefits with each tier. There are three tiers available where members will accumulate perks the more time they stay. See below for a summary of the member benefits.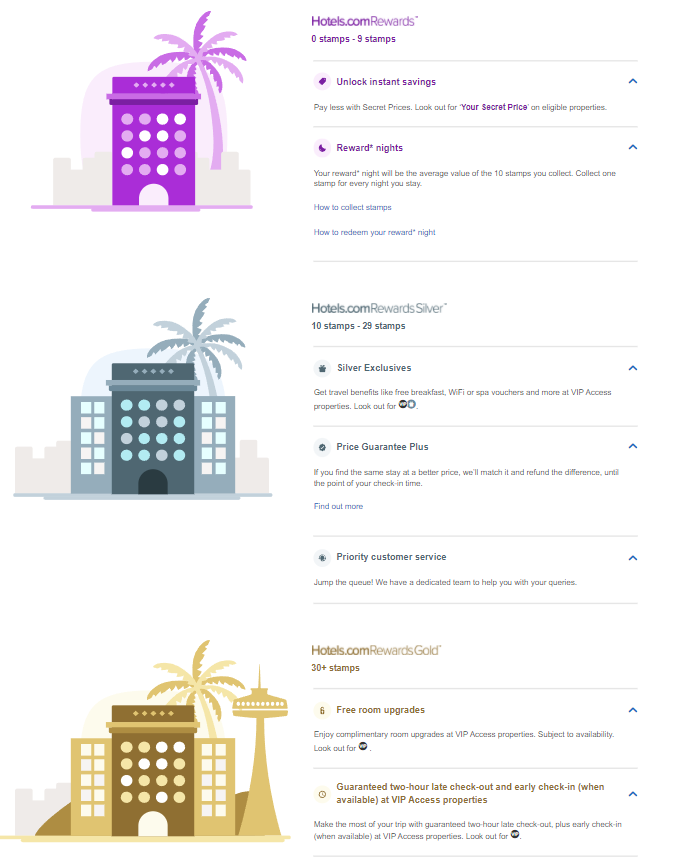 Personally, the key highlights are the free room upgrades (although only available at select properties) and the price guarantee plus. This is where members will be offered a slashed price on Hotels.com if they can find the same stay somewhere else at a lower price.
The secret prices are effective as it offers instant value to customers. However, despite being listed in the first member tier, it's a benefit that is available to anyone who subscribes or downloads the app. A pretty easy way to receive instant value without even having to become a member. Hotels.com could consider offering this, or a larger discount, as a member only benefit.
How to redeem
Redeeming your rewards night involves 3 easy steps:
Sign into your account and search eligible properties (which you can filter).
Once you've chosen a property, select 'pay online'.
At checkout, select 'apply Hotels.com Rewards' and choose the night you want to redeem.
If your rewards night is more than your credit, then you pay the difference. This is a potential opportunity for Hotels.com as customers are generally more likely to spend more if they have a discount. However, if it is less than your credit, then you forfeit the difference.
The value
An interesting aspect of this program is that it combines the stamp card with status tiers. This means that members not only have a guaranteed free night after collecting 10 stamps but can also unlock additional benefits.
In terms of your reward night, you will receive a free stay that equals the average price of your 10 nights. This structure is effective as it allows members to receive value based on their own individual spending. In contrast to other programs that may have one set dollar amount that members have to try to reach (e.g., spend over $250 and receive $10 off). The risk here is that some members may not be able to spend the required amount and will therefore miss out on value.
Another valuable aspect of this program is that it doesn't restrict you to one stamp per stay. Instead, the program offers one stamp per night. The stamps required to receive a free overnight stay can be based on ten individual stays or it can be a collective ten nights in one stay. So, in theory you could go on a one-week vacation and already be two thirds of the way to receiving your reward.
Challenges
The program is simple and provides some attractive benefits, but it does present some challenges:
If your free night costs less than your credit, then you lose out on the difference.
Your free night will expire if you do not book within 12 months.
You can't combine your rewards night with any other discounts being offered.
Benefits like room upgrades, late check outs or silver exclusives are only available at select VIP properties.
Summary
Overall, I like the program. Its simplicity means it's easy to use and understand. As someone not loyal to one hotel, this site allows me to compare stays and get rewards at the same time. However, I realise that customers who are loyal to specific hotels may find more value in being a member of that particular program.
To address some of the challenges Hotels.com could consider simple changes like extended expiry or offering members the chance to keep their leftover credit to put towards another stay.