The warm-up
For over twenty years, lululemon has been providing premium activewear to consumers after athleisure apparel. Lululemon was founded in 1998 as a retailer of women's yoga pants and has expanded to also sell athletic wear, lifestyle apparel, accessories, and personal care products for both men and women. The company has 574 stores internationally as well as online.
In 2019, lululemon made an investment in MIRROR, a fitness startup that sells an interactive mirror equipped with a camera and speakers for at-home workouts. The two companies collaborated to create new content for the device, which began with meditation classes. In June 2020, lululemon acquired MIRROR in a $500 million deal, taking advantage of the increasing popularity of virtual home workouts due to the COVID-19 pandemic.
Incremental gains
lululemon initiated a pilot test for their paid loyalty program in 2018, which has since undergone frequent optimisation and adjustments. The program charged a fee of over $100 and offered customers a variety of benefits, such as exclusive member-only products, access to curated events like Sweat classes, personal development content, and free expedited shipping for online orders. In 2022, lululemon declared the pilot test successful and announced their plans to implement an official loyalty program.
Enter lululemon Essential and lululemon Studio. In January of 2023, lululemon officially relaunched their loyalty program with two levels of membership. lululemon Essential is free to join and offers a suite of additional benefits and value when shopping at lululemon. lululemon Studio is a paid tier of membership and requires the purchase of a lululemon Studio Mirror and an ongoing monthly subscription.
Let's weigh up the benefits
One of the most enticing benefits of the Essential membership is early access to product drops, as highly sought-after products tend to sell out quickly. However, Essential members are competing with one another for these exclusive products, so it is still a gamble as to whether they will be able to secure the items they want. Fortunately, members can also sign up for back-in-stock notifications for desired items that have been restocked.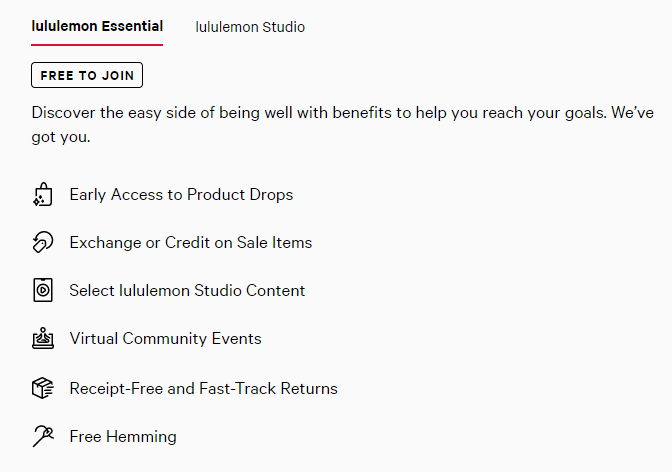 In addition, the Essential membership provides access to select Studio content. Members can join the program and download the app to try out a limited selection of workout classes, with new ones added regularly.
Overall, the Essential membership is relatively appealing and enhances the customer experience for members to a certain extent but the membership fails to recognise or reward the most loyal customers or necessarily incentivise an increase in spend or frequency. It is clear the main objective of the Essential membership is to steer members towards the Studio membership. Let's see what value the Studio membership has to offer.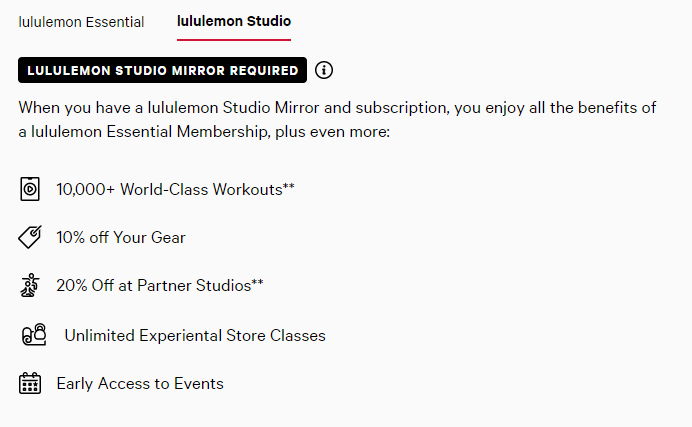 Studio members can enjoy over 10,000 World-Class Workouts, unlock a 10% discount off select clothing, 20% off at partner fitness studios, unlimited experiential store classes and early access to events. Sounds good but what does it cost?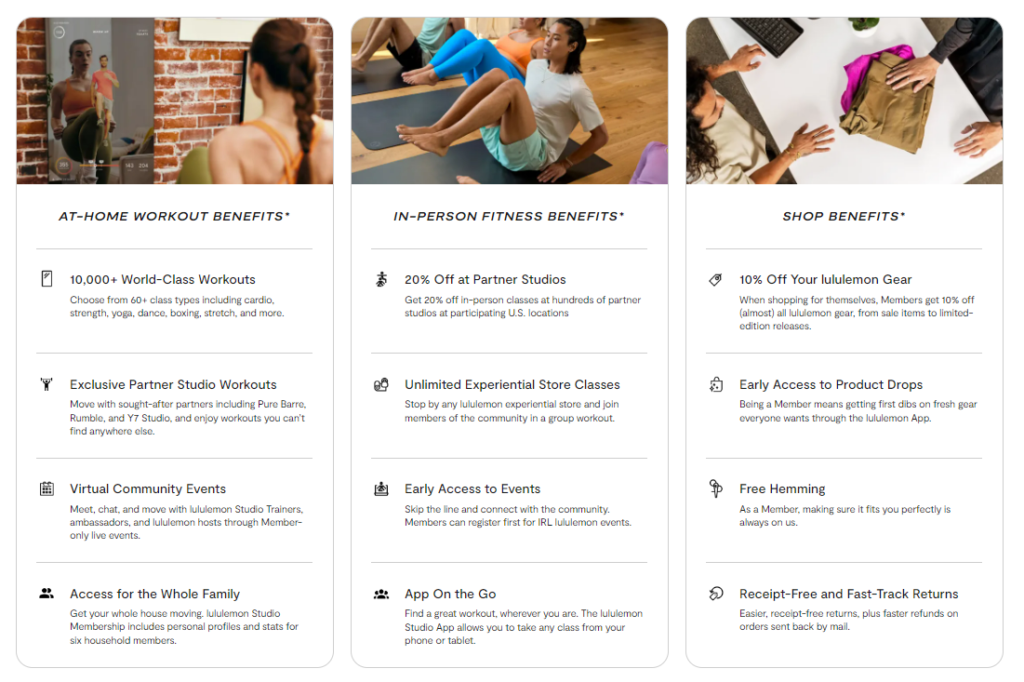 To access the Studio membership, members require a Studio Mirror. The Mirror packages start just under the $1000 mark and scale all the way up to just under $2000. On top of the cost of the Mirror members must then pay $39 per month with a one-year minimum commitment. That is a minimum of nearly $1500 in the first year and excludes the additional accessories like dumbbells and a bench needed for most workouts and not supplied as part of the basic package.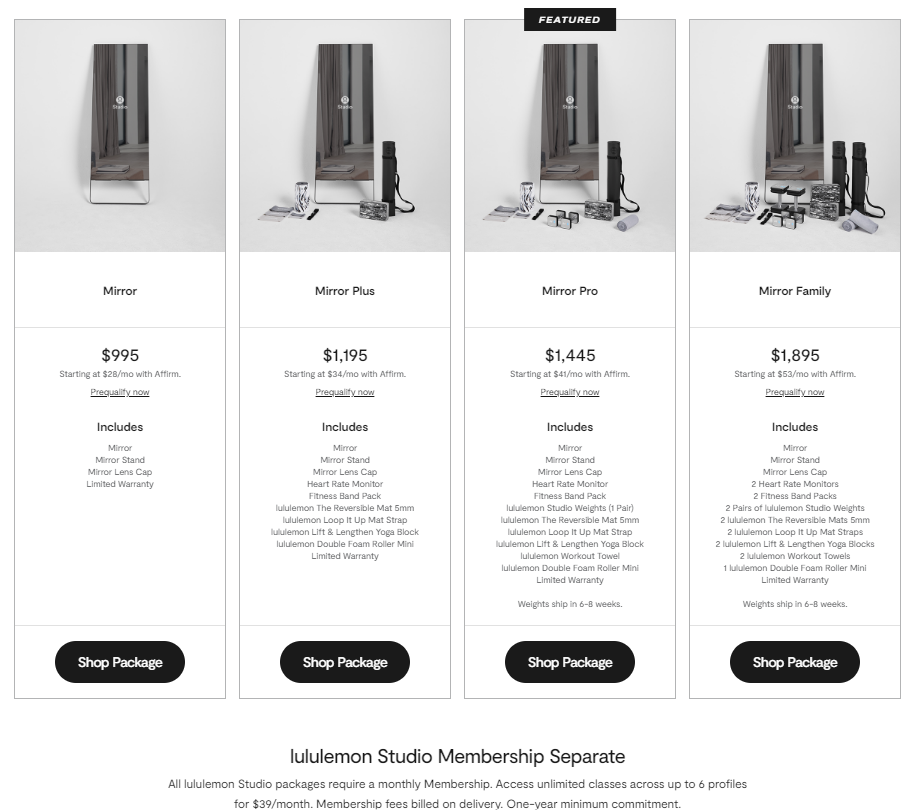 Will the program increase member loyalty? Seems a stretch
We have previously written about paid subscription programs and premium membership programs like Club Marriot but what is particularly interesting in this instance is that lululemon appears to have revamped their loyalty program primarily to support the acquisition of MIRROR and drive product sales and subscriptions for the glorified 1080p screen.
Unfortunately, this strategy may not appeal to their loyal apparel customer base, who may not be interested in the home fitness offering. As a result, the success of the loyalty program now depends on striking a balance between lululemon's free membership tier that offers limited value to loyal members over regular members and MIRROR's paid membership tier that may turn out to be a regrettable purchase for members due to upfront and ongoing costs.
When it comes to home fitness, Peloton has a similar offering, but at least the Peloton bikes still function as bikes even if a member chooses to cancel their subscription. On the other hand, if a Studio member cancels their subscription, all they can do is sit and take a long, hard look in the mirror.