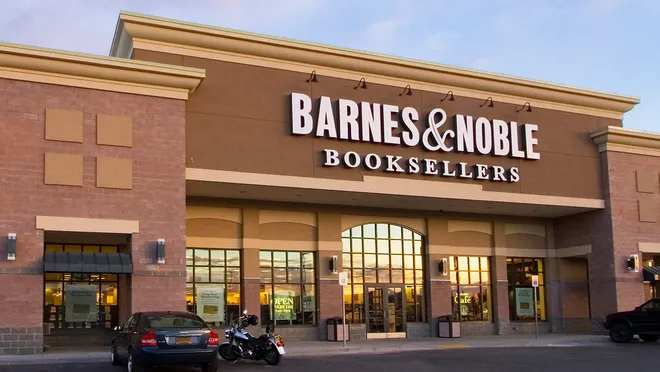 Barnes & Noble is a retail bookseller in the United States, founded in 1886. The company is the largest retail bookseller in the country, with approximately 600 bookstores across the United States, and is notably a Fortune 1000 company.
Known for its large retail outlets – many of which contain a café serving Starbucks coffee – stores sell a wide selection of books, graphic novels, gifts, games, toys, Nook (B&N brand) e-readers and tablets and much more.
Barnes & Noble's loyalty program was first launched in 2001 and has recently been re-launched and reinvented.
The Prologue: Loyalty program history & business context
Barnes & Noble introduced its original loyalty program in 2001. The company's loyalty program was one of the first in the retail industry and was highly successful, with more than 12 million customers enrolled at its peak. However, the program remained unchanged for 22 years.
Barnes & Noble has faced financial challenges in recent years but was acquired by Elliott Management Corporation and James Daunt in 2019. Under new ownership and leadership, B&N took advantage of store closures during the COVID-19 pandemic to renovate its stores, which contributed to increased sales both in-store and online. Since their turnaround, the company's focus has shifted to a revamped loyalty program.
The original B&N program
Barnes & Noble's previous loyalty program was a subscription loyalty program which offered customers the ability to sign up for a discount card, which provided free shipping with no minimum purchase, a 10% discount on most in-store items, 40% off bestsellers, and other benefits for an annual fee of $25.
However, members reported receiving less value and promotions overtime. As a result, Barnes & Noble, recognised the need to overhaul the loyalty program, turning a new page in the history of B&N.
Turning a new page – The new B&N program
Barnes & Noble has introduced a new loyalty program, which has revamped the original offering. Additionally, they have added a free membership, which did not exist previously.
The new loyalty program replaces the original one subscription model, with two new options; paid Barnes & Noble Premium Membership and free B&N Rewards.
B&N Premium Membership comes at a cost of $39.99 (USD) per year (for reference, the original program cost $25 annually).
Premium Membership offers several key features, including:
10% off most in-store and online purchases
10% discount on NOOK devices and accessories
Members earn a virtual stamp for every $10 spent in-store and online, which provides a $5 reward for every 10 stamps earned
Free standard shipping with no minimum purchase requirement
Provides a free tote bag for each paid year of membership
A free size upgrade to the next size of a Cafe prepared beverage
Special members-only offers and discounts
Birthday offers for members and their children turning 12 and under
With B&N Rewards, the free membership is a simple offering – following a traditional stamp card model. Free members earn 1 stamp for every $10 spent on eligible items in a single transaction in stores or online. Every 10 stamps earned are converted to a $5 reward that can be used in stores or online.
The strategic decision to introduce a free membership tier will likely double or triple the member base size, providing B&N with more opportunity to market to and stimulate the behaviour of a wider audience.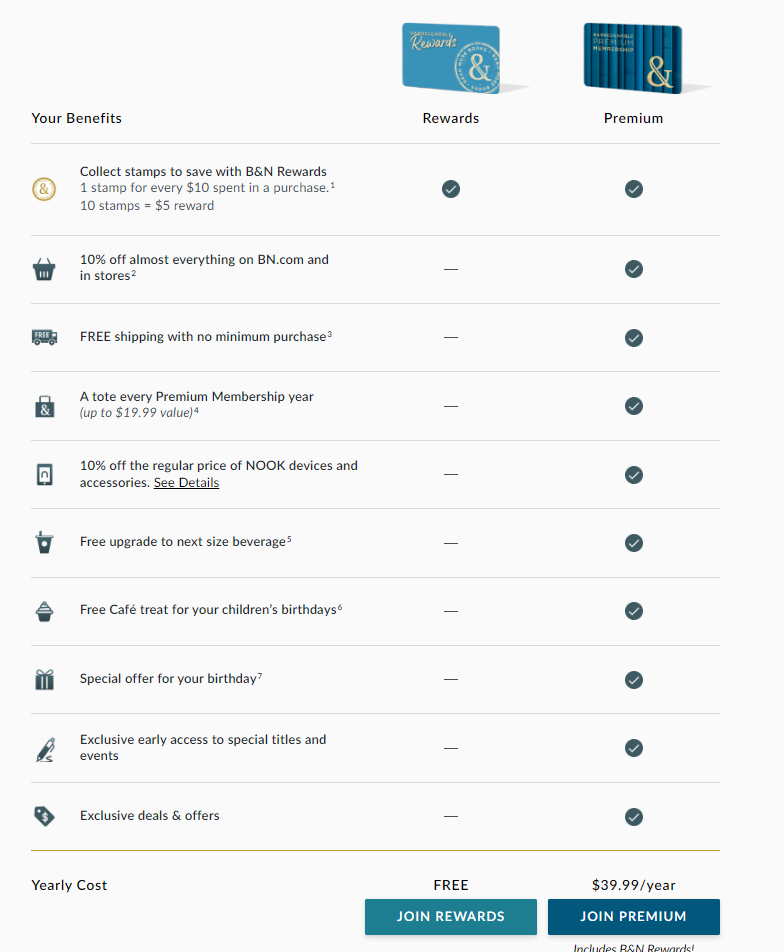 Existing original program members
As a way of recognition for existing memberships from the old program, B&N will honour the remaining term of membership. This offers existing members the opportunity to try the new program before deciding to continue their membership at the higher price.
A novel decision – Is it worth it?
With the need for a loyalty program revamp apparent, the new Barnes & Noble paid membership option raises the question of whether the $39.99 yearly fee is worth it. The answer is not straightforward and largely depends on the shopping habits of the member.
The verdict
Is the paid membership worth it? It comes down to a member's frequency of visits and expenditure at booksellers, whether that to be online or offline visits/purchases. If the member can utilise the benefits frequently enough, then the new fee is worth it.
According to the Bureau of Labor Statistics (BLS), the average weekly household expenditure in the United States (2020) was $1,758. This includes expenses such as housing, transportation, food, healthcare, and entertainment. If members could save 10% of some of that, they could be saving hundreds per year. During a time where the cost of living is rising and household discretionary income is tightening, the benefits of the program are likely to appeal to members looking for ways to save money.
On average, a book in the US costs around $20, and avid readers tend to buy around 50 to 80 books a year, spending roughly $1000. To make a yearly $40 membership worthwhile, a person needs to spend $400 (equivalent to 20 books). Therefore, avid readers and book lovers who purchase at least 20 books a year will benefit from joining the program.
If a member does not spend much money at Barnes & Noble or is not particularly loyal to the brand, the paid program may not be worth the cost. In such a scenario, opting for the free loyalty program may be a better option to save money.
In any case, whether a member opts for the paid or free program, both offer benefits that can cater to the needs of frequent and infrequent visitors. Therefore, Barnes & Noble's newly revamped loyalty program is worth considering. With more benefits than the previous program, members have the potential to save a significant amount of money, and the new free option means rewards are available to casual purchasers too.
The Epilogue
Ultimately, the value of the paid program depends on how often members shop at and how much they spend at in-person and/or online booksellers. Regardless, if you're going to buy books, it's worth at least signing up. Individuals will just have to decipher whether they become paid members or stick with a free membership.
The largest book retailer in the United States is yet to see how the program will perform in terms of increasing consumer interest and sales.