In the pursuit of a healthy and active lifestyle, many people turn to fitness supplements to enhance their exercise performance. But the quest for the perfect supplement regimen can be overwhelming and expensive, leading many fitness enthusiasts to seek guidance from local experts.
What is Elite Supplements?
Elite Supplements is a leading Australian sports and health supplements store with over 70 stores nationally. It stocks a plethora of options from protein powder to pre-workout, multivitamins and more at competitive prices.
Elite Supps Customer Experience Review
I visited Elite Supplements earlier this year and was greeted by an enthusiastic gym bro with bulging biceps. He asked me about my fitness goals, and he eagerly shared his expertise on my ideal supplement stack. I bought 2.2kg of choc-chip protein powder and blueberry flavoured amino acid.
As he scanned my products, he recommended downloading the Elite Supps app to join their community and redeem rewards from their loyalty program. Despite my reluctance to clutter my phone with more apps, especially those I may never use, the gym bro mentioned that I would receive 5% cashback on my next order – an enticing offer, given the price of these products, so I downloaded the app.
The Elite Supps App
In addition to 5% back, the app gives members access to healthy recipes and free workout plans. This is good for encouraging members to stay engaged with the brand and regularly refer to the app.
The app also includes a progress tracker showcasing how much cash I've earned back with the company. It indicates milestones at $100, $300, $500, $700, and $900 cashback. To illustrate, I spent $215 and therefore I've earned $10.75 cashback for my next order.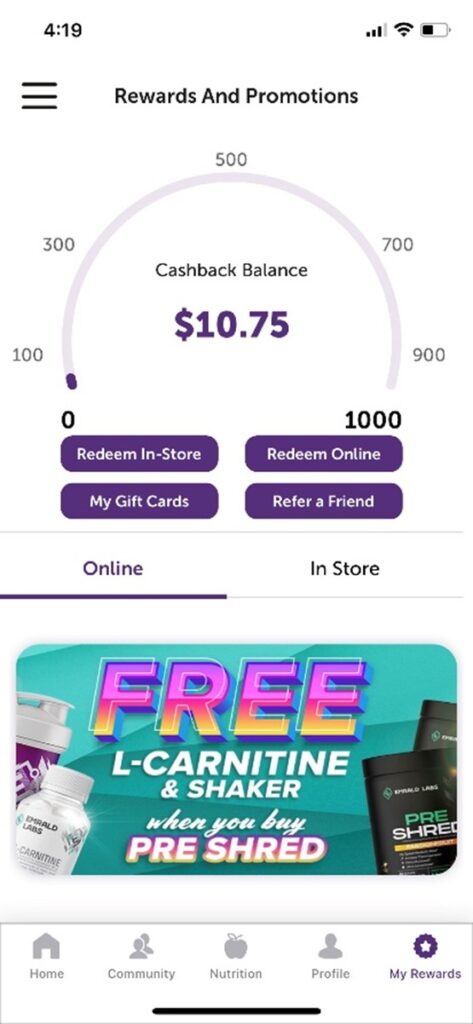 The progress tracker employs the goal gradient effect, a loyalty psychology strategy where members are more motivated to spend more, driven by the prospect of reaching the next milestone.
However, while the cashback milestones serve as an effective motivator, the program lacks communicated additional benefits for achieving these milestones. Furthermore, the sheer magnitude of each milestone makes them challenging to attain.
For instance, to reach the initial milestone of $100 cashback, a member needs to spend $2000. To reach the final milestone of $1000, the member must spend a staggering $20,000. Considering my protein consumption, which averages a few days per week and translates to three bags annually, it would take me around 2 years to achieve the first milestone and 18 years to complete the full progress tracker.
Elite Supps App Rewards Program
The progress tracker in the loyalty program is an excellent visual feature which provides members with a clear overview of their earned cashback. However, to enhance the member experience, introducing smaller and more achievable milestones could significantly boost engagement.
The loyalty program design would be great if the end milestone was set at $20, which is achievable with a member's expenditure of $400. This represents a realistic target for the average member to reach within a span of 6-12 months.
To make this achievement even more gratifying, members could receive a thoughtful gift such as a protein bar or a sample of other products. These samples can be complemented with an informative card highlighting the benefits of these supplements. This not only adds a tangible perk to their loyalty journey but also educates members on the diverse product offerings and increases the chance of cross-selling products. Once $20 has been redeemed, the progress tracker can start from the beginning again.
Offering unexpected gifts aligns with the loyalty psychology strategy of surprise and delight. A notable example is Mecca's Beauty Loop Box, a program that has mastered the art of surprising and delighting its customers with curated beauty samples.
Best practice programs have a mix of both monetary and non-monetary rewards. The cashback rewards are a great way to incentivise members to make repeat purchases. By altering the progress tracker to a smaller milestone, combined with small gifts not only elevates the member experience but contributes to the overall success and loyalty of the Elite Supp community.
Need help strengthening your loyalty program design?
Our loyalty consultants have helped global brands take the critical steps to design effective loyalty programs, as well as support ongoing evolution to meet changing business and consumer expectations. Contact us to learn more about our comprehensive loyalty services and talk with our loyalty consultants to understand how to develop or optimise your loyalty program strategy.