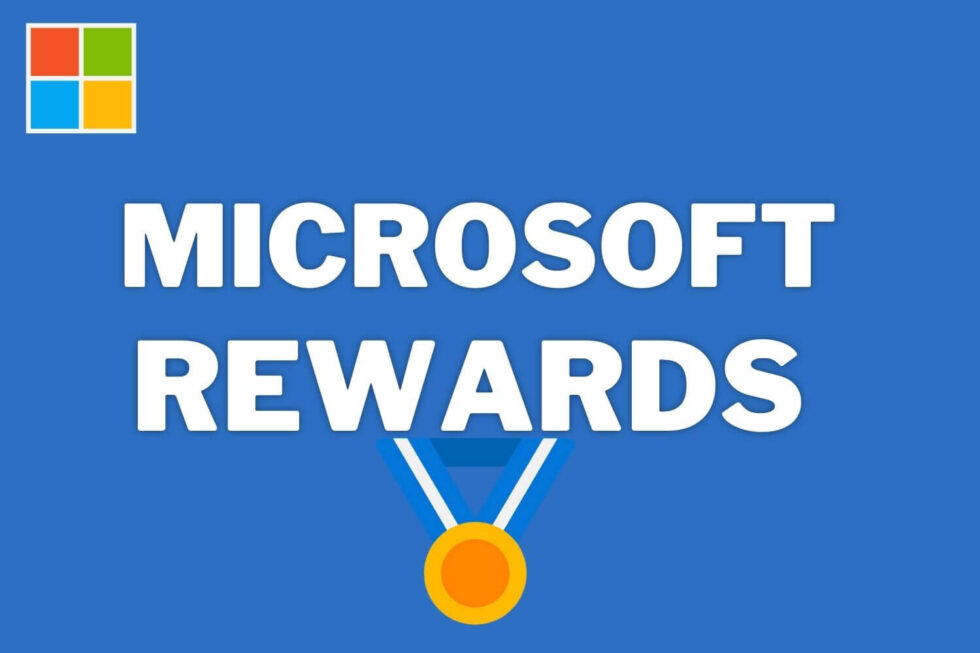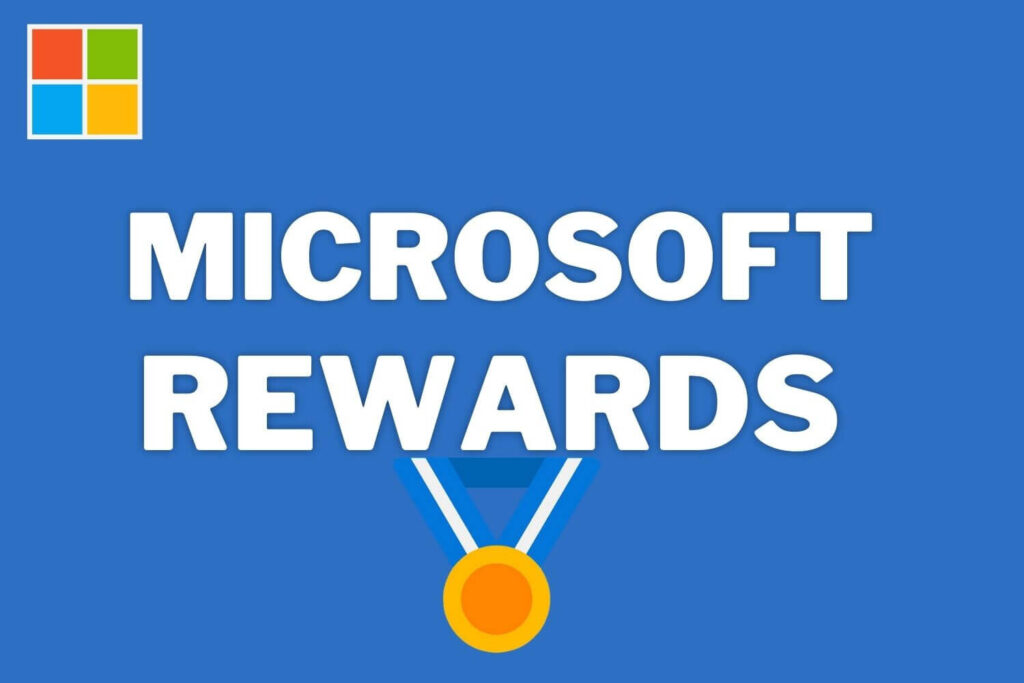 Microsoft is one of the most well-known companies in the world. Known for its innovative products and services, Microsoft continuously shapes the digital landscape with its cutting-edge technology, extensive software solutions, and robust cloud offerings. Microsoft launched their Rewards program 'Microsoft Rewards' in the United States in August 2016. Originally titled 'Bing Rewards', the name was changed to Microsoft Rewards in 2019, with the program now available in over 20 countries.
The Microsoft Rewards program offers users a valuable opportunity to earn points by completing simple tasks and subsequently redeeming them for a diverse range of appealing rewards. Nonetheless, the program does possess certain limitations.
How to join
To become a member of Microsoft Rewards, a Microsoft account is necessary. Upon creation, users can then go to the Microsoft Rewards program and start earning points immediately.
Upon registration, new members gain immediate access to their personalised Rewards dashboard.
How to earn
Members can earn Microsoft Rewards points in a variety of ways, including:
Searching with Bing on Microsoft Edge
Shopping at the Microsoft Store
Playing favourite games on Xbox with synchronisation to the Rewards app
Starting a Bing search in the Windows Search Box
Earning points via the Rewards dashboard, where members can explore fun activities and participate in Digital punch cards
How to redeem
Members can redeem their points by visiting the Rewards page on the Microsoft Rewards website and select the eligible reward they wish to redeem. Reemable rewards include:
Gift cards (including Microsoft & Xbox Gift cards, as well as Gift cards for other places from everything from Roblox to Coles)
Donations to charity (such as a donation to Lifeline Australia, Mission Australia and the Special Olympics)
Xbox games and subscriptions
Microsoft Store purchases
Sweepstakes entries for a chance to win bigger prizes and unique experiences
The number of points required to redeem a reward varies depending on the reward. For example, a $10 gift card may require 10,000 points, while a free month of Xbox Game Pass may require 2,000 points. It should be emphasised that the point system for redeeming rewards in the Microsoft Rewards program is designed to incentivise and promote continued engagement with Microsoft ecosystem products. For example, a $10 gift card to the Microsoft Store may require fewer points than a $10 gift card to Roblox.
Give with Bing
In addition, Microsoft Rewards offers a feature called 'Give with Bing,' allowing members to donate their points to a non-profit of their choice. This further incentivises the use of Microsoft Bing as their preferred search engine.
Microsoft Rewards goes beyond traditional loyalty programs by introducing 'Give with Bing,' enabling members to make a positive impact by donating their earned points to over 1.4 million non-profits across the globe.
Additional program features
The Microsoft Rewards program enhances its value proposition by integrating additional features such as Rewards levels (tiers), Digital punch cards & quests and gamification elements to generate greater interest and engagement.
Tiers
Microsoft Rewards incorporates tiers into their program which they label as 'Levels'. Microsoft Rewards has two levels: Level 1 and Level 2.
Level 1 is the basic level where members earn points at the standard rate (1 point per $1 spent) when they search with Bing, shop at the Microsoft Store, and play games on Xbox, and more.
Level 2 is the premium level where members earn points at a faster rate (10 points per $1 spent) when they search with Bing, shop at the Microsoft Store, and play games on Xbox. They also get access to exclusive offers and discounts, and get access to exclusive sweepstakes and contests.
Additionally, Level 2 members that have an Xbox Live Gold account, receive an extra 10 points per dollar spent, for a total of 20 points per dollar spent.

All members begin at Level 1. Members must earn at least 500 points to advance to Level 2. To retain Level 2, members must earn at least 500 points each month, otherwise they will be demoted to Level 1.
For full perks of each level, see below.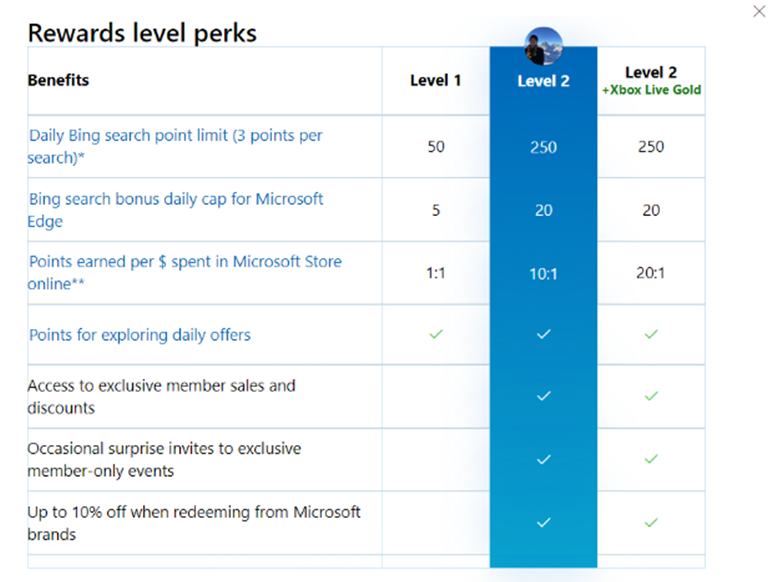 Digital punch cards and quests
Microsoft Rewards offer digital punch cards and Xbox quests as a way for members to earn additional points. Punch cards are a series of tasks that members can complete to earn a set number of points, whilst quests typically focus on a specific activity and are exclusively earned through playing Xbox games. Punch cards can be both transactional and non-transactional, whilst quests are purely non-transactional.
Some examples of Microsoft Rewards' digital punch cards and quests include:
Punch card: Earn 50 points by searching with Bing for 10 days in a row (each day representing a 'punch' on the digital punch card
Punch card: Earn 2,500 points by watching movies on Microsoft Movies & TV
Quest: Earn 100 points by playing 30 minutes of a game in the Xbox Game Pass library.
Quest: Earn 250 points by Getting 2 Driving Distance on Farming Simulator 22
The majority of both punch cards and quests have a strict time limit, requiring members to complete them before time is up. In the event that members fail to complete a punch card or quest within the designated time frame, the quest or punch card will expire, resulting in the forfeiture of points. The time limit varies depending on the specific punch card or quest, ranging from a few days to several weeks or months.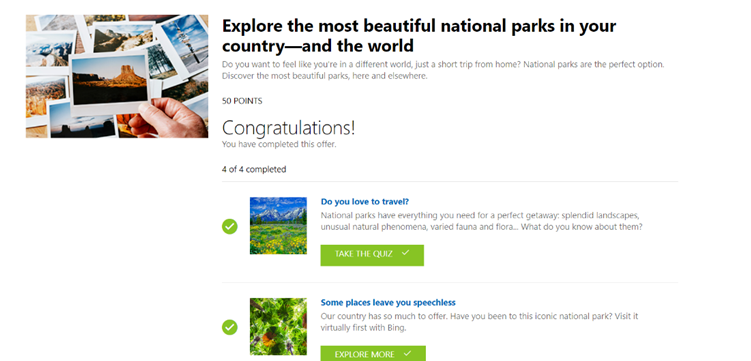 Non-transactional punch card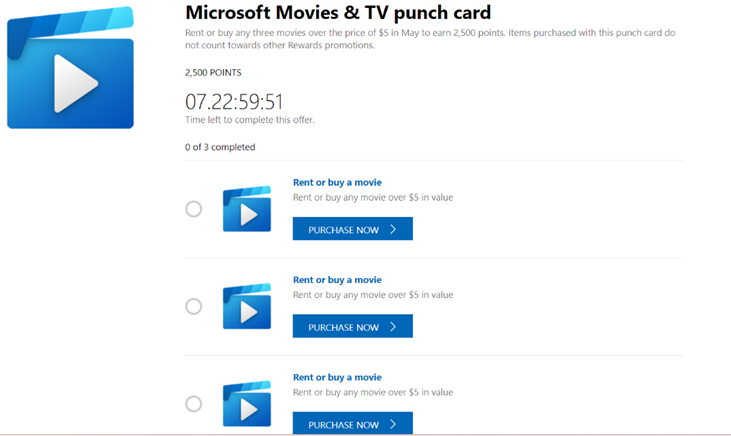 Transactional punch card

Exemplar Xbox Quests
Gamification
In additional to levels (tiers), punch cards, and quests, Microsoft Rewards utilises several additional gamification elements to make the program more engaging and rewarding for members. These elements include:
Activities/challenges: (As stated previously)
Badges: Members can earn badges for completing certain tasks, such as searching with Bing for a certain number of days in a row.
Achievements: Members can earn achievements for completing certain tasks, such as playing a certain number of games on Xbox.
Progress tracking: Members can track their progress towards earning rewards.
In addition, all these gamification elements incorporate visual elements, such as icons and creative text that represent the activity, progress, achievement, and more. Whilst these can be gimmicky, they accelerate the effectiveness of such gamification elements.
These gamification elements make Microsoft Rewards more than just a way to earn points, and instead making it a fun and engaging experience that encourages members to continue using Microsoft products and services.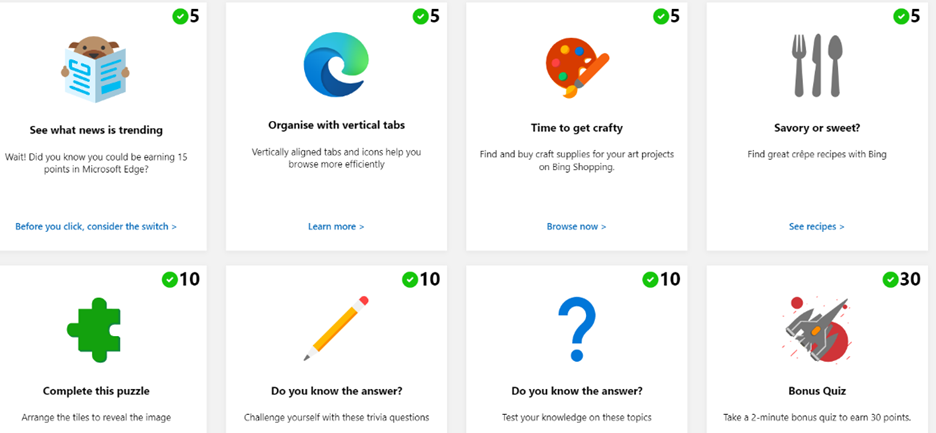 Gamification – Activities/Challenges – represented by visual icons and creative and engaging text
Microsoft Rewards: Worth the Bing?
After examining the Microsoft Rewards program in detail, the program offers a valuable proposition to its members. The program is free to join, and there are a variety of ways to earn points. The real strength, however, lies in its incorporation of gamification elements, which make it more engaging and encourage continued participation. Additionally, the tiered structure provides members with incentives to actively earn more points and maintain their status, whilst creating sense of exclusivity.
It is important to note that Microsoft Rewards does have some limitations. For example, the program's value heavily relies on the individual's engagement with Microsoft products and services. If a user is not an avid user of Microsoft Edge, Bing, the Microsoft Store, or Xbox, they may find it more challenging to accumulate points at a faster rate. However, this structure is intentional and serves to encourage and reward loyalty to the Microsoft ecosystem.
Furthermore, reward availability, mix and cost has been intentionally designed in favour of the business. The program aims to foster long-term behavioural change and encourage users to engage more extensively with the Microsoft ecosystem of products and services. This approach involves deferred rewards in the form of points and the weighting of reward costs to incentivise the redemption of Microsoft rewards. Although opting for external options like gift cards from other retailers may incur higher costs, Microsoft Rewards program provides these alternatives to ensure user choice while highlighting the advantages of utilising the Microsoft ecosystem.
How could it enhance the program further?
While Microsoft Rewards successfully utilises everyday activities to offer rewards and engage members, there is always room for improvement in any program. It is important to consider how Microsoft could enhance its program further. Microsoft should build upon the essential loyalty principles and introduce additional features.
Additional features they should consider include:
Exclusive partnerships with popular brands: Collaborating with well-known brands and companies can help Microsoft add prestige and desirability to the rewards program.
Social and community features: Incorporating social elements within the program, such as leaderboards, can foster a sense of community and healthy competition among members. This not only increases engagement but also promotes loyalty and encourages members to advocate for the program to their peers.
Surprise and delight rewards: Introducing occasional surprise rewards or bonus points for specific activities or milestones can create excitement and keep members motivated. These unexpected rewards can serve as pleasant surprises and reinforce the positive association with the program.
Tiered Benefits: Expanding the levels/tiers within the rewards program to provide additional perks and privileges for members who consistently engage and earn points. This could include access to exclusive events and early product previews.
By implementing these enhancements, Microsoft Rewards can elevate the overall experience, deepen member engagement, and strengthen the value proposition of the program, ultimately driving greater loyalty and satisfaction among its users.
The ultimate question though – Would I abandon my personal favourite search engine Google, or my favourite browser, Chrome, in favour of Bing and Microsoft Edge for the sake of earning a few Rewards points? Yeah… I don't think so.
Looking to launch an award winning loyalty program?
Our loyalty consultants can design an award-winning loyalty program strategy or enhance your existing one to make. Discover our wide range of comprehensive loyalty services. Get in touch to talk with our loyalty experts and kickstart your journey to loyalty glory.